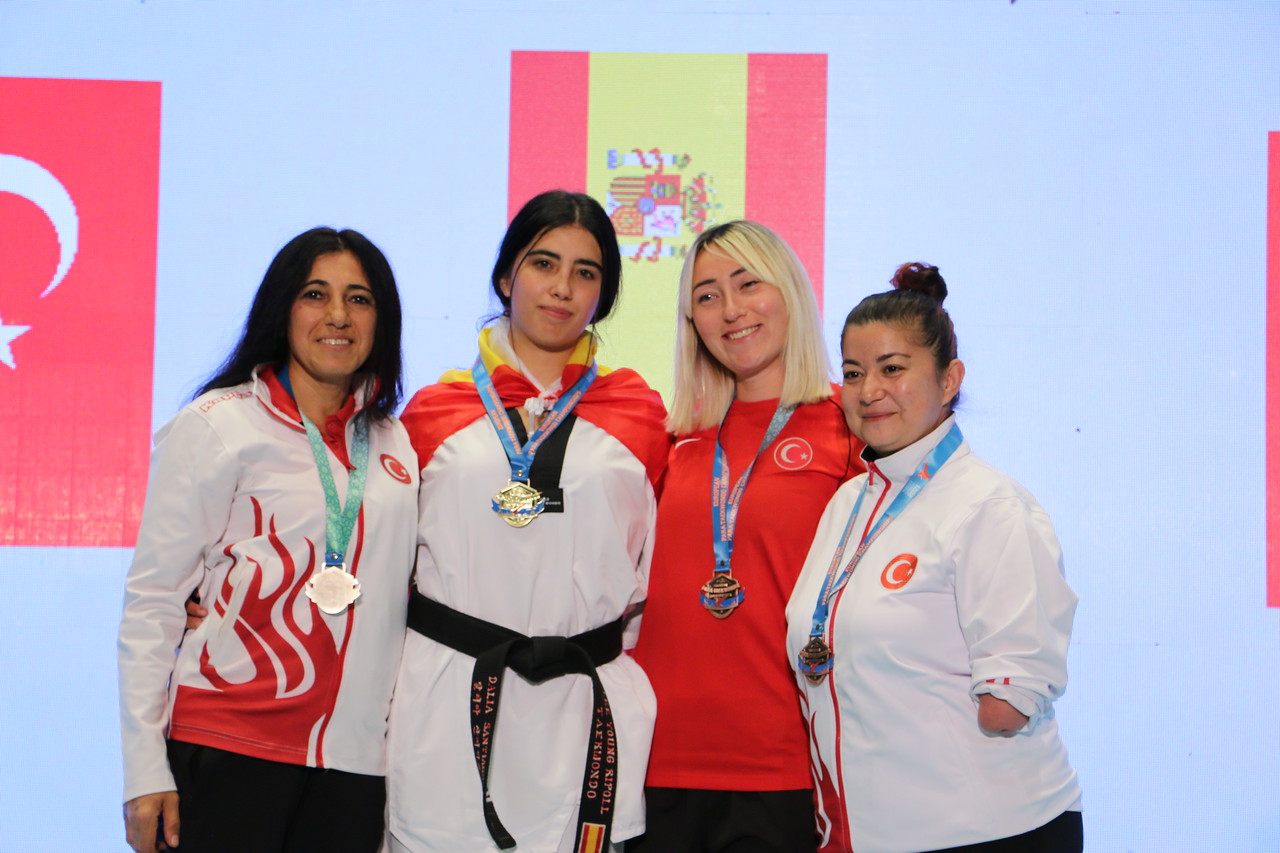 New weight categories, amalgamated classifications, and a return to the single, five-minute round format helped a host of new athletes see the biggest successes of their careers at the 2021 European Open Championships.
With their eyes firmly set on Paris 2024, nearly 100 athletes got the ball rolling on qualifying for the next Paralympic Games by fighting for ranking points and European bragging rights at the 2021 European Open Championships in Istanbul, Turkey.
Things looked a little different than at Tokyo 2020 last month, with additional weight categories and classifications competing against each other for the first time.
Para Taekwondo moved away from the six weight categories seen in Tokyo (three for men, three for women) to ten categories (five for men, five for women) in Istanbul.
Additionally, formerly classified K42 athletes competed with their K43 and K44 counterparts for the first time, meaning fighters faced unfamiliar opponents and forged new rivalries.
A return to the single, five-minute round from the three, two-minute rounds featured at Tokyo 2020 also added to Para Taekwondo's new look.
Adding to the unfamiliarity factor of the event was that many fighters have not competed internationally since before the COVID pandemic hit.
The new look tournament saw several new athletes crowned European champions and many more announce their arrivals as contenders in the sport's new weight categories.
New Faces Emerge
Perhaps the best known of the new European Open champions isn't even from Europe. Kazakhstan's Paralympian Kamilya Dosmalova looked in fine form by grabbing gold in the new -57 kg division.
Ranked No. 13 in the former -58 kg division, Dosmalova beat Turkey's No. 3-ranked Gamze Gurdal after a late disqualification to claim her first international title since winning the Asian Paralympic Qualification tournament.
Spain's Dalia Santiago Moreno was a Golden Point kick away from qualifying for the Paralympic Games herself, before falling to Azerbaijan's Aynur Mammadova at the European Paralympic Qualification tournament – at just her second international event.
She made a splash at her third event as well, beating Turkey's two-time world champion Ayse Dudu Karatay 5-2 to claim gold in the new +65 kg category.
Turkey's Secil Er in the -65 kg category and Russia's Dzhetsun-Sholbana Kara-Ool in the -57kg group also became European champions for the first time.
Several fighters saw their first international podiums in Istanbul, including Poland's Maciej Kesicki and Ukraine's Vladyslav Nechai.
Before 2020, Poland's Maciej Kesicki had never made the quarterfinals at an international event. He now has a European championship silver medal after falling to Turkish Paralympian Fatih Celik 12-2 in the -70 kg final.

Nechai beat Turkey's 2019 world champion Mehmet Vasif Yaku on his way to bronze in the new -80 kg category.
Paralympians Shine
Celik was one of five Turkish fighters to win a gold medal in the new K44 divisions, showing he's still in top form despite losing both of his matches at Tokyo 2020.
Paralympic teammates Meryem Cavdar and Mahmut Bozteke both managed to defend their 2019 European titles in their new weight categories.
Paralympic silver medalist Cavdar had to get by Russia's Paralympic bronze medalist Anna Poddubskaia to claim gold in the -52 kg final.
Weeks after creating one of the Paralympic Games' most memorable moments, Bozteke won a second straight European title by beating Russia's Evgenii Alifirenko 12-6 in the -63 kg final. On his way to Paralympic bronze, Bozteke edged Mongolia's four-time world champion and No. 1-ranked legend Bolor-Erdene Ganbat in one of Paralympic Games' most entertaining and nerve-wracking encounters.
Nations like Russia and Turkey showcased their depth by having non-Paralympic fighters upstage their Paralympic counterparts.
Two Russian fighters, for example, finished ahead of Paralympic bronze medalist and 2013 world champion Zainutdin Ataev, who won bronze in the new +80 kg category. Teammates Aliskhab Ramazanov and Bilal Iakhiaev met in final, with 2017 world champion Ramazanov getting the better of 2019 world championship bronze medalist Iakhiaev by a score of 37-25.
In the -80 kg event Russia's Vladimir Feofanov claimed his fourth straight European medal – and second European crown – with a 9-3 win over his Paralympic teammate Magomedzagir Isaldibirov, denying the Paralympian his fourth European title.
New K44 Classification Shakes Things Up
While no K43 fighters managed to medal at Tokyo 2020, four ended up fighting for Paralympic medals, including Kazakhstan's Nurlan Dombayev, France's Bopha Kong, and Ukraine's Vika Marchuk and Yuliya Lypetska.
In Tokyo, Lypetska made the semi-final before losing her last two matches to miss out on a medal, while Dombayev fell to a last-second score by Argentina's Juan Samorano to miss out becoming the first K43 fighter to win a Paralympic medal.
Para Taekwondo's new K44 class now features any fighter classified in what were formerly the K44, K43, and K42 divisions* - and the newest K44 athletes showed once again how competitive they can be. Dombayev, Kong, and Marchuk all medaled in Istanbul, while two formerly K42 fighters also found the podium. Lypetska did not compete in Istanbul.
After falling in the Paralympic bronze medal match, Kong claimed his sixth European championship medal by winning bronze in the -58 kg category.
Marchuk won her seventh straight medal at the European championships, but also suffered her first defeat at the tournament. She qualified for her seventh straight final but missed out on her seventh title by losing to Russia's Kara-Ool 29-20 in the -47 kg final to claim silver.
After missing out on Paralympic bronze in agonising fashion, Dombayev proved again he's one to watch by claiming bronze in a difficult -80 kg draw. It's the second European championship medal for the two-time world champion.
K42 fighters also proved that they will be difficult to contend with, as both Aliferenko and Karatay claimed silver medals in Istanbul.
Three-time European champion and two-time world champion Aliferenko looked strong in falling to Turkey's Paralympic bronze medalist Bozteke 12-6 in the -63 kg final, while two-time world champion Karatay won her third European medal, a silver in the +65 kg group.
Gazzaev & Mukashev Highlight K41 Champions
While creating exciting new rivalries that will culminate at the Paralympic Games in Paris in 2024, the new weight categories also mean that old rivals won't get to renew acquaintances.
In the K41 tournaments, for example, Russia's No. 1-ranked Spartak Gazzaev and Kazakhstan's No. 2-ranked Malik Mukashev found themselves on opposite sides of the 80 kg categories.
In the +80 kg category, five-time world champion Gazzaev won his sixth European title, avenging his loss at the 2018 tournament – his first in five years.
Mukashev, in turn, claimed his second straight European title after beating Turkey's Yildiray Erdic 30-1 in the -80 kg final.
For a full list of results, please visit the European Taekwondo Union website at https://europeantaekwondounion.org/wp-content/uploads/2021/09/P11-Drawsheets-and-results-PARA-EC2021-1.pdf
*NOTE: All athletes must go through classification before competing in the Paris 2024 qualification cycle.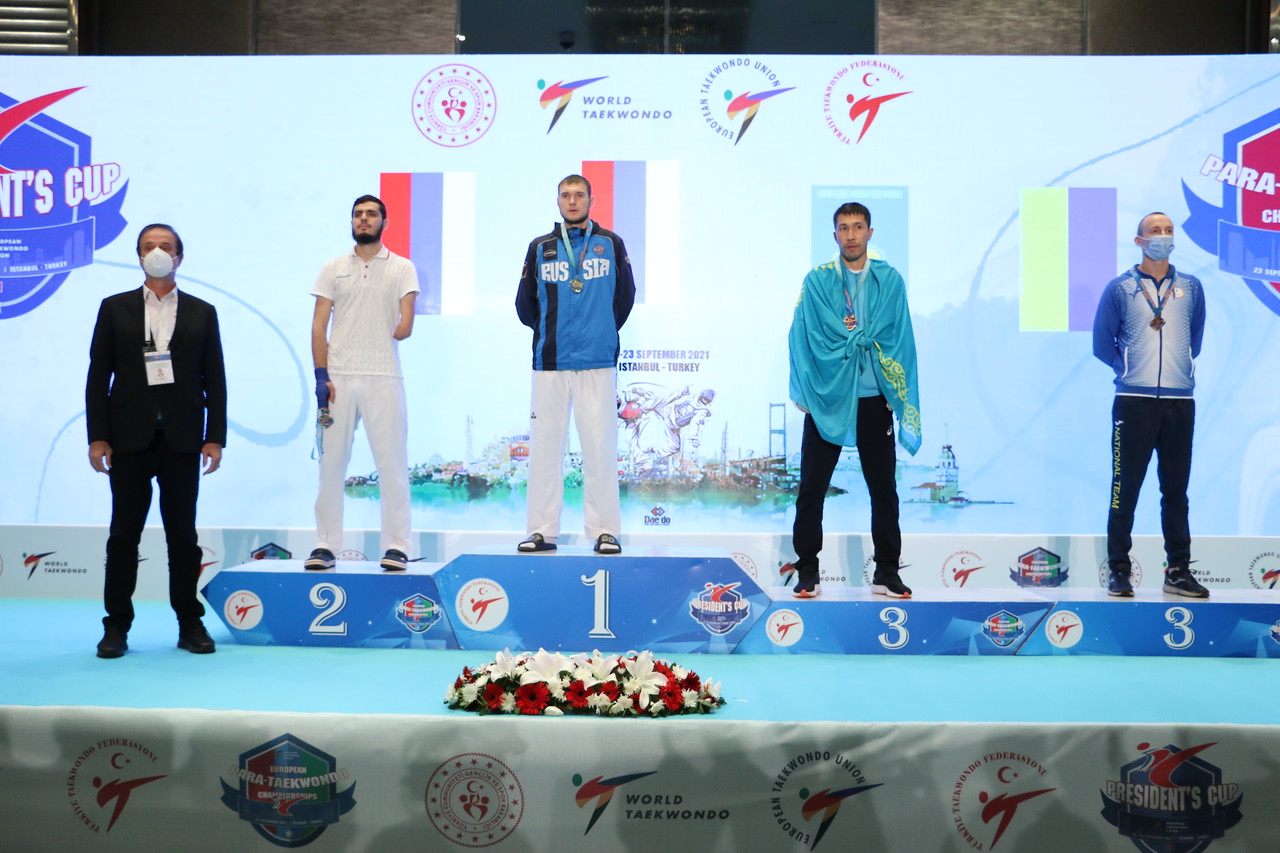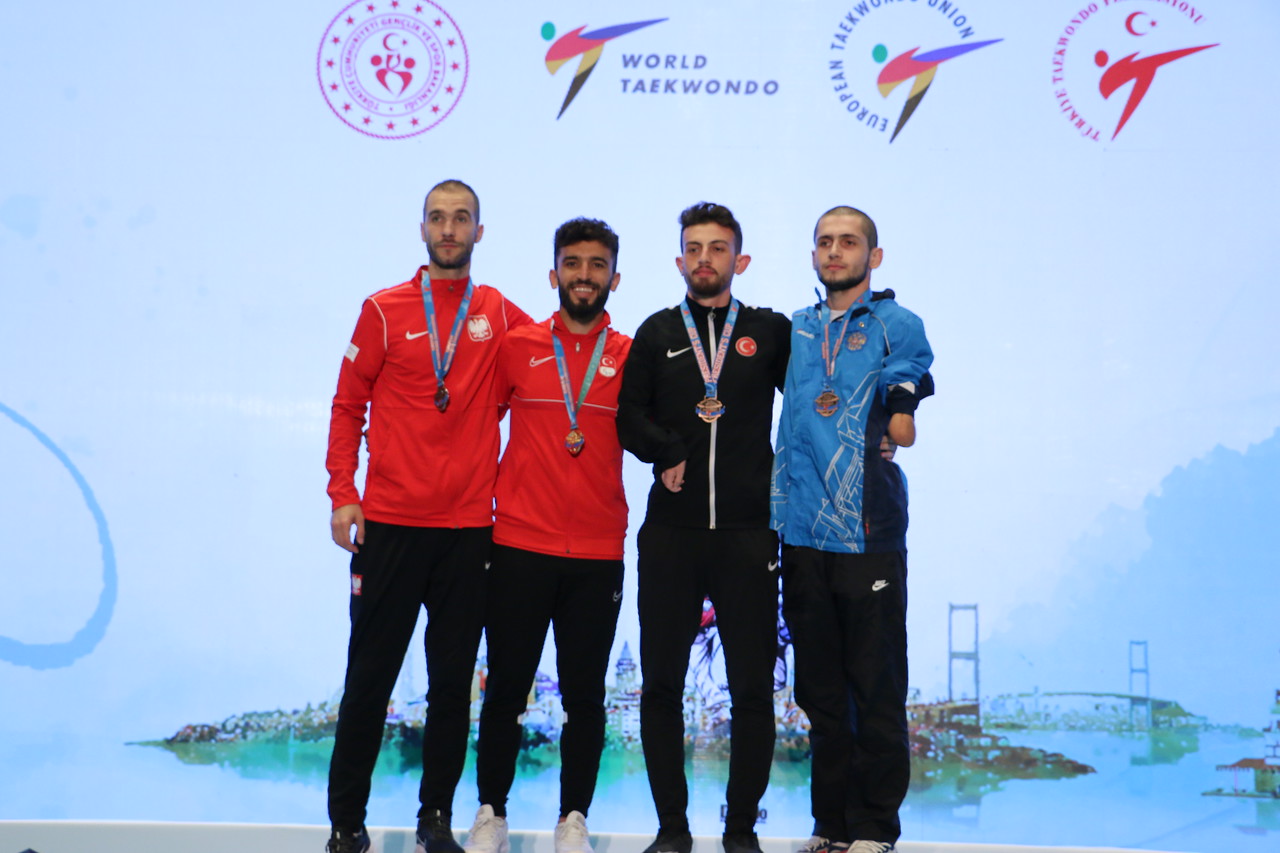 -- By Lee Reaney
Photo credits go to the Turkish Taekwondo Federation.