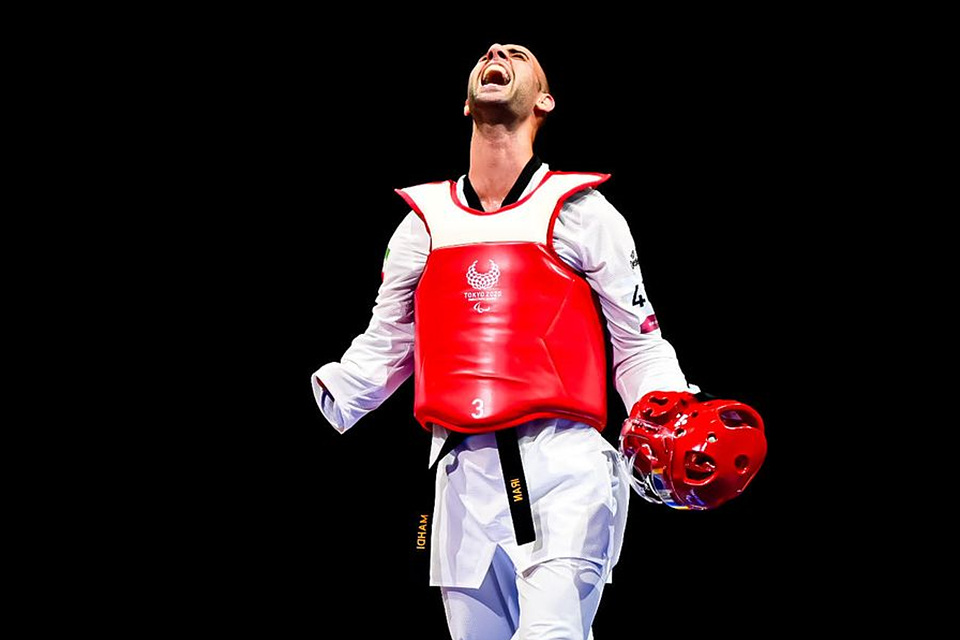 Para Taekwondo athletes put on dazzling displays of speed, strategy, and skill at Tokyo 2020. So, what did the world learn about the Paralympic Games' first full-contact sport?
Stunning shows of strategy and skill, inspiring examples of power and grit, last-second comebacks and legend-making performances – the world was wowed by Para Taekwondo's dizzying spin kicks and nail-biting finishes at Tokyo 2020. Besides becoming the Para sports movement's newest must-see TV, here's what else we learned from the sport's Paralympic debut.
Anyone Can Win
A quick look at the Paralympic medal table shows just how global Para Taekwondo has become.
With just 24 medals on offer, athletes from 17 nations won a medal – with every continental association seeing at least one athlete stand on the Tokyo 2020 medal podium.
As a comparison, Para Badminton – the other sport to debut at Tokyo 2020 – saw athletes from 10 countries medal (out of 42 medals), including just two medallists from outside Asia.
More than that, athletes from non-traditional Paralympic nations thrived in Para Taekwondo's Paralympic debut.
Peru's Parapan Am champion Angelica Espinoza won her nation's first medal since Athens 2004 and first gold medal since Sydney 2000.
Croatia's 2017 world champion Ivan Mikulic nearly claimed Croatia's sole gold medal at Tokyo 2020. A late scoring kick by Iran's two-time world champion Asghar Azizi Aqdam denied him +75 kg gold, but Mikulic's silver was Croatia's best result and he carried the country's flag into the Closing Ceremony.
Nepal's Palesha Goverdhan nearly claimed her nation's first-ever Paralympic medal, falling to China's reigning world champion Yujie Li on a late score to miss out on a -58 kg bronze.
Our K43 stars proved that they can compete with their K44 counterparts.
Four K43 athletes fought for medals, with none coming closer than Kazakhstan's two-time world champion Nurlan Dombayev, who lost bronze on a last-second kick by Argentina's Juan Samorano.
No Really, Anyone Can Win!
The sport showed you can compete at a high level regardless of where you train.
Elliot Loonstra famously prepared on Aruba's sandy beaches ahead of his appearance as his country's only Paralympic athlete.
Burundian refugee Parfait Hakizimana became the first to compete at the Paralympic Games to come directly from a refugee camp when he arrived from the Mahama Refugee Camp in Rwanda.
Afghanistan's Zakia Khudadadi's dramatic journey to Tokyo dominated international headlines as she became one of Tokyo 2020's biggest stories. She nearly toppled Ukraine's six-time world champion Vika Marchuk, before squandering a third-round lead.
Some athletes showed that sheer talent can take you to the sport's highest levels.
Great Britain's Beth Munro took up the sport just months before the European Paralympic Qualification tournament was scheduled in spring 2020. She joined the national team weeks ahead of the rescheduled tournament in spring 2021 and then beat two of the division's Top 3 fighters, including reigning world champion Li, on her way to a silver in just her second international tournament.
Australia's Janine Watson, already a Poomsae world champion, added a Paralympic bronze in Kyorugi to the first athlete to medal at the highest stage of both Para Taekwondo disciplines.
So, really – anyone can win!
Anyone Can Lose
In a surprise to many, just one 2019 world champion was able to replicate their success at Tokyo 2020.
Mexico's teenage superstar Diego Garcia Lopez became Para Taekwondo's only reigning World and Paralympic champion by beating Iran's four-time legend Mehdi Pourrahnama 26-20 in an entertaining -75 kg final.
And even he looked vulnerable in Tokyo!
Were it not for a champion-defining last second strike against RPC's 2013 world champion Magomedzagir Isaldibirov in the semi-final, Para Taekwondo wouldn't have had its first dual champion.
The results of several star athletes stand as a testament to the quality on display at Tokyo 2020.
Mongolia's four-time world champion Bolor-Erdene Ganbat – who has never lost a fight at the worlds – failed to secure a medal at his first Paralympic Games after being stung by a late strike by Turkey's Mahmut Bozteke in a -61 kg bronze semi-final.
Ganbat's 2017 world champion teammate – the No. 1-ranked Enkhtuya Khurelbaatar – also failed to medal after falling to Thailand's reigning world champion Khwansuda Phuangkitcha in a -49 kg bronze semi-final.
Great Britain's No. 1-ranked 2017 world champion Amy Truesdale fell to Uzbekistan's Guljonoy Naimova 60-14 in a startling +58 kg semi-final result.
It was no easier for China's Yujie Li. The reigning world champion was stunned in the -58 kg semi-final by British newcomer Munro and needed a late score against Nepal's No. 28-ranked Goverdhan to secure a bronze medal.
There is simply so little room between the sport's top fighters that on any given day – anyone can lose!
Para Taekwondo Dazzles
Some of the finest fights the sport has ever seen took place at Tokyo's Makuhari Messe.
From strategic chess matches, to dizzying displays of athleticism, to dramatic last-second wins – the sport delivered some of the 2020 Paralympic Games' most exciting moments.
Teams will be pouring through the tapes of the Garcia Lopez-Pourrahnama -75 kg final, the Mikulic-Azizi Aqdam +75 kg final, and the -58 kg semi-final between Denmark's Paralympic champion Lisa Gjessing and Brazil's rising star Silvana Cardoso as wonderful displays of the strategy involved in Para Taekwondo.
Some fights featured stunning flashes of technique and skill that will be featured in Para Taekwondo highlight videos for years to come.
If you didn't get to see the Ganbat-Bozteke fight, the high-octane -61 kg semi-final between Italy's Antonino Bossolo and Brazil's Paralympic champion Nathan Torquato, or the bruising +58 kg gold medal match between Brazil's World Champion Debora Menezes and Uzbekistan's new Paralympic champion Guljonoy Naimova, be sure to check them out!
It wouldn't be Para Taekwondo if there weren't heart-in-your-throat, nail-biting finishes – and Tokyo 2020 had more than its fair share.
Among the most memorable were Garcia Lopez booking his ticket to the -75 kg final with a late strike on Isaldibirov, Samorano's medal-winning kick in the -75 kg bronze medal match, and Bozteke's last-second strike to stop Ganbat from fighting for bronze.
Hats off to all the athletes who made sure that Para Taekwondo dazzled during its Paralympic debut.
Para Taekwondo is Here to Stay
History was made at Tokyo 2020 as Para Taekwondo crowned its first six Paralympic champions. But just as quickly as questions were answered at Tokyo 2020, many more were raised.
Was the -75 kg final between Garcia Lopez and Pourrahnama the beginning of what could become the sport's most competitive and compelling rivalry?
Will Gjessing stick around to try to defend her Paralympic title in front of her family at Paris 2024? If she does, will she be able to stay ahead of talented young challengers like Cardoso and Munro?
Who will emerge as the cream of the +58 kg category – Paralympic champion Naimova, World champion Menezes, or No. 1-ranked Truesdale – or will someone else join that elite group?
What will happen in when Great Britain's reigning world champion Matt Bush returns to the topsy-turvy +75 kg category that just crowned Azizi Aqdam its first Paralympic champion?
Can Ganbat reclaim his spot at the top of the -61 kg category? Or will Torquato hold him and his other challengers at bay at the top of the sport's most competitive division?
Can anyone catch Peru's Paralympic and Parapan Am champ Angelica Espinoza, who has owned the -49 kg category for the last two years?
Gjessing has credited watching the London 2012 Paralympic Games for helping her get through her amputation and leading her along the journey to becoming a Paralympic champion.

How many athletes around the world have been inspired by the fantastic performances of our Paralympians this summer and might follow that same, life-changing journey?
One thing's for certain – Para Taekwondo left an unforgettable impression on Paralympic audiences around the world at Tokyo 2020.
We can't wait to see what our athletes have in store for Paris 2024!
NOTE: The weight categories have been changed for the Paris 2024 qualification cycle and it is still unknown which athletes will compete in which weight categories.
-- Lee Reaney