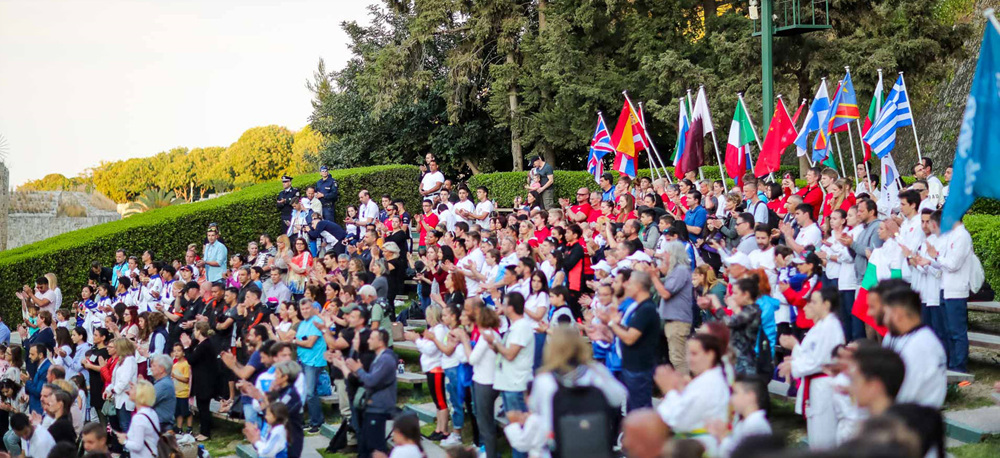 RHODES, Greece (April 25, 2018) - In the middle of the Aegean Sea, World Taekwondo Beach Championships were successfully launched in Rhodes island, Greece. The first competition day begun in a totally summer mood in both outfit and atmosphere, joining national taekwondo teams from across the world to celebrate the sport, while participating in the most spectacular taekwondo championships.
The World Taekwondo Beach Championships, promoted by World Taekwondo and organized by World Taekwondo Europe with co-organizers the Government of South Aegean Region, the Municipality of Rhodes and Sports Traveler 76, are characterized as a new chapter in taekwondo and prove that the sport continues to evolve, while the dynamic of Poomsae captures the spectators' eyes.
During the first day, the eighteen participating countries demonstrated high level of technical skills, combining speed, accuracy and excellent synchronization.
Following the competitions, the opening ceremony of the championships was realized. Surrounded by the historic and picturesque scenery of Rhodes, the National teams along with the referees were gathered at the Gate of Freedom in the Medieval City, where the orchestral band of Rhodes City also joined. The ceremony started with the flag parade, with all national teams walking through the medieval alleys of the city.
The parade entered the "Melina Mercouri" Medieval Moat Theater, already filled with all delegates and visitors. The opening speech was given by the Mayor of Rhodes Fotis Chatzidiakos highlighting the recognition of the championships worldwide, even from their inaugural launch last year and followed by the Vice-Governor of Sport, Culture and Tourism of the South Aegean Region Marietta Papavasiliou's speech, who mentioned that the historic island of Rhodes becomes a place of unity between the five continents and nations in the name of sport spirit. The World Taekwondo Europe appointee and OCOG Athens 2004 member Nikos Exarchos continued on behalf of World Taekwondo Europe, noting that the initiative of World Taekwondo to introduce the sport to outdoor venues is truly innovative for taekwondo, and congratulated the Organizing Committee for a successful organization.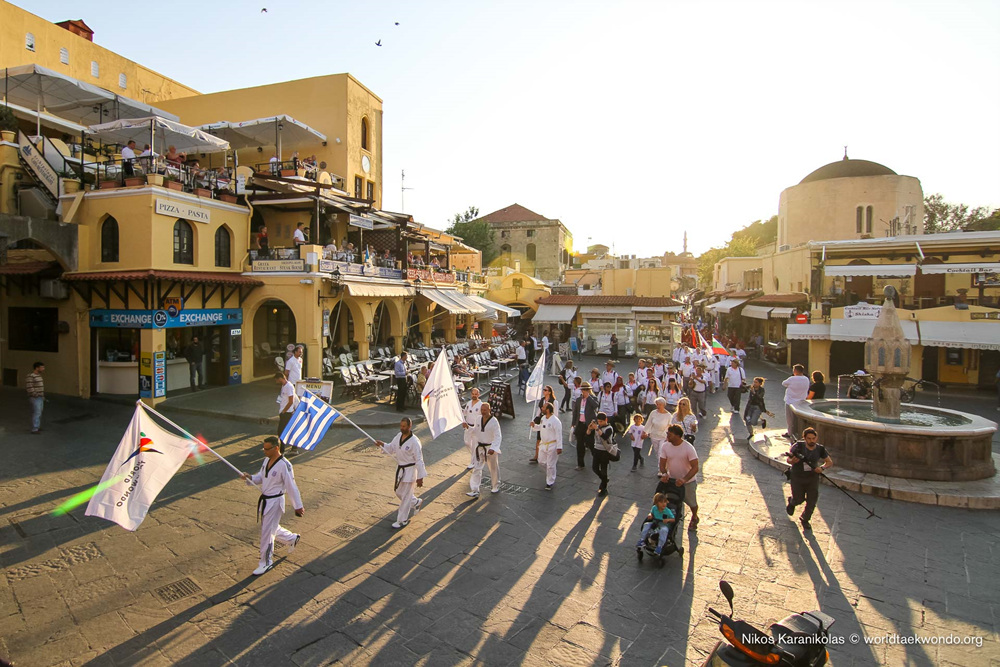 World Taekwondo Media Committee Chairman and WTE Vice-President Michel Madar declared the World Taekwondo Beach Championships open and stated: "The World Taekwondo Beach Championships opened new horizons for the sport of Taekwondo, connecting it with new, young audiences. The opening ceremony is being held today at the World Heritage Medieval city of Rhodes and fuses together sport, culture and heritage."
The ceremony continued with a spectacular show by the WT Demo Team and a Poomsae demonstration from local young taekwondo athletes and technical breakings from local instructors, while all delegates, International Referees and athletes, renewed their meeting for the upcoming competition day.