(August 31, 2017) - As a "sports soldier" in the German Army – i.e. an elite athlete funded and trained by the state – Alex Bachmann trains to win. But at the 2017 World Taekwondo Championships in Muju, Korea, he had another mission: To get even with his fiancée - fellow German international Rabia Gulec.
"She had a bronze from the 2013 Puebla World Championships and she was an Olympian, and she made fun of me," he said. "She had a medal – I did not have a medal!"
That changed on the evening of June 29 at the 2017 World Taekwonodo Championships in Muju.
After fighting through the preliminaries, Bachmann reached the semis, where he took on Ivan Trajkovic of Slovenia. "I trained very hard and I had had a really good draw," Bachmann said. "I expected to make it to the semifinals, and in the semifinals I knew I had to fight the Slovenian and I have never lost against him, so I thought, 'Today, there will be more.'" Bachmann won the fight 15-13.
To win a world championships semi-final is quite an achievement for a lad whose father had once told his coach not to waste time on him. Bachmann got into the sport after his older brother started it, and he was taken along to "play with the other kids." As time went by, he became more and more invested in taekwondo, but was not successful as a competitor. "In my youth, I was not very good, and I lost many tournaments, so my father said to my coach, 'It's not a good idea to spend time on him,' but my coach said, 'Wait and see, he will get better."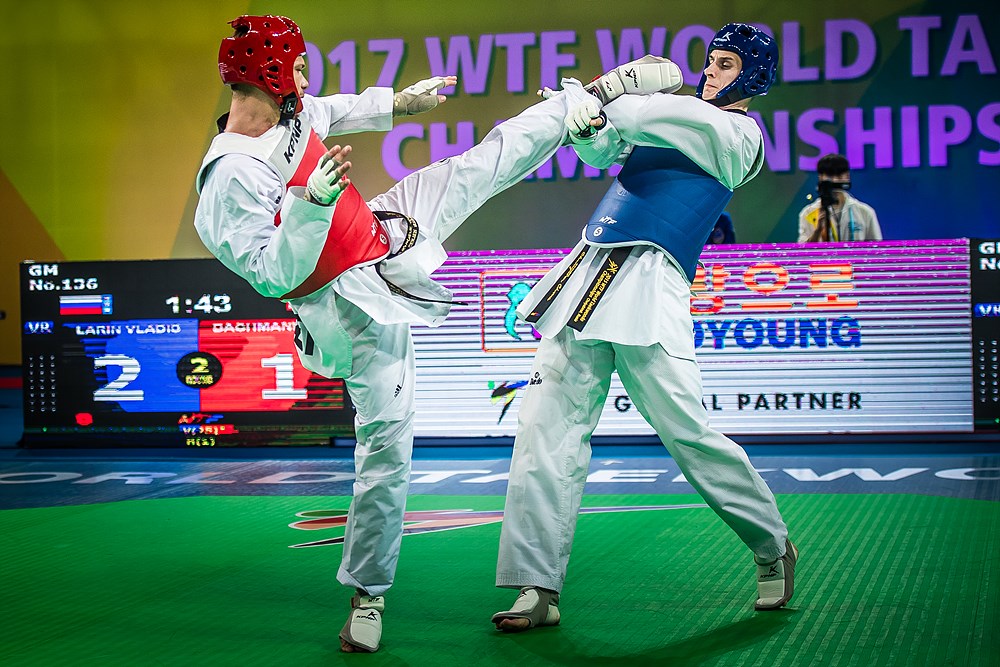 He did. Bachmann rose through the ranks, and won a prestigious placing in the German Army as an athlete and soldier. His first big win was gold at the Belgian Open in 2011, followed by silver at the 2014 European Championships, and another silver at the Military World Games in 2015. The latter win – in Mungyeong, Korea - gave him a good feeling for the 2017 Worlds. "I like to fight in Korea," he said. "I don't know if it is a good atmosphere for me, but everything here is perfect for me."
In Muju the result against Trajkovic indicated that the 22-year-old Stuttgart native was not only an elite-level player, but had clearly mastered the new rules instituted at the start of 2017: His close-range kicks and clinch game looked first rate. "For me, it is easier to kick to the body than to the head, and the new system is two points for body," Bachmann said. "And they made the new rules with the pushing, and I think for me it is very good, I like this style, it was not hard for me to change."
Then, it was the 2017 world championship final of the Men's -87kg. On the central competition mats, Bachmann faced off against the icy-cool Vladislav Larin of Russia.
"Larin is good, I respect him very much, he is a great athlete and a very good person," Bachmann said. "He fights beautifully and he has nice technique so it was a pleasure to fight with him in the finals." Their final would be a clash not just of Germany against Russia, but of range versus range; Larin holds the edge at distance, Bachmann is a master of the up-close-and-personal game. What was the game plan? "In the first and second rounds, I just wanted to control the fight and the third round I knew it would be like a battle," he said. "That was my feeling."
Bachmann's predictions proved largely correct. Round 1 was a display of well-matched back-and-forth, single-kick play with no clear superiority; it ended 2-1 to Larin. In the second, a stumble and fall by the Russian bought the score even, 2-2, then, after a fast exchange, Bachmann drew ahead 5-4. There was everything to play for in the third and final round.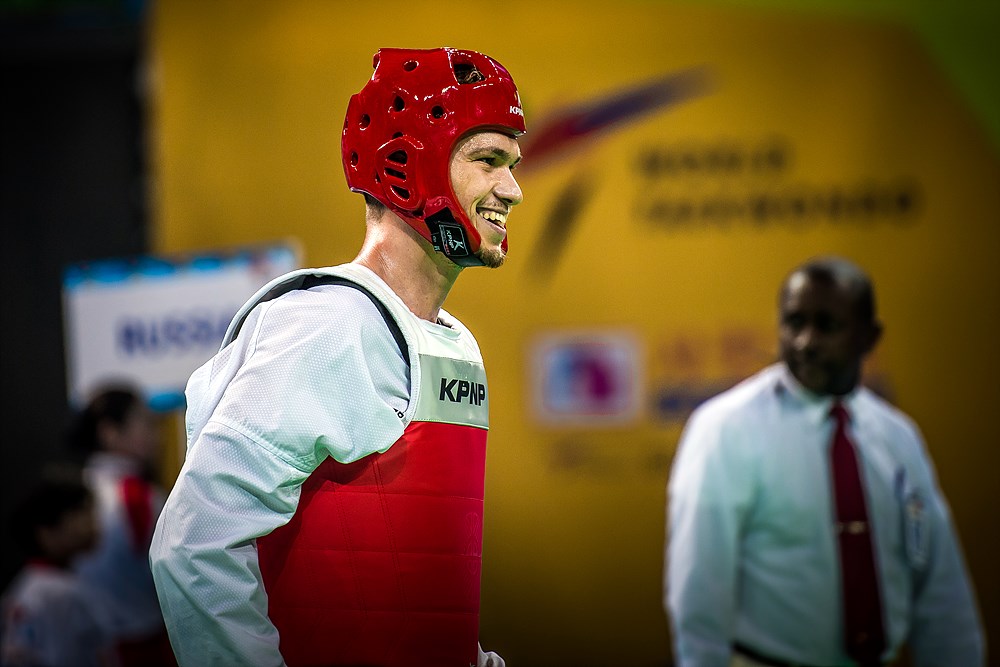 Bachmann unleashed a serial, across-the-mats attack that gave him a 7-4 lead. But Larin is a dangerous finisher, and a crescent kick to the German's headgear bought the scores level, 7-7. A punch from Bachmann and a fall took the Russian 7-9 down – then the German's score rose to 7-11. After an action-packed final few seconds of hurricane-force action as Larin fought desperately to claw back points, it ended 11-9, and Alex Bachmann was the 2017 World Taekwondo Champion. "I felt very surprised," he said. "It was an unbelievable feeling!"
His number-one fan was, naturally, delighted. "I cried! I just cried, but I was happy and laughing," Gulec said. "And at first, he did not believe it!"
He does now.
"It was a big win, it was on the national news," Bachmann said. He hopes that his win will boost taekwondo in his home country as he leads the sport forward alongside current German star and 2013 World Champion Tahir Guelec – who just happens to be his fiancé's brother. "Me and Tahir are the new generation, we will take over, we are hungry!" he said. "If young people in Germany see us and take us as role models, that's great!"
Like most current-generation taekwondo stars, Bachmann's sights are set on Tokyo 2020. "I will try my best to be in Tokyo, and after Tokyo - if I make it - I will look to either practice taekwondo or do something else," he said. "I don't know where my road will go after taekwondo; it is open, I think much can happen."
Regardless of where his sportive career leads him, he looks likely to take home a much more important gift from taekwondo than any gold medal: Rabia. The two first met at a national training camp in 2010. "He fell in love with me first!" Gulec laughed. "Then I fell in love with him."
Alex Bachmann: At a Glance
Hobby: "Spending time with friends, hanging out, drink, playing soccer, going to the cinema."
Why taekwondo? "Because I started as a child, it is a part of me now, if I did not do it, a part of me would be missing. It is my passion!"
Motto: "Respect people and don't judge."