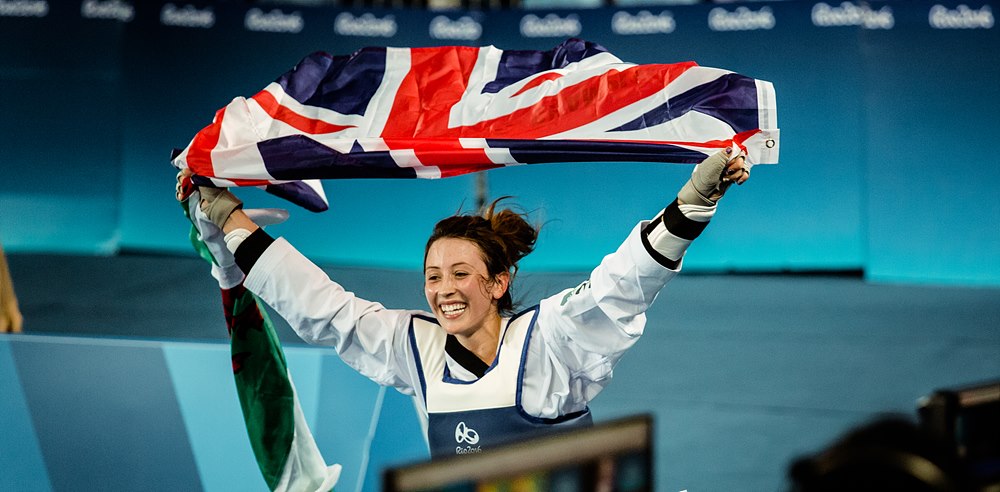 She holds two Olympic gold medals, putting her on a level with the greatest taekwondo fighters of all time. With the Tokyo 2020 Olympic cycle just beginning, can Team GB's Jade Jones make it three?
It was the evening of Day 2 of the taekwondo competition of the 2016 Olympic Games, and in Rio's Carioca Arena 3, the fight that the crowd wanted to see was about to get underway.
In the women -57kg category, the number-one seed and London 2012 gold medalist Jade "The Headhunter" Jones of Team GB faced off against number-two seed and arch rival Eva Calvo Gomez of Spain. Since London, the two have been engaged in a seesaw, back-and-forth rivalry. Now, Briton faced Spaniard under the Olympic spotlight for gold. Game on.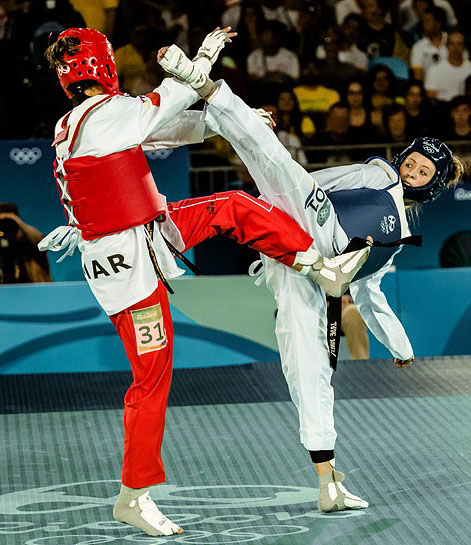 Combat commenced with the two battling for the center of the mat, Jones looking more aggressive and stabbing at the taller Spaniard with her side kick. Then Jones' radar-guided front foot flashed up: "The Headhunter" drew first blood with a high kick. Seconds later, she did it again, doubling her lead. Disaster loomed for Calvo Gomez. The Spanish coach demanded a video replay – but Jones' points stood, 6-0.
In the second, Calvo Gomez charged out, fighting at a furious pace and grabbing two points with body kicks. The British girl returned fire, taking her lead to 7-2, but the Spaniard rocked Jones with her own head kick. The board was now 7-6, with Jones – just – ahead. Given the one point differential, there was everything to play for in the third.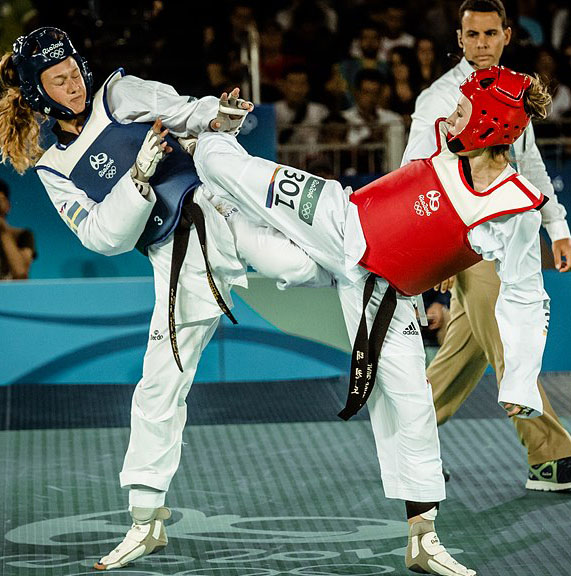 Both athletes came out fighting, but Jones' head kick was doing its wicked work, extending the Briton's lead to 15-7. Despite a moment of drama – Jones' coach, Paul Green, appealed a head kick; it was denied – Jones kept her cool and extended her lead.
It ended 16-7: A convincing win, a brilliant performance and a second Olympic gold for the "Welsh Wonder."
Jones - beyond exultant - ran off the mats and dragged Green up onto the field of play. She then ran a lap of honor around the arena, streaming the British and Welsh flags, to the delight of the roaring crowd - which included 10 of her family members who had flown in from Flint, Wales.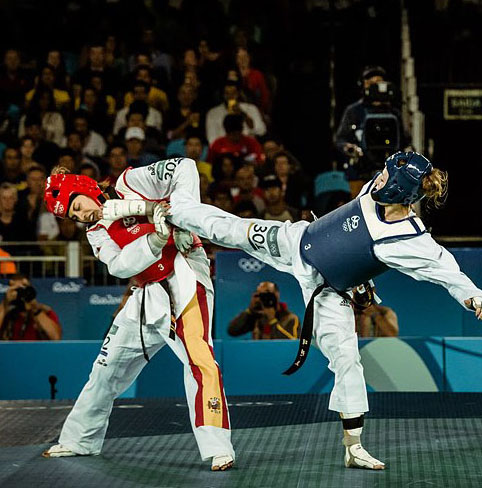 "I know I am the best, but in taekwondo, anything can happen!" Jones said, post-match, referring to the upsets in the previous day's competition, when stars had fallen left, right and center. Looking back on Rio, she is understandably proud. "After London, I did not want to be a 'one-hit wonder,'" she said referring to 2012, when, as an unheralded 19-year-old, she had come from nowhere. The run up to Rio was "a different ball game…I had been undefeated all year, so there was so much pressure, so much expectation." Victory, she mused, had been almost a relief. "It was still joy - but more like, 'Thank God!' Anything else would have been a fail."
Great Britain – the originator of football, rugby, cricket and boxing – has a powerful sporting tradition. Jones' latest gold – together with the silver won by teammate Lutalo Muhammad and the bronze won by teammate (and roommate) Bianca Walken – has planted taekwondo firmly on the British sporting map. "It is going from strength to strength, the team is getting stronger and stronger, we are becoming a force!" she said. "Taekwondo is one of the main sports we are excelling in; I am proud to come from taekwondo in Britain."
With the country having won hosting rights for the 2019 World Championships, two Grand-Prix and the next Para Taekwondo Championships, Jones will be fighting in front of her home crowd once more. "I will try to be an ambassador and for me it is an amazing opportunity for friends and family to come and watch as usually, taekwondo is in faraway countries, so my family does not have the chance to come," she said. "Also, when it is in the UK, people say it is the best atmosphere."
However, 2017 marks a new ruleset coming into taekwondo – and one of those rules is that coaches will no longer be able to appeal head kicks, something Jones and Green have been tremendously successful at. She is unfazed. "I reckon a true champion can change and adapt," she said. "I still have back kicks and body shots … and the rules will not stop me from going to the head!"
As for inspiration, she cites Green and her grandfather. "My granddad took me to taekwondo at age eight, and he literally traveled the world and used his savings to get to the competitions," she said. "I still ask his advice."
Despite her "English Rose" good looks and jaw-dropping physique, Jones has no boyfriend. "I have not found my man yet," she giggled. "I am still looking!" She describes herself as "family oriented" and says she likes to "laugh, joke and be a bit silly."
But that is not her taekwondo personality. On the field of play, Jones is aggressive, dangerous, venomous. "I am a bit rough-and-tumble the way I have been brought up, I am not scared to go toe-to-toe," she said. "A lot of girls shy away from that; it is not natural to fight."
And she is a hard-core trainer. An acquaintance noted – with awe – that Jones and Green sometimes finish grueling all-day national team training sessions, then head out to private dojangs in Manchester for extra evening training. "I have quite an obsessive personality," Jones confessed. Admitting to being "a bit bonkers" she added, "Anything I do, I don't do half-heartedly."
This explains her ambition. "The goal is to get three Olympic golds," she said. "The biggest legends" –Team China's Jingyu Wu and Team USA's Steve Lopez – "have not been able to do it, so that shows how much of an ask it is."
She claims to fear nobody on the circuit, but knows that up-and-coming fighters will be gunning for her over the next four years. Still, her age is to her advantage. "Being only 23, I don't think, 'What else can I do?'" she said."I feel like I can get better."
So, London and Rio - and a historic third gold in Tokyo? "Could I be the chosen one?" she wondered aloud. Then her self-belief kicked in. "I believe I can do it," she finished.