(February 3, 2017) - Every Olympic athlete's road is long and hard - but Raheleh Asemani's was longer and harder than most. In fact, for a time, it looked as if her Rio dreams would be shattered on the rocks of nationality.
The Iranian-born Asemani fled her native land for Belgium in 2012. The refugee arrived in Belgium on Christmas Day, 2012. It did not take long for the former Iranian international - Asemani had won a silver medal at the Asian Games in 2010, but did not make it to the London Olympics in 2012 – to find her way to the Belgium national taekwondo team, under Coach Karim Dighou and Performance Director Laurence Rase, on Dec. 28, 2012. With financial help from local federations, the refugee was able to re-start competing around Europe.
But like every athlete, her highest dream was the Olympics and Asemani, an asylum seeker, was stateless. A ray of hope shone when IOC President Thomas Bach announced the formation of a refugee team for Rio. That gave Asemani – then working as a postwoman in Belgium, while training part time – a last-chance opportunity to fight in Rio. "I was really happy as taekwondo is my life, and this was the one chance," she said. "After 17 years in taekwondo, it had been really difficult."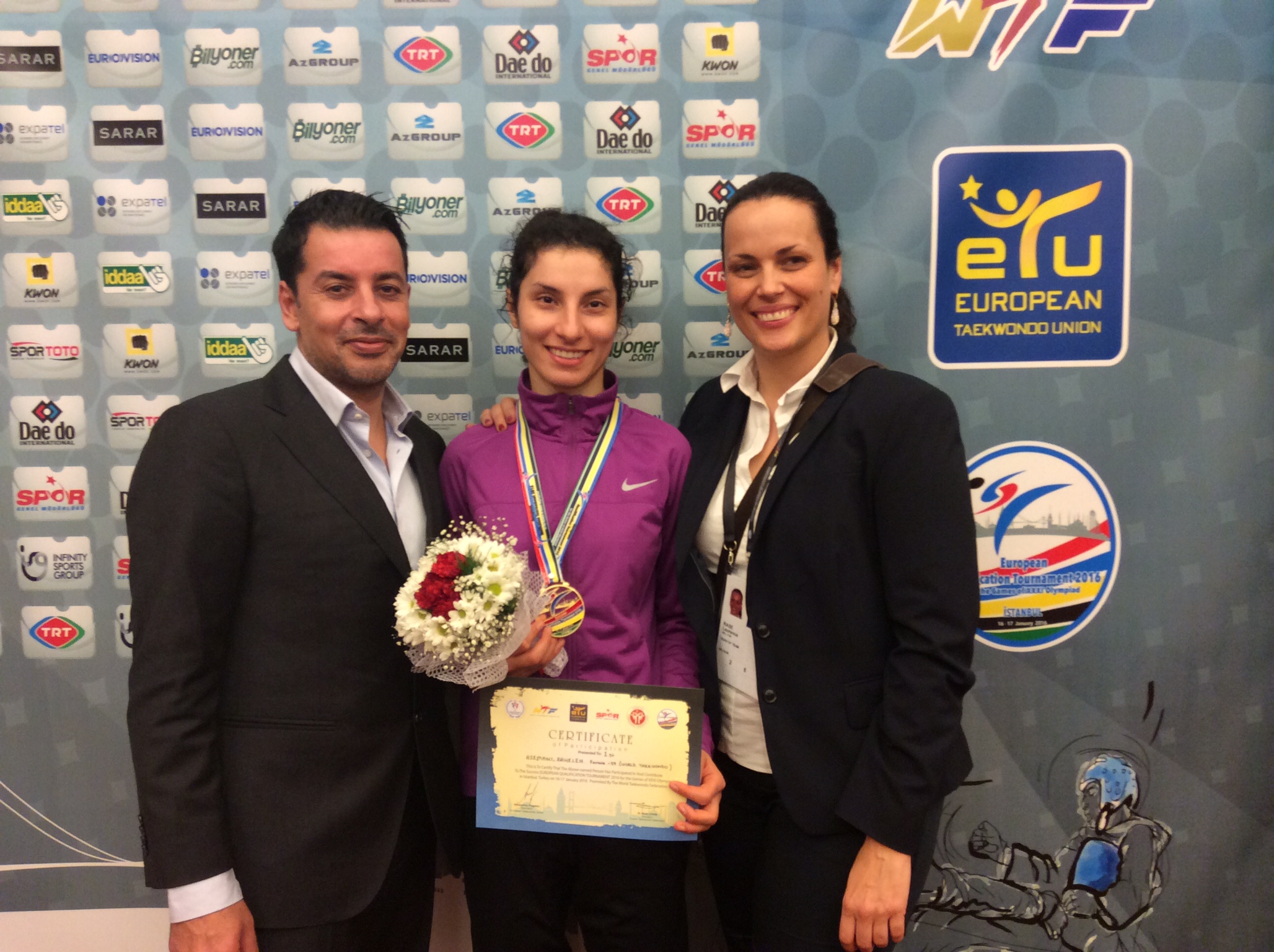 Asemani celebrates with her coach Karim Dighou (left) and Performance Director Laurence Rase (right)
On April 13, she was granted Belgian citizenship – but it was not clear if she would be able to represent Belgium in Rio. At the European Qualification Tournament, Asemani - still fighting under the WTF flag - found herself facing off against Belgian athlete, de facto teammate and close friend Indra Craen. "It was a really emotional game," Asemani said. She emerged victorious in that match, and ended the European Qualification Tournament with a first-place win in her weight class after defeating Finland's Suvi Mikkonen. The question now, was whether she would fight for Belgium, or for the IOC's Refugee Team.
Her paperwork passed muster, and she was cleared to fight in Rio under the Belgian flag. "I got big help from the IOC and the WTF," she said. Asemani was ecstatic. "What can be more beautiful than to have a country at the Olympic Games?" she told Agence France Press in an interview.
Her new passport meant an additional level of emotional support from her new nation. "I had lived four years in Belgium and been training with the Belgian Team," she said. "The people of the country supported me and did everything for me and I got support from Karim and everyone. It was really good."
She fully bonded with the team. "It was really good, I had really good friends, we have grown together," she said. "It is not only sport, it is friendship and everything." Her special training partner in the lead up to the Olympics was none other than Craen.
There were significant differences in the training she went through in Iran and in Belgium. "In Iran, in the National Team, we trained with girls," she said. "So, when I started in Belgium, it was really difficult to train with Karim and the boys." The famously tough training for Team Iran made her "strong," Asemani said, but in Belgium she found more leg control and more science in the program.
Rio would prove to be a trial by fire. Asemani won her first two matches, then found herself facing 2012 London champion and eventual 2016 Rio gold medalist, Jade Jones of Team GB. The fiery Jones won the match, 7-2. Still, Asemani was through to repechage, where she narrowly missed out on a bronze medal against Egypt's elastic-legged Hedaya Wahba, in golden point.
Asemani has mixed feelings about her Olympic result. "First, I had hoped to be in Rio; second, I wanted to do my best, and I think I did it," she said. But she admits that when she came home, "it was too difficult for me, mentally." For four months, she stopped taekwondo.
"After Rio I could not accept that I had lost in golden point," she said. "Then I started my job in the post office - and I have really good friends in the post office - and they supported me and they said, 'You must go one more time; you can do it; you are the best!' and that was really positive energy for me."
She returned to training and is now back on Team Belgium – this time, as a full-time athlete, training both mornings and afternoons. Currently, her sights are set on the World Championships in Muju, in June. "I want to be in the worlds and I want to win and do my best as I did not fight in 2013 or 2015," she said. "It will be my first time on the Belgian Team."
How about Tokyo 2020? "I cannot speak about Tokyo, I think I will be too old, I want to see how my body is," said the 27-year-old. "I want to do taekwondo in my best condition and get the best result."
As for the future, post-Muju, she is mulling a return to study and a possible career in the Belgian police force.
As for the past, she has a lot of gratitude. "I want to say 'thank you' to everyone who helped me, I am really happy that I have met so many good people, and have good people around me," she said. "Especially Karim and Laurence and my boss at work - they were all really good for me."
How about a message for those refugees, displaced persons and asylum seekers worldwide who may consider following in her footsteps? "There are many people with hard life stories, but I think anybody can make their dreams," she said. "I want to say: 'Try, always! Impossible is possible.'"