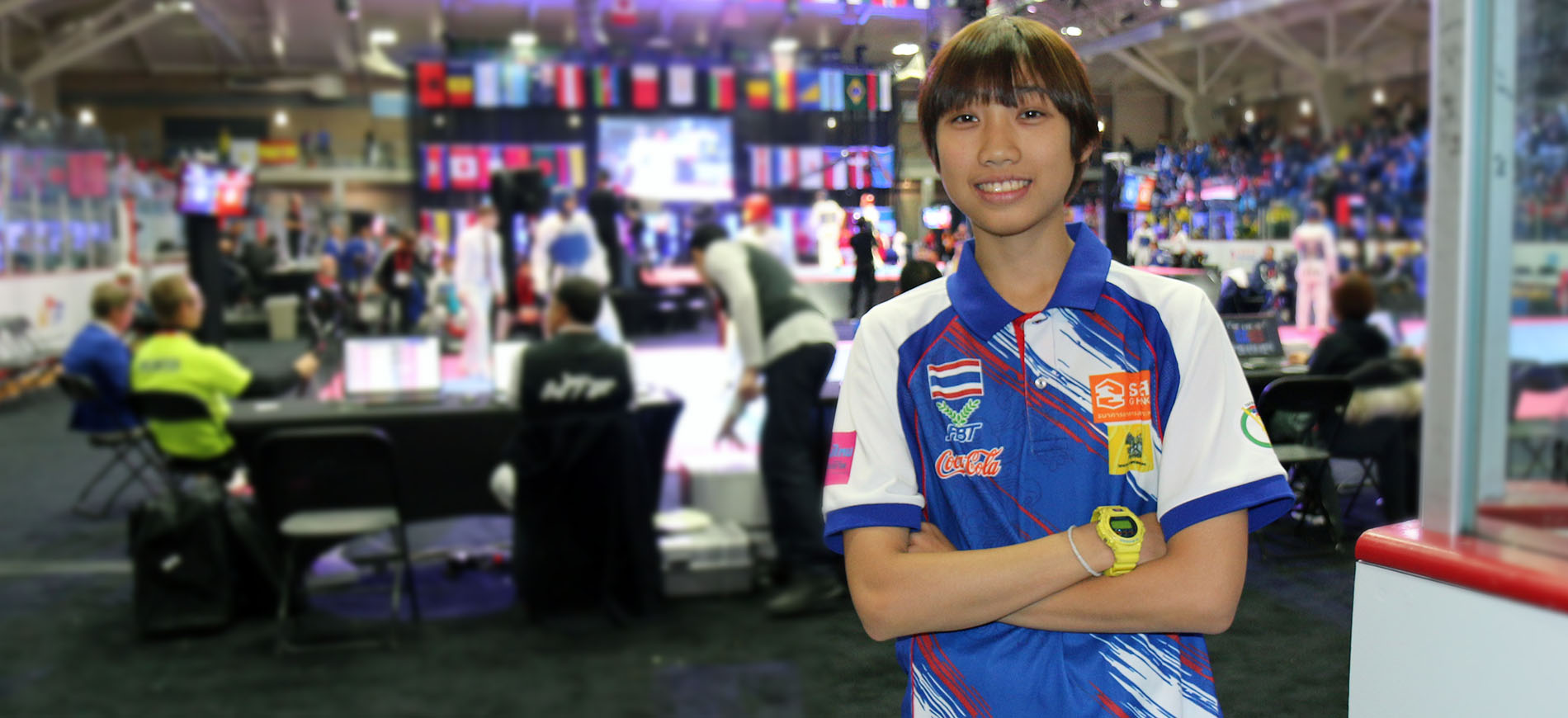 BURNABY, Canada (Nov. 18, 2016) - Napaporn "Mint" Charanawat started taekwondo at the age of eight because she was weak and sickly. Now, aged 17, the girl from Bangkok is world junior champion.
The path to gold in the female -46kg category was not easy: Her final fight against Rim Bayaa of Sweden was one of the most exhausting taekwondo battles this correspondent has witnessed - proof positive that the formerly sickly child has achieved an awesome level of athleticism and stamina.
Both girls erupted straight into action from the opening bell, with the Thai dominating center court and the Swede attempting to score from the perimeter. Both were firing a wide range of techniques – ax kicks, crescent kicks, rear-leg round kicks – but it was the Thai who drew first blood with a razor-sharp chopping kick to the head that pole-axed the Swede to her knees for a 3-0 lead. Charanawat's coach requested a video replay for a round kick to the head; it was denied. After an exchange of ax kicks in the clinch, the round ended 3-1 to Charanawat.
As Round 2 got underway, Charanawat landed another head kick, going up 7-1. Action continued with the Thai trying to drop the ax and the Swede responding with spinning back kicks; Charanawat extended her lead to 10-1. More action followed with an exchange of punches, then the Swede landed to Charanawat's head, bringing the board to 4-10. In the third, Bayaa went onto the attack, fighting forward strongly. The Thai's flexibility was impressive to behold as she raised her ax kick toward the ceiling again, again and again; the board when to 5-11. As the round counted down, Charanawat - finally - seemed to be tiring, relying more on counter punches more than head kicks.
With 30 seconds left and the Swede 5-11 down, Bayaa had her work cut out and launched into all-out attack. But rather than retreating tactically and waiting for the clock to deliver her medal, Charanawat gamely fought back. In the dying seconds, both fighters tumbled to the floor. After a marathon of a match, Charanwat took gold 7-11, leaving Bayaa with a well-deserved silver.
In person, "Mint" – her nickname is a word-play from her sister's name – is upbeat and bubbly, sporting a boyish bob and flashing an ever-present grin.
Going back to her start in combat sports she decided not to pursue Thailand's native martial art – the fearsome Muay Thai kickboxing – instead choosing taekwondo to upgrade her health: "Muay Thai is too rough," she said. "Some girls do it, but not many."
Taekwondo led her to well-being, and she discovered a natural talent. As an athlete, she considers herself "very technical and very flexible." Her favorite technique will surprise nobody who watched her match against Bayaa: "The ax kick off both legs," she said. "And I try to make points with the punch." But the key to her victory was staying focused in the moment. "I really wanted to be champ, I was very excited, but I had to calm down."
She is not happy with the current state of the game. "I don't like this side kick, push kick, side kick," she said, "I can't do it, I am too small." Her fighting inspiration is Jordan's jump-kicking Olympic gold medalist Ahmad Abughaush. "He moves fast and has good strategy," she said.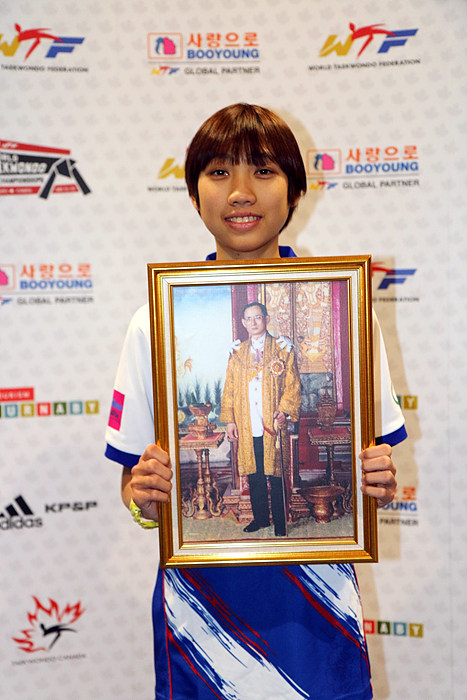 In the future, she plans to transition to the adult division – and to study. "I want to go to the seniors, and I want to go to Tamarsard University to study advertising," she said. Her ambitions are to be world champion in the seniors, then go on to the Olympics. After that, she would like to run a gym.
In conclusion, she thanked the Thai association who gave her the chance to attend Burnaby, the friends that she trains with, and her family. Speaking of which: How did Mint's parents react to her world championship win? "I don't know!" she laughed. "I called them, but because of the time difference between Canada and Thailand, they did not pick up!"