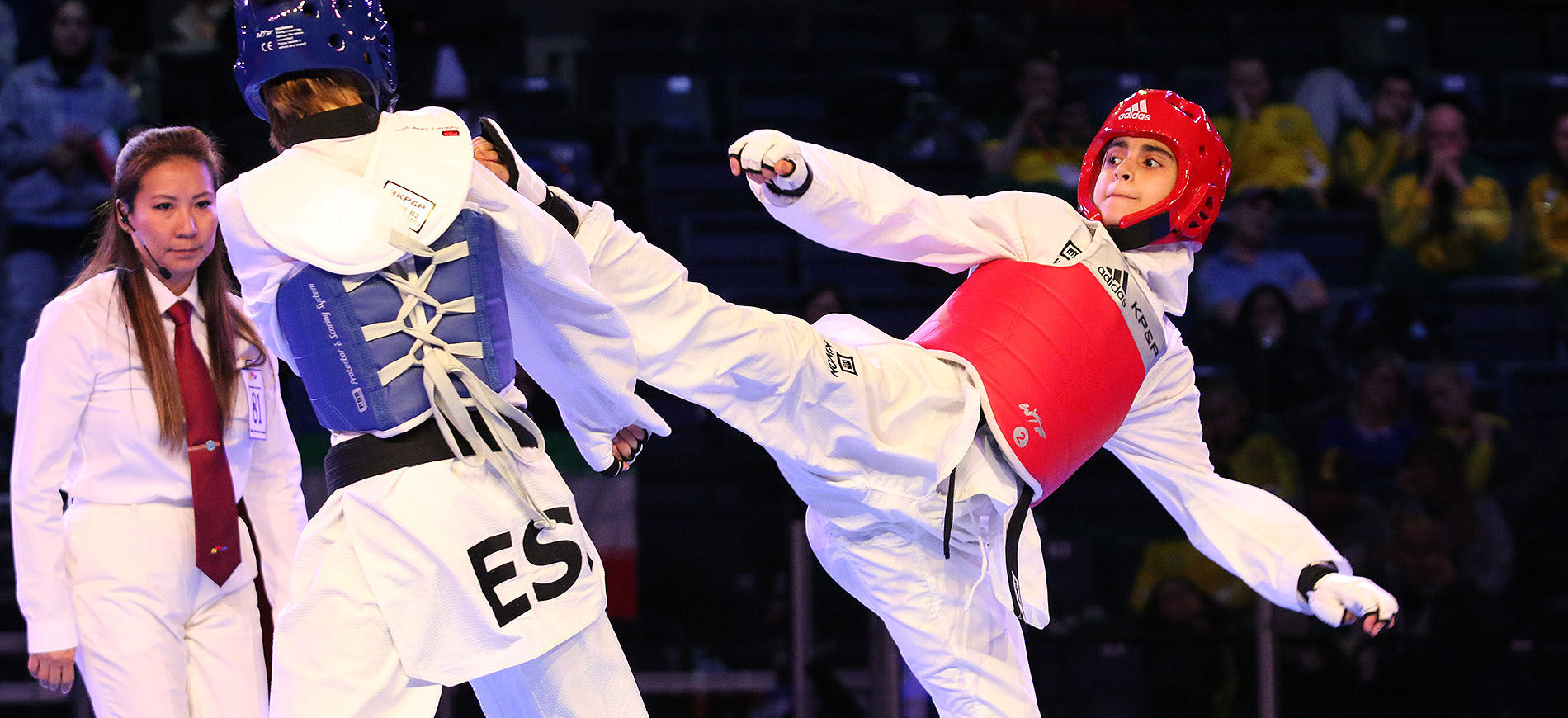 BURNABY, Canada (Nov. 17, 2016) - Nobody can confirm whether or not if it is a world record, but everybody in Burnaby is talking about it: The incredible run by Iran's Mobina Nejad Katesari on Day 1 of the 2016 World Taekwondo Junior Championships.
Over a day of fighting that ended with her being crowned world champion in the female -42kg category, she scythed her way through the opposition, scoring 73 points and conceding none.
Yes, you read that right: None. Not one of her five opponents throughout the day managed to score a single point on the 15-year-old from Gilan, Iran.
"I think that must be a record," said WTF Technical Committee Chairman Jung Kook-hyun, "I don't think anyone else has done that before." "I don't know, I can't say," added Peter Bolz, curator of website www.taekwondodata.com. "But I think that is a record."
In person, Nejad Katesari does come across as an invincible fighting machine. Quietly spoken and with a shy but ready but ready smile, she is small in stature and lacks the towering height of some current-generation competitors. But she moves with the obvious physical grace of the athlete and has the self-assurance of the chosen.
"Taekwondo is not about height, it is about techniques and about the mind," she said. "Strength and ability are important, but on top of that, it is about hard work and trying over and over again."
She started the game at the age of four, having seen bouts on TV. Already a third dan black belt, Nejad Katesari has added her first world junior title to her roster of win, which include two cadet championship golds - at the worlds in Muju, Korea, and at the Asians in Taipei, Taiwan, both in 2015
When it comes to offense, she is a master of the sliding ax kick and is fully ambidextrous. But what is her brilliant defense composed of? She puts it down to her ability with the push kick as a counter-attack weapon, but is unwilling to say any more: "It's a secret!" she said, mischievously.
Fatameh Safarpour, coach of the Iranian Female Junior Team, is more forthcoming. "She is very smart and the key reason for her success in not giving any points away is that she can work with her knees very professionally - she brings up her knees - and she has a good push kick," Safarpour said. "She is very quick and her explosive movements and flexibility help her, so that the opponent cannot react to her - she is ahead of her opponents."
Her other weapon is her mind. "I have the power of making images of the game before I fight," she said. "This is what I learned from my coach."

She also has the intense discipline necessary to juggle schooling and the demands of elite taekwondo, for as a national team member, she has to attend the grueling three-month pre-competition training camps at Tehran's famous "Taekwondo House." "When I am not in camp, I go to school, and in the evenings I go to taekwondo practice sessions," she said, "When I am in the camps I focus on taekwondo, and when I get back home, I get personal tutors to help me catch up with other students."
She is not happy with the current ruleset. "Since the single touch with the sole of the foot has come in, most of the athletes use it and taekwondo does not have any beauty any more as they don't use the more technical moves," she said.
However, she is positive about recent developments with the PSS." I believe that the electronic headgear is very helpful as you are sure that the foot has impacted the headgear," she said. "In the traditional way, sometimes the referee might press the key without an impact."
Given her recent string of victories, she is 100 percent sure of what her life path. "I am going to major in taekwondo in university and take it as my occupation for life," she said. "I recently made that decision as, after I had achievements, I believed I could do this, It was motivating. "
The decision to make taekwondo her life was completely her own, but her parents both encouraged and supported her, Nejad Katesari said. Naturally, there were "super happy" when she called them after her victory on the night of her win.
As for influences in the sport, she cites her coach back home in Gilan, Neda Rastad. "She was my coach from the age of four," Nejad Katasari said. "She gives me positive energy and high spirits." Another is her taekwondo senior Kimia Alizadeh Zenoorin – who, in Rio, became the first Iranian female athlete ever to win an Olympic medal and has since won fame across Iran.
"I know her personally," she said. "She gave high motivation to all Iranian girls, so now they believe that if they try hard, they can have great achievements - like her."
In the future, destiny awaits. Nejad Katesari's ambitions are not lowly: She aims to be both an Olympic champion and a national team coach. "I am happy that as a Muslim girl my hijab did not create any limitations," she said. And of course, that destiny can build on the foundation of a very impressive recent record. "By winning 75 points in five games without losing any, I could make history," she said.