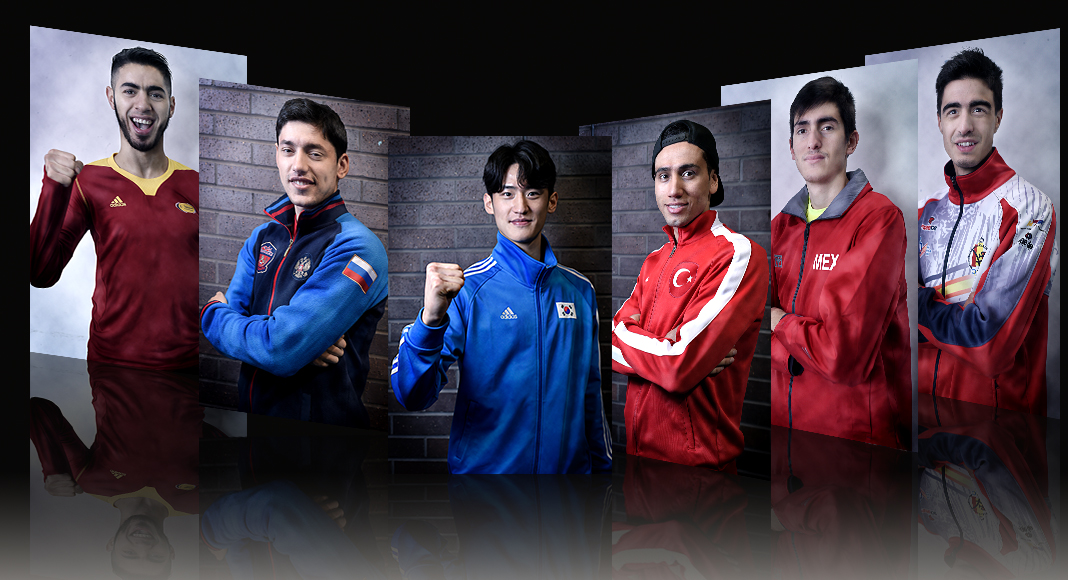 (June 17, 2016) - Anyone who watches taekwondo will know the players in this category: It features some of the top stars in the sport - and some of the most spectacular. This makes the male -68kg division truly the "star wars" of Olympic taekwondo.
In the category's top six players, four are Olympic medalists from London: Two are 2012 gold medalists, one is a silver winner and one is a bronze medalist. Since 2013, through various Opens and Grand Prix (GP) events, several of these players have moved up in weight - and since London, two rookie dark horses have entered the arena with very realistic gold medal hopes.
What more can be said about Turkey's Servet "The Cheetah" Tazegul? A legend in the sport, he won the -68kg division in London. His spectacular style - jumps! spins! head kicks! - brought crowds to their feet in 2012, but since London, with a cagier and more tactical game predominating, his flamboyant, all-out offensive style has not proved as winning as it is crowd pleasing and he saw a slump in results. But in 2015 he surged back into contention at the World Taekwondo Championships in Chelyabinsk. There, he took on hometown favorite Alexei Denisenko in a spectacular duel of flying legs that has gone down as one of taekwondo's all-time epic matches. That proved very definitively that "The Cheetah" still has claws, but the question of retirement is also hanging over the Turkish big cat.
Three of the contenders in this category fought in the -58kg category in London, but have since moved up in weight. Spain's Joel Gonzalez won gold in that division in 2012, Korea's Dae-hoon Lee won the silver and Denisenko went home with bronze. Any one of them, on any given day, could dethrone Tazegul in Rio.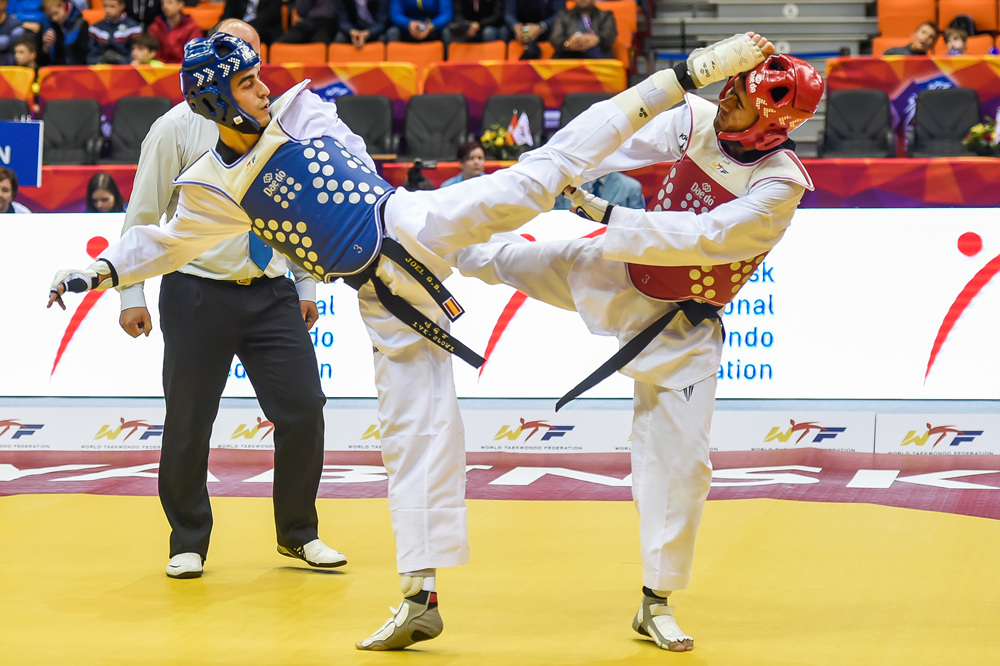 Of the three, Denisenko has adjusted very quickly to the heavier category. In the 2013 Pueblo World Taekwondo Championships he failed to win medal, but in the inaugural Manchester Grand Prix of that year, he took gold. In 2014, the good looking and very personable gypsy lad from Rostov-on-Don had a vintage year, taking three out of four GP golds in the category. In 2015 World Taekwondo Championships in Chelyabinsk he fought an awesome fight against Tazegul, taking silver. Also, in that year, Denisenko beat Lee, who he had lost to in the semis in London. Tactically very smart, the Russian also has a crowd-pleasing style featuring versatile head shots, aerial attacks and high scores.
Korea's Lee is arguably the top male medal hope for the country which created taekwondo. Post-London, he has been up and own in terms of his results, but his training cycle appears to be paying off as his results have been on the up into and through the 2016 Olympic qualification process for Rio. Having gone up in category, he has lost the pressure to make the weight, but is under pressure to beef up his physique - he has recently been hitting the weights. His technique, however, is excellent: He is a versatile, all-round fighter with wickedly fast reaction. His first victory in the category was at the 2014 Suzhou Grand Prix, but did not break into the top ranks. That changed in 2015: In that year's GP series, he won silver in Moscow, bronze in Samsun and golds in Manchester and Mexico City. He is now the number one ranked fighter in the category.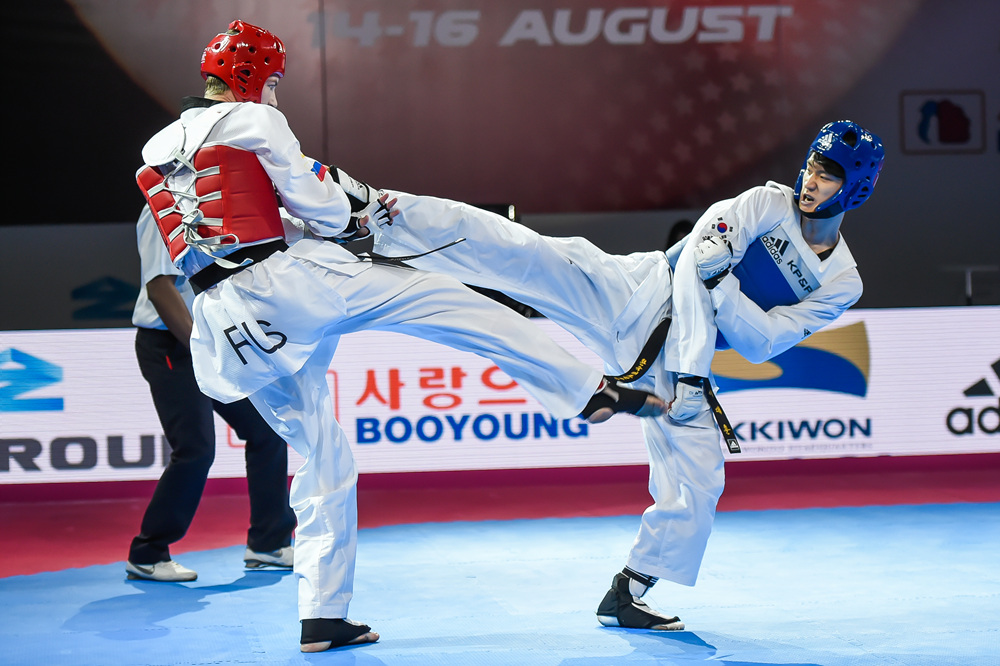 A see-saw rivalry has been underway between Gonzalez and Lee since London. There the Spanish fighter came out tops, but in the Puebla World Taekwondo Championships the following year, the result was reversed. In 2014 Grand Prix series and the 2015 World Taekwondo Championships Gonzalez was the winner; in the 2015 Grand Prix Series, it was Lee. In Rio, it will be game on between these two.
In addition to the veterans above, on the road to Rio, two newcomers have stamped their own impressions on the category Mexico's Saul Gutierrez and Belgium's Jaouad Achab.
Like the country he represents, Belgium, Achab looks smaller and more fragile than others in the category; but like Belgium, he punches above his weight. He is a very active, skillful and smart fighter with massive potential, who fights with a blend of the flamboyant "old style" and the tactical-centric "new style." He did not appear in London Olympics but since 2013 has been searing across the European Opens and major competitions. In 2014, at the European Taekwondo Championships and in 2015 at the World Taekwondo Championships he appeared as a dark horse. Well prepared, widely experienced, he has become one of the most visible fighters on the circuit.
Mexico's Gutierrez is so tall and skinny, he is nicknamed "The Spine." He has the long legs of the prototypical taekwondo fighter, making him a natural head kicker. This is particularly the case as he has a height advantages over the other athletes in the category. In 2014's fighting season he started fighting in major global competitions. In 2015, he won bronze at the World Taekwondo Championships and gold at the Pan Am Games. In the 2015 Samsun Grand Prix his long-legged game negated Tazegul's fiery attacks in a clash of styles. And in the 2015 Mexico Grand Prix Final, he lost narrowly to Lee.
While many fans in Rio would love to see a rematch of the Homeric Denisenko-Tazegul clash that electrified the World Taekwondo Championships in Chelyabinsk in 2015, this category, brimming with talented star fighters, but with no single athlete totally dominant, could go anyone's way.