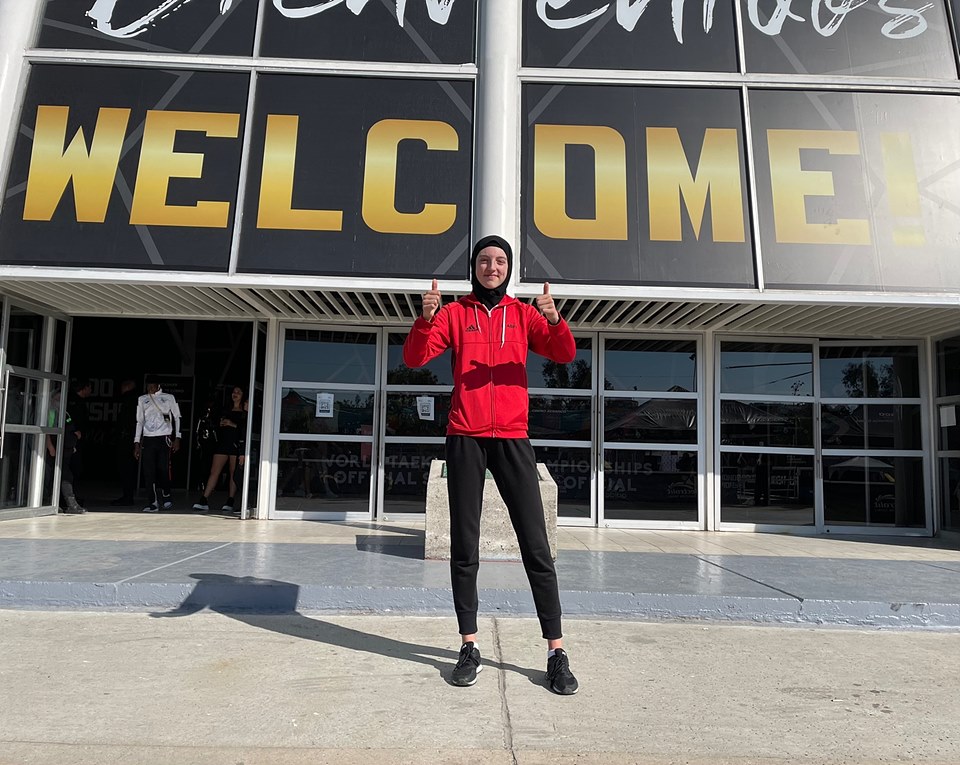 Belgian teenager writes history, netting junior and senior world titles in same year
GUADALAJARA, Mexico (Nov. 18) – Some teens sit at home, eat donuts and play video games. Some teens have higher ambitions.
Count Sarah Chaari among the latter category.
The 17-year-old from Charleroi, Belgium, pulled off an achievement unique in Taekwondo history: In 2022 she has won both the Junior and Senior World Championship titles.
She managed the first half of that feat in Sofia, Bulgaria, at the World Juniors in August. She pulled off the second half at the World Seniors in Guadalajara's Centro Acuatico CODE Metropolitano on the night of Nov. 15.
The final of the W-62kg pitted the schoolgirl against the entertaining and sure-footed Theopoula Sarvanaki of Greece.
Round 1 started at a fast pace, with both athletes firing off plentiful firepower. Chaari had the height advantage, but Sarvanaki was fighting more cleanly, and Chaari's grabs lost her the first.
Round 2 saw the Belgian go onto the attack, clawing back a lead after a scrappy fight - taking the match to the third.
Round 3 continued in the same messy style with Sarvanaki one point up for grabbing – then the Greek landed a textbook, out-of-nowhere round kick to Chaari's jaw.
Chaari had to fight back - and suddenly it was all on. Head kicks, body kicks, punches, grabs and falls provided a whirlwind conclusion to the match. When the smoke cleared, the board read 12-7 to Chaari.
The ferocity of the fight earned an especially loud round of applause from the crowd.
"It was incredible!" Chaari said. "I was really happy, really proud, but I could not believe I was getting a medal."
Asked if she had expected to medal in Guadalajara, she answered, "Not at all! I came here to enjoy and to do my first World Championships at senior level. I expected to win one or two matches – but that is all!"
World Taekwondo officials are in awe at Chaari's achievement.
"It's amazing that she went from juniors to seniors," said Sung-chul Kim, who heads the WT Technical Committee. "I really liked her style, she did not give up, she had a big heart, she continued to the end." "It's great to see young talent coming up," Kim added.
However, unless there is a return of truly extraordinary global circumstances, Chaari's feat can never be repeated.
"It is odd years for senior World Championships, even years for Junior World Championships," said Jay Lee, who heads up WT's Sport Department. "But because of Covid, our event schedule changed."
Of her two wins, Guadalajara outshines Sofia.
"Seniors is the way to go to the Olympics, it is more important than the Juniors," she said. "The girls are stronger."
She should know. Chaari tried a range of sports from a young age, but it was Taekwondo that captured her heart and she stepped onto the mats early.
"I have been fighting since I was a cadet – I was like, 12 – and from this time I always wanted to win big competitions," she said. "As I became older, the goals grew bigger."
Physically, she boasts a long and leggy physique. Technically, she has honed her arsenal.
"I like the push kick and the back leg round kick," she said. "Clinching is a strong side for me - I get points - but it is very tiring."
Physical and technical preparation is an issue as Chaari juggles the training of an elite-level athlete with her school commitments.
"I go to school in the morning and in the evening I go to training," she said. "I try to manage my time."
Unsurprisingly, she does not have any other hobbies or special interests: "My free time is mostly Taekwondo." Still, the upside is obvious: "I am still young and I have so many years," she said.
Looking ahead, a busy season is looming. She intends to defend her title at next year's Senior Worlds in Baku, Azerbaijan, and hopes to quality for Paris 2024.
These are towering ambitions for – it bears repeating – a 17-year-old school girl. But despite the plaudits that have been heaped upon her, she remains grounded.
"I don't feel like a star, I am just a girl who likes to follow her dream to be a big champion," she said. "That's it."