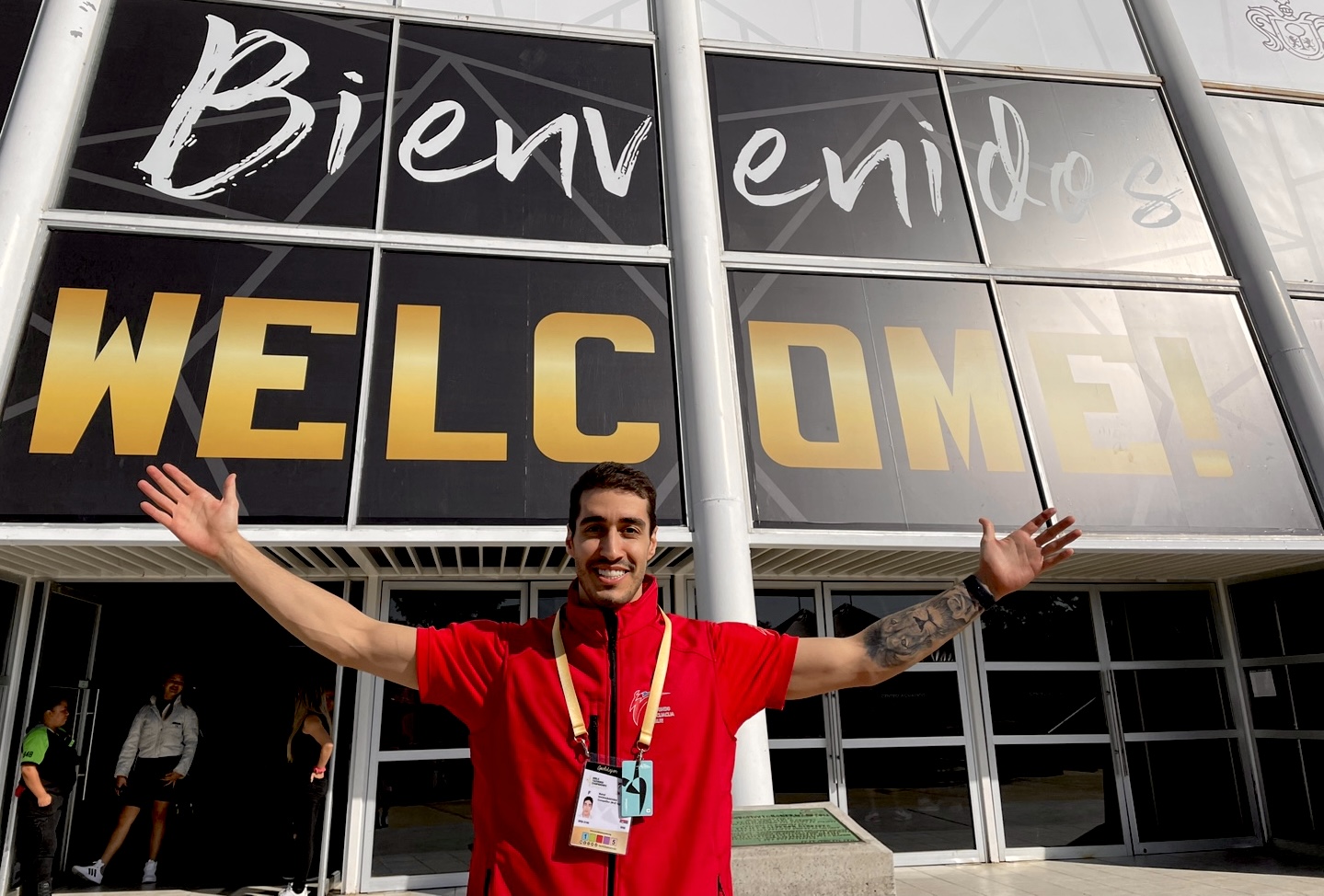 GUADALAJARA, Mexico (Nov. 16, 2022) - On the night of Nov. 15, Mahdi Khodabakhshi pulled off a unique feat: He became the first Taekwondo athlete to win two World Championship titles for two countries.
He also proved that old can win gold. In the final, the 31-year-old ex-Iranian international and newly minted Serbian citizen beat an opponent nine years his junior. In so doing, he became Team Serbia's first-ever male world champion.
More? All this was achieved by an athlete who was coming back from a long break from elite-level competition, and was in recovery from knee surgery undertaken at the start of the year.
To top if off, he earned a brand-new nickname on the night, coined by his legendary coach Dragan Jovic: "The Serbian Porsche."
"He sent me the Sia song 'Unstoppable' and said, 'Listen to this music,'" Khodabakhshi recalled the morning after his victory. "He called me a Porsche with no brakes!"
Fans of the game will recognize Khodabakhshi immediately. His trophy cabinet is packed with a 2015 World Championship title, three Grand Prix golds and a host of open medals. A mainstay on Team Iran for years, he was noted for his tactical mastery, athletic physique and good looks.
But between 2017 and 2020, the man who had been winning medals by the ton between 2014 and 2016 virtually dropped off the Taekwondo radar.
Why? Love.
The Iranian won the heart of Serbian Taekwondo athlete Tanja Tanackovic; the two married in 2019. That led to Khodabakhshi's relocation from Iran to Serbia; the bureaucratic process of gaining new citizenship; and adapting to life in a new society.
"I changed country and had really hard days to adapt to the life, the culture, the country," he said. "It was a new adventure, but step by step, it got better."
There was also a tragic issue to manage: The declining health of Tanackovic's mother, suffering from a serious cancer.
However, there was a major plus in relocating to Serbia's capital, Belgrade: The opportunity to train at one of the premier dojangs on earth. Jovic's Galeb ("Seagull") gym is a factory of champions that has churned out stars including double Olympic gold medalist Milica Mandic and Olympic silver medalist Tijana Bogdanovic.
"I was surprised to see Madhi when he arrived in Serbia," said Jovic – but was unsure if Khodabakhshi was still on top form. "His last time in competition was two or three years previous, and his age was high to compete."
Moreover, there was a question over whether Khodabakhshi would fit into Galeb. "He was a big star," Jovic said. "But we had other big stars."
In the event, the two men gelled. "We found we had chemistry," Jovic said. "He felt at home, and we believed we could do something big."
After clearing all necessary matters with the Iranian Federation, Jovic took Khodabakhshi under his wing. He began fighting for Team Serbia.
In 2020, he won gold at the Sofia Open and in 2021, took silver at the European Championships. Then - disaster. In October 2021 he suffered a knee tear at the Albania Open, and underwent surgery at the beginning of 2022.
Rehab lasted six months. Training began in August, then he was back fighting in European Opens – Albania, Montenegro and Slovenia, where he got silver.
"I want to thank all my coaches and therapists who helped me come back as fast as I can," he said. "It was incredible."
Arriving in Guadalajara, he made a point of reconnecting with his former Iranian team mates.
"Before the matches I went to their hotel, I said welcome and said 'hi,'" he said. "I always respect Iran and they always respect me."
His preliminary against Iran was "a really friendly match" he said.
Which world title was more satisfying: Chelyabinsk 2015 or Guadalajara 2022?
"This one!" Khodabakhshi said. "I was looking for a big event to show myself that I am still the best, that I can still do it."
Looking forward, he wants to do it on the only stage higher than the World Championships. After failing to medal in Rio, and not appearing in Tokyo, his sights are set on Paris 2024.
"Still, I have the motivation!" Khodabakhshi said. "I am always hungry to take medals, I will soon forget about this medal - there is so much more to come."
To qualify directly, he needs to be in the top six. His current Olympic ranking is in the 50s, but with the Guadalajara points he expects to enter the Top 10.
His coach reckons anything is possible. "He is a special person," said Jovic. "With a Porsche, you only need to add a little petrol, and it is on a winning way."
And regardless of what happens in 2024, the vast trove of experience Khodabakhshi - who has been fighting at the elite level since 2011 - has amassed will remain inside the game.
"I'd like to become a coach and share the experience that I have with the new generation," he said. "I can help and improve Taekwondo."