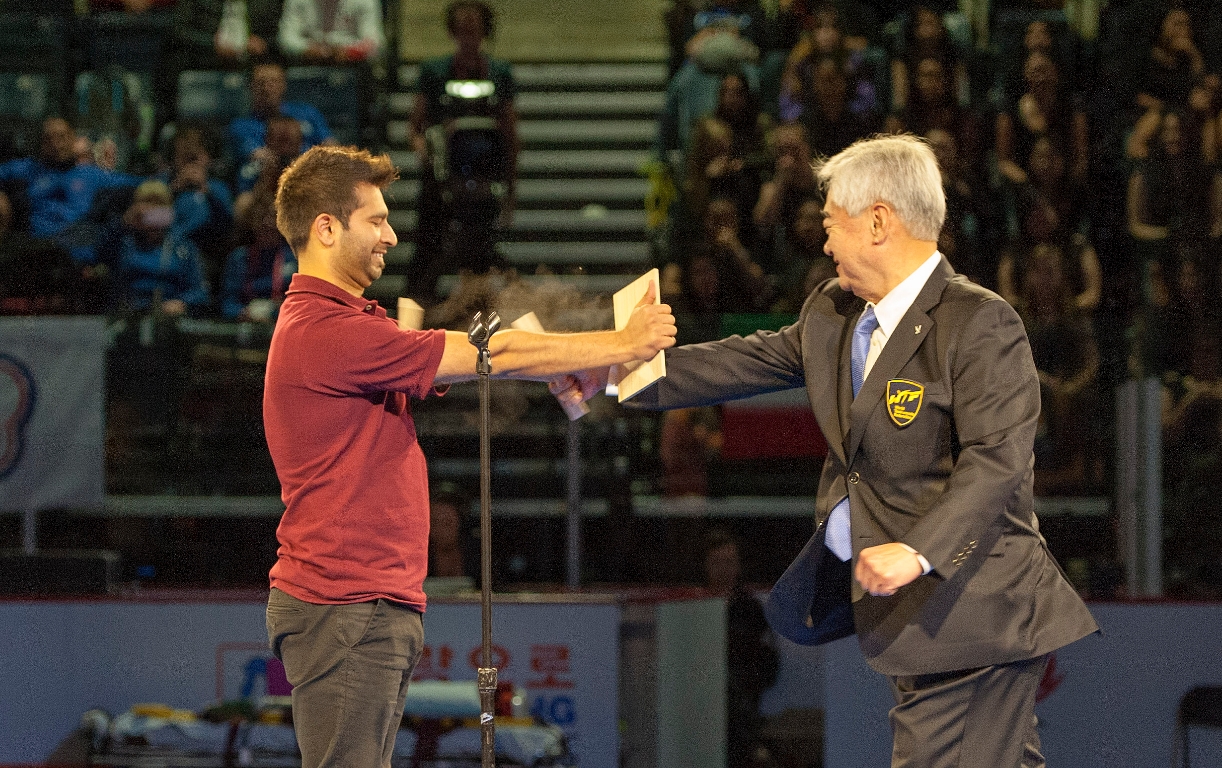 BURNABY, Canada (Nov. 16, 2016) - The opening ceremony of the 2016 World Taekwondo Junior Championships, which started its five-day run here today, highlighted the diversity of the Canadian west coast city of Burnaby and the World Taekwondo Federation.
In accordance with WTF tradition, it began with a parade of the national flags of the 102 countries in attendance. The flags were born by athlete/flag bearers, who passed across the field of play in front of an honor guard of the Royal Canadian Mounted Police in full dress uniform. The Canadian national anthem was sung by a choir - then the ceremony proper got underway.
Branded "United Cultures of Burnaby" the theme spoke both to the global nature of taekwondo and the multicultural society of the host city, whose residents speak over 100 languages and who hail from nations ranging from "Azerbaijan to Zanzibar."
A native Canadian musical and wolf dance troupe, a Highland pipe and drum troupe and a drum, song and taekwondo troupe performed one after another, followed by another song by the choir.
WTF President Chungwon Choue then took the stage. "I am happy to be here in the wonderful city of Burnaby, with its warm welcome," said Choue. "The junior championships are the roadmap to the 2020 Olympic Games: You are the future of taekwondo."
He revealed that City of Burnaby Major Derek Corrigan and himself had recently signed a memorandum of understanding between the city and the Taekwondo Humanitarian Foundation, or THF. The MOU, to assist refugees in Burnaby, will be a legacy project of the championships.
Corrigan then spoke. Having inaugurated Canada's first-ever "Taekwondo Day" he is the holder of an honorary 6th dan taekwondo black belt. "But I have absolutely no taekwondo skills," he joked. "So, if anyone picks on me I can only have an honorary fight!" He praised the life-building skills of taekwondo and urged participants to have a wonderful time.
Choue then presented Corrigan with a commemorative plaque.
The WTF flag was presented on the field of play. Standing beside the flag, U.S. and Canadian players read the Athletes' Oath, followed by two Canadian referees, who read out the Referees' Oath.
Members of the Burnaby Organizing Committees made a brief presentation then Choue inaugurated the global "Taekwondo Humanitarian Foundation Challenge" – a board-breaking fundraiser dubbed branded, "Break Boards, Change Lives."
Choue smashed a board, pledged a donation and challenged Corrigan. Corrigan won the biggest applause of the evening when he donated $5000 to the THF before breaking a board himself. In turn, he challenged Organizing Committee President Nancy Small, who broke a board - and challenged WTF Council Member Ali Sagirkaya.
The burly Turk was offered the thickest board of the evening. He generated huge laughs when - after flamboyantly measuring up against the board for a chopping attack - he smashed it with a butt from his (bald) head.
All that then remained was for the championships to be officially declared open. "This is a championship where the bar is going to be high for everyone who follows," said Organizing Committee Chairman Paul McDonell. "It is my pleasure to declare the 2016 World Junior Championships Open!"