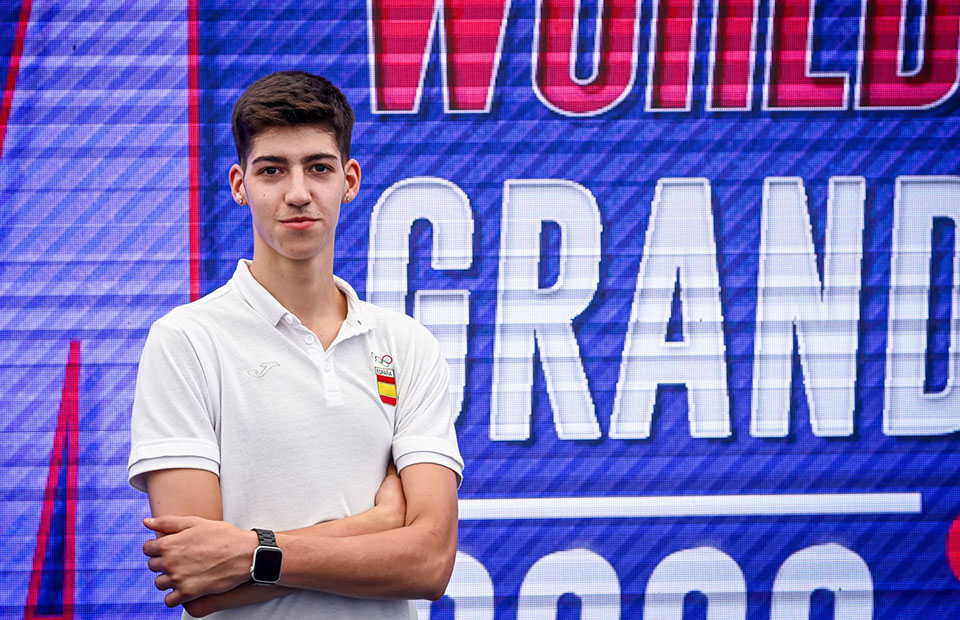 ROME, Italy (Jun 11, 2023) – After years of hard work and semi-finals, it was only a matter of time before Spain's Adrian Vicente Yunta saw the colour of gold around his neck at a World Taekwondo Grand Prix.
The 24-year-old from Spain has been a consistent performer on the senior circuit, with a trophy cabinet that boasts a World Championship bronze and four Grand Prix bronze medals, alongside a host of other medals.
But international gold was only a matter of time for Vicente Yunta, and the timing could not have been more perfect as the Spaniard celebrated his 24th birthday just a day after his momentous win.
"It feels incredible, and it is the best birthday present that I could have asked for! Of course, I celebrated with my team yesterday, but I will have a proper gold medal and birthday celebration today," Vicente Yunta beamed.
As with most athletes on the tour, there is never much time to revel in victory for too long before attentions turn to the next event. Vicente Yunta has already set his sights on reclaiming his European title at the end of this month, after having to settle for bronze in Manchester last year.
"The European Championships are my next focus, and then of course there is the Australian Open in July. Then I will hopefully have a holiday and get some rest before preparing for the Paris Grand Prix," said Vicente Yunta.
For the Spaniard, trusting the process and relying on his coaches' expertise are crucial components of his success. He believes that hard work and dedication are the keys to progression, patiently waiting for his time to come while putting his faith in the team behind him.
"I think it is all about progression and hard work. Trusting the process and waiting for your time to come, so I knew gold would come," he stated.
Securing the gold at a Grand Prix is never an easy feat. As Vicente Yunta points out, they are all competing against the very best athletes in the world. In Rome, he faced a new adversary, 18-year-old Mahdi Hajimousaei, who had only recently entered the senior circuit.
"Yes, he is a new fighter, so it was all about trying to work out his strategies and then, with my coach, creating a plan to beat him," he explained.
Acknowledging that Hajimousaei entered the fight with fresher legs due to a walkover in the semi-final, Vicente Yunta credits his coach and team for positioning him for victory, enabling him to focus solely on his game.
At 24 years old, Vicente Yunta has earned his time in the spotlight. However, without a doubt, 18-year-old Hajimousaei will be one to watch in the future.
Spain's brilliant Taekwondo sensation aspires for his victory in Rome to pave the way for more golds in future events. In particular, he has his sights set on the Olympic Games Paris 2024.
"If I qualify for Paris 2024, of course I will be looking to get a gold medal. I am always fighting for gold medals," concluded Vicente Yunta.
Adrian Vicente Yunta's gold medal at the Roma 2023 World Taekwondo Grand Prix not only highlights his remarkable skills but also underscores his unwavering determination. There will certainly be much more to come from Vicente Yunta.