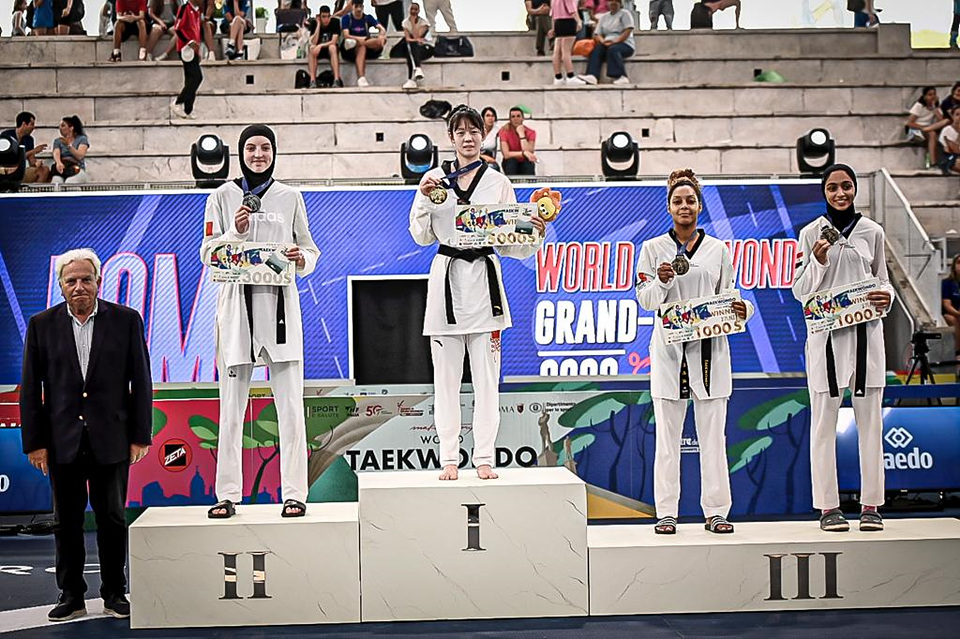 ROME, Italy (Jun 10, 2023) – Day two of the Roma 2023 World Taekwondo Grand Prix did not disappoint, delivering thrilling Taekwondo action that culminated in gold medal triumphs for China and Spain.
Jie Song of China won gold in the women's -67kg, Adrian Vicente Yunta of Spain topped the podium in the men's -58kg, while Lei Xu clinched the final gold medal of the day in the women's +67kg after taking down the reigning World Champion Althea Laurin of France who had to settle for silver.
The remaining silver medals were well-deserved by Belgium's Sarah Chaari and Mahdi Hajimousaei of Iran, while the bronze medals were split between France, Egypt, Korea, Iran, Great Britain and China.
During the medal ceremony, Association of Summer Olympic International Federations (ASOIF) President Francesco Ricci Bitti had the honour of presenting the medals to the talented athletes competing in the women's -67kg category.
In addition, a special moment followed the ceremony as World Taekwondo President Chungwon Choue presented a trophy to President Ricci Bitti in recognition of ASOIF's 40th anniversary.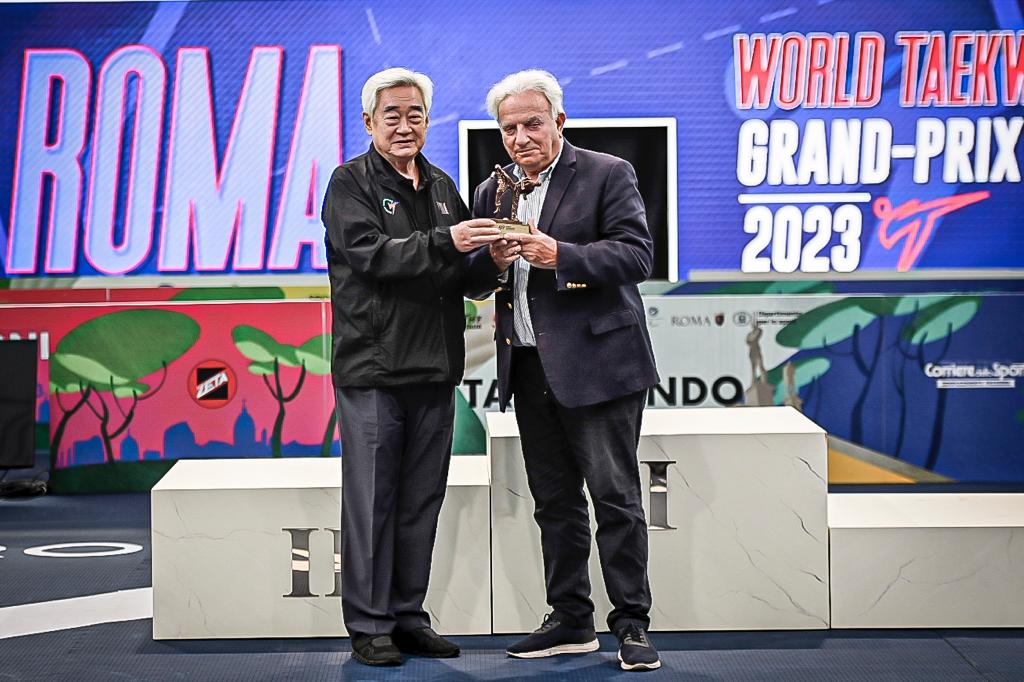 Women's -67kg
In the women's -67kg, China's Jie Song entered her first-ever major final against Sarah Chaari of Belgium, a gold medallist at the 2022 World Championship in Guadalajara.
Chaari was the first to put points on the score board as she connected with a push kick to take a 2-0 lead. But Song was impeccable in evading Chaari's powerful kicks, digging deep to land a head kick to make it 3-2, before closing out the round with a kick to the body at 5-2.
The experienced Chaari took control in the second round, landing an early kick to the body and another later in the round to win 4-0 and take the final to a deciding round. With both athletes having the measure of each other, the deciding round was a cagey affair with the first points not landing until Song and Chaari traded head kicks to make it 3-3. However, with just 25 seconds left on the clock, the Chinese team challenged Chaari's three points and a video review confirmed that the kick did not connect, giving Song a 3-0 lead. Song was happy to take a Gam-jeom in the final second of the round, knowing that it would not be enough to take the gold medal from her with a 3-1 victory.
In the first semi-final, World Champion Magda Wiet Henin of France was on the hunt to reclaim her Roma 2022 gold, and it was China's Song who stood in her way. Song came out firing, landing two kicks to the body to take an early lead, before both athletes traded blows. But it was Song who stood strong to take the first round 6-5. In the second round, Song kept her poise to hold the scores level until the halfway mark where she landed a kick to the body to take the lead and proceeded to move through the gears to a 6-2 round two win.
The other semi-final saw a match-up between Chaari and Aya Shehata of Egypt. Chaari took an early 5-0 lead which she held until Shehata landed a punch. But it was too little too late from the Egyptian, as Chaari stayed calm and collected to close out the first round 6-1. Shehata fought back in the second round, taking a 3-0 lead, but Chaari landed a flurry of kicks and punches to take a healthy 7-3 lead that proved enough to progress to the final.
Men's -58kg
Spain's Adrian Vicente Yunta new-comer Iran's Mahdi Hajimousaei of Iran clashed in an intense men's -58kg final.
The 18-year-old was the first to put points on the board with a punch, but Vicente Yunta was quick to respond with a head kick and punch in quick succession to take a 4-1 lead. Hajimousaei fought back to land body and head kicks to steal a 6-4 lead, but it was lost quickly to the Spaniard who landed a back leg turning kick to the head to regain the lead at 7-6. Not to be outdone, the young Iranian connected with a head kick and punch to get back in front, to which Vicente Yunta responded with a body kick to bring himself within one point at 10-9. But Hajimousaei from Iran held on, before landing a magnificent head kick and seeing two Gam-jeoms go against Vincente Yunta to stretch his lead and take the round 15-9.
The intensity of round one continued in the second round which proved to be a battle of head kicks. The experienced Vicente Yunta took the first three points with a head kick, before landing another to stretch his lead to 6-0. The young Iranian fired back with a head kick of his own to bring the score to 6-3, but Vicente Yunta quickly landed a head kick, before Hajimousaei conceded a Gam-jeom to give Vicente Yunta a 10-3 win.
The determination from both athletes continued in the definitive third round. Hajimousaei landed the first blow with a 3-0 head kick, but Vicente Yunta responded with a body kick to close the gap, before landing another to take the lead 4-3. The scores levelled when Vicente Yunta conceded a Gam-jeom and it was all to play for at 4-4 going into the closing stages of the decider. It was Vicente Yunta who came out on top with a decisive body kick to move ahead and take the round 6-4, and the Roma 2023 Grand Prix gold medal.
Vicente Yunta had reached the final by overcoming Korea's Jun Jang in convincing fashion in the first semi-final. Vicente Yunta opened the scoring in round one with a kick and punch to the body, but two Gam-jeoms saw the Jang close the gap to 3-2. The Spaniard bounced back with a head kick that was confirmed by video review and followed up with several more blows to take a commanding lead. Despite Jang's best efforts to get back into the round, Vincente Yunta stayed focused and secured the 14-9 win. Round two was just as fierce, but it was the Spaniard once again who took control and came out on top with a 11-5 win to book his place in the final.
In the other semi-final saw an all-Iranian matchup with new-comers to the senior circuit Abolfazi Zandi and Hajimousaei. However, after the first round got underway it became clear that Zandi was struggling with an injury, resulting in Hajimousaei progressing to his first-ever Grand Prix final via a walkover.
Women's +67kg
Day two action was wrapped up with an exciting women's +67kg final between reigning World Champion Althea Laurin of France and China's Lei Xu, who was making her Grand Prix final debut.
Round one saw a cautious start, with both athletes figuring each other out. It was not until the final second that Xu managed to fire in a punch to clinch the opening round 1-0. Xu got off to a quick start with a kick to the head in round two, and her lead was extended to 4-0 when Laurin conceded a Gam-jeom. Laurin refused to let Xu run away with the gold, landing a head kick to close the gap at 4-3, but Xu quickly shot back with a kick to once again extend her lead to 7-3. A Gam-jeom against Xu in the final seconds saw her close out the round at 7-4 and claim the gold medal.
In the first semi-final, Laurin took on China's Zeqi Zhou. Both athletes came out firing, but it was defense that ruled with the first points not coming until the final 40 seconds of the match with Laurin and Zhou trading body kicks. Zhou then landed a kick to the body that proved decisive as she took the round 4-2. The formidable Laurin shifted into gear in round two to win it 7-4 and bring herself back into contention. In the deciding round, Zhou took an early lead until Laurin showed her class and landed blows of her own to get the scoreboard moving to an impressive 14-11 and book her place in another major final.
The other semi-final saw a match-up between Great Britain's Rebecca McGowan, a silver medallist in Baku, and Xu. The first round was a fierce battle, with both athletes landing blows but it was Xu who took a 6-3 lead after a video review confirmed a head kick. McGowan landed three punches to level the scoreboard 6-6, but two Gam-jeoms and head kick gave Lei some breathing room and a 11-6 win. Round two was another intense battle, with the lead changing throughout until Lei landed powerful head and body kicks to close out the round 9-6.