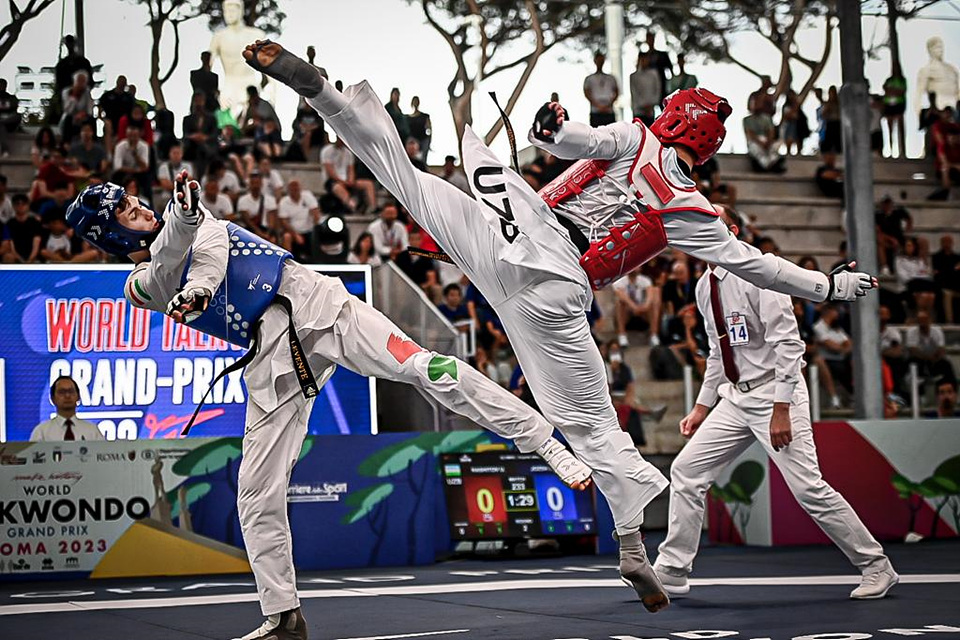 ROME, Italy (Jun 9, 2023) – The Roma 2023 World Taekwondo Grand Prix got off to a roaring start with Uzbekistan's Ulugbek Rashitov taking gold in the in the men's -68kg and Great Britain claiming two gold medals with Jade Jones in the women's -57kg and Caden Cunningham in the men's +80kg.
Meanwhile, silver medals went to Hungary's Levente Mark Jozsa, Nahid Kiyanichandeh of Iran and Nikita Rafalovich of Uzbekistan, while bronze medals were shared by Greece, Croatia, Korea, the USA and China.
Women's -57kg
The women's -57kg final saw a fierce match-up between reigning World Champion Nahid Kiyanichandeh and Great Britain's Jade Jones.
The first round got off to a close start, with Jones and Kiyanichandeh trading blows and Gam-jeoms to give the British athlete a 2-1 lead. Jones quickly extended her lead with a kick to the body, but the reigning World Champion fought back with a head kick that was confirmed after a video review to level the score at 4-4. In the closing stages of the round, Jones used all her experience to land two kicks to the body and lead by 8-4. Despite conceding two Gam-jeoms, Jones saw out the first round 8-6.
Round two was also a closely contested affair, with punches and Gam-jeoms seeing the score bounce back and forth to 2-2. With a final burst of energy, Jones landed a punch and kick to the body to edge ahead at 5-2 and take the title in Rome.
In the first semi-final, Korea's Kim Yu-jin faced Kiyanichandeh of Iran. Yu-jin took the first round 4-0 in a closely fought contest, before Kiyanichandeh fought back to take round two 3-3 based on hit registrations. In the intense final round, Kiyanichandeh and Yu-jin traded blows in a fierce battle, but it was Kiyanichandeh who came out on top with a 10-10 win on hit registrations to progress to the final.
In the second semi-final of the women's -57kg, Great Britain's Jones faced America's up-and-coming taekwondo star Faith Dillon. Jones took round one 8-2, before showcasing great intelligence and skill to battle through a tough 11-7 win.
Men's -68kg
In the men's -68kg final, reigning Olympic champion Ulugbek Rashitov of Uzbekistan took on Hungary's Levente Mark Jozsa. Rashitov was on the hunt for his first-ever Grand Prix gold and would not leave Rome disappointed.
Both athletes traded head kicks to open the scoring in Rome, before Rashitov edged ahead after landing a punch and head kick to take a 7-3 lead. The Tokyo 2020 champion managed to hold his lead for the remainder of round one.
In Round 2, Rashitov opened the scoring with a head kick. The calm and collected athlete from Uzbekistan held his 3-0 lead going into the final 20 seconds before extending it further with a Gam-jeom and another kick to the head, to take the round and, ultimately, the gold medal and his first Grand Prix title.
In the first semi-final, Levente Mark Jozsa was paired against Konstantinos Chamalidis of Greece. Jozsa took the first round by the merest of margins at 0-0, before claiming the second round with a commanding 15-1 victory.
Uzbekistan's Ulugbek Rashitov was set to face Marko Golubic of Croatia in the second semi-final, but a walkover saw the 21-year-old from Uzbekistan progress to the final.
Men's +80kg
The men's +80kg closed the night at the Foro Italico and did not disappoint with both Caden Cunningham of Great Britain and Nikita Rafalovich aiming to make it a golden double for their countries.
Round one got off to a flying start, with Cunningham landing three body kicks in quick succession to open a 6-0 lead. An exchange of body kicks by both athletes saw the score jump to 8-2. In the closing stages, Rafalovich threw everything at the British athlete to try to close the gap, but excellent footwork from Cunningham helped him to evade the pressure. Despite conceding two Gam-jeoms, Cunningham closed out the round at 8-4.
Cunningham once again jumped to a 6-0 lead with a flurry of body kicks, before a punch and Gam-jeom saw the Uzbekistan athlete put two points on the board. Refusing to slow the pace, Cunningham landed a head kick before Rafalovich responded with a body kick and kick to the head to make the score 9-7. Determined to wrap things up in two rounds, Cunningham landed body and head kicks to stretch his lead to 14-7 and take his first-ever World Taekwondo Grand Prix gold medal.
In the first semi-final, Caden Cunningham took on China's Zhaoxiang Song. It was an impressive performance by both athletes with Cunningham taking the initial lead before Song landed a turning kick in the final stages and several blows to take it 11-6. Round two was an equally fierce competition, with both athletes trading blows and the score ending level at 9-9. But it was Cunningham who won based on registrations to force a deciding third round. Both athletes gave their all, and it was an intense battle until the very end with Cunningham clinching victory 10-9.
Meanwhile, Croatia's Sapina Ivan, a silver medallist in Baku, faced the highly experienced and decorated Nikita Rafalovich of Uzbekistan in the other semi-final. It proved a cagey and close fight throughout, with Rafalovich taking round one 5-5 based on registrations, and round 2 being decided with a flurry of blows in the final 10 seconds from the Uzbekistan athlete to take the round 10-5.
Roma 2023 World Taekwondo Grand Prix action will continue tomorrow in the women's -67kg, women's +67kg and men's -58kg categories with every second streamed live on the World Taekwondo YouTube Channel.