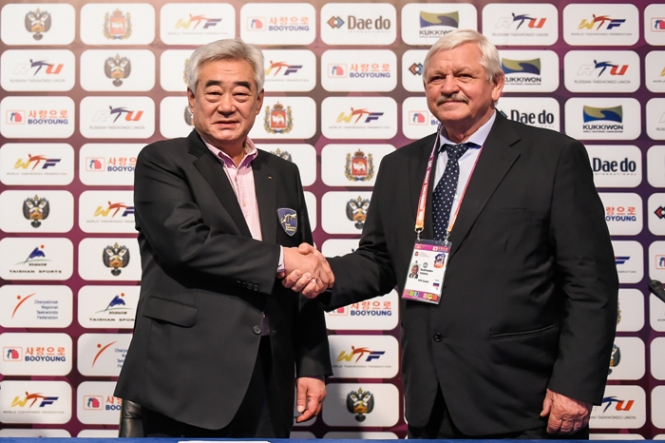 CHELYABINSK, Russia (May 15, 2015) – The International Committee of Sports for the Deaf (ICSD) and the World Taekwondo Federation (WTF) signed a memorandum of understanding that will permit deaf taekwondo athletes to compete in the World Deaf Martial Arts Championships, which will serve as the World Deaf-Taekwondo Championships.
Under the accord, the first World Deaf-Taekwondo Championships will take place in Magnitogorsk, near Chelyabinsk, in central Russia in 2016.
The memorandum was signed by WTF President Chungwon Choue and ICSD President Valery Rukhledev on the sidelines of the 2015 World Taekwondo Championships, currently underway in this central Russian city.
"This is very important for deaf taekwondo," said a clearly satisfied Choue in a press conference to mark the signing.
"The important thing is to start this affair," said Rukhledev. "Where there is a start, there will be a continuation."
Under the MOU, the WTF agrees to promote deaf taekwondo for eligible athletes among its 206 Member National Associations. The WTF and the ICSD will encourage their respective MNAs to promote deaf taekwondo. They will also jointly appoint an ICSD technical director for taekwondo and initiate a steering committee.
The new MOU updates and continues a previous MOU signed between the ICSD and the WTF in October 2013.
Taekwondo has already been competed in the Deaflympics. The ICSD is the world's largest organization for disabled sport after the International Paralympic Committee.