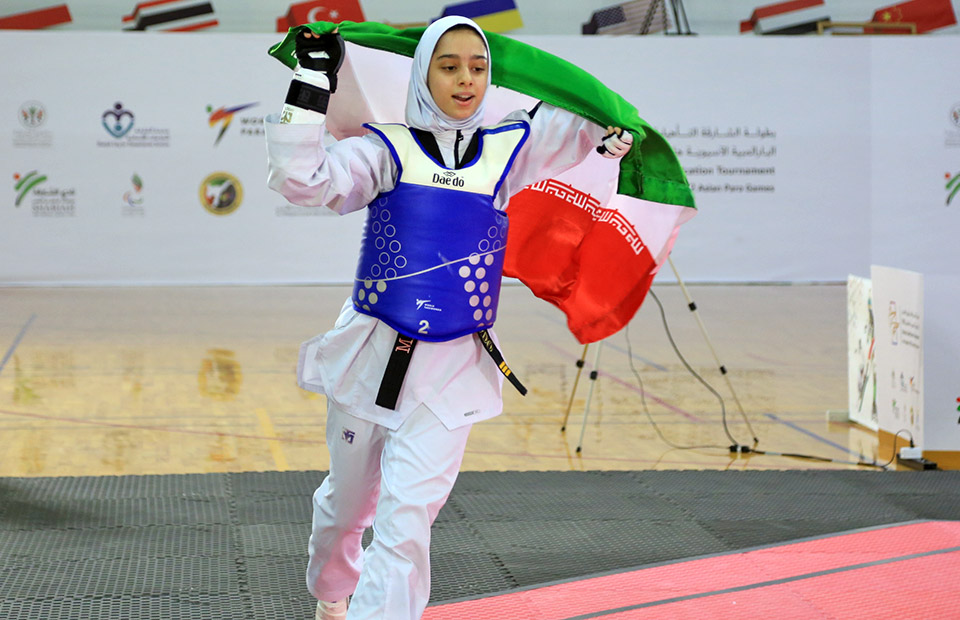 While we might have to wait until next year to see who becomes Para Taekwondo's first Asian Para Games champions, we don't need to wait to see who will be competing after an entertaining Asian Para Games Qualification tournament in Sharjah wrapped up.

The Asian Para Games qualification roster is nearly set, with 53 fighters earning a ticket for their nation to Hangzhou 2022 – Asia's premiere Para Taekwondo event ahead of Paris 2024.
The 2019 Parapan Am Games marked the breakout event for several fighters, including Tokyo 2020 Paralympic champions Nathan Torquato (Brazil), Angelica Espinoza (Peru), and Juan Diego Garcia Lopez (Mexico), and Asian fighters hope for a similar springboard to success ahead of Paris 2024.
Postponed until next year, 53 fighters have earned qualification to the Hangzhou 2022 Asian Para Games through the world ranking or last month's exciting qualification tournament. Host China will allocate a further six, meaning 21 athletes will earn a spot through a bipartite committee invitation.
Sharjah Shines
The United Arab Emirates' Sharjah hosted 45 of Asia's top up-and-coming athletes from 12 nations as fighters tried to earn their way to next year's Asian Para Games.
"Sharjah has always been a pioneer in paying attention to sports for individuals with disabilities", Sheikh Saud bin Sultan al-Qasimi told Sharjah24 news at the event's conclusion. "And for showcasing the sportsmanship and dedication of the players".
Uzbekistan and Iran highlighted that dedication by qualifying at least four fighters each to Para Taekwondo's debut at Asia's pre-eminent multi-sports event, with eight countries in all earning qualification.
Kazakhstan (3), India (2), and Japan (2) also qualified multiple athletes for Hangzhou 2022 at the tournament in Sharjah, while Mongolia, the Philippines, and Thailand all qualified one fighter each.
Overall, Iran leads the way with 11 athletes qualified to compete for Asian Para Games glory. Other nations qualifying multiple athletes include Uzbekistan (10); Kazakhstan (8); China (6); India (5); Japan, Mongolia, and Thailand (4 each); Korea (3); and Nepal (2). Chinese Taipei and the Philippines have each qualified a single fighter.
Iran's Women, Uzbek Men Sharp
Iran's women's programme continues to flex its muscles, with the fast-emerging team winning four of the five women's events in Sharjah.
Maryam Deroei (-47 kg), Sahar Ghanbari Komishani (-52 kg), Roza Ebrahimi (-57 kg), and Leila Mirzaee (+65 kg) all returned home with gold medals and join reigning world champion teammates Mehdi Pourrahnama (-70 kg) and Hamed Haghshenas (+80 kg) in qualifying for Hangzhou 2022.
Uzbekistan won two gold in Sharjah – Kudratjon Haydarov (-63 kg) and Javokhir Alikulov (-70 kg) – and qualified three other fighters through silver medals in Sharjah – Faridakhon Habibullaeva (-52 kg), Aslbek Khusanov (-70 kg), and Asadbek Anvarov (-80 kg). They will join a team led by reigning Paralympic, World, and Grand Prix champion Guljonoy Naimova (+65 kg).
Three fighters from Kazakhstan used the tournament to secure qualification for Hangzhou 2022 – Alisher Garipollayev's gold in +80 kg, along with silvers for Zhanbolat Kaziyev (-80 kg) and Milana Krassavtseva (-47 kg), mean they'll join Paralympian teammates Nurlan Dombayev (-80 kg), Nyshan Omirali (+80 kg), and Kamilya Dosmalova (-57 kg) in China.
Japan's Mitsuya Tanaka won gold in -58 kg after teammate Kenta Awatari withdrew. Both fighters qualified for Hangzhou 2022.
After missing Tokyo 2020 due to COVID, the Philippines' Allain Ganapin showed he's back in top form by winning -80 kg gold and becoming the first fighter from his nation to qualify for the Asian Para Games.
Thailand's Kunnika Khunakaew won silver -57 kg to join two-time reigning world champion Khwansuda Phuangkitcha (-47 kg) in qualifying for Hangzhou 2022.
Other fighters to qualify include India's Ranjan Kumar Paswan (silver in -63 kg), teammate Mohit Singh (bronze in -58 kg), and Mongolia's Sodnomgombopil Dagva (bronze in +80 kg), who will join five-time world champion teammate Bolor-Erdene Ganbat (-63 kg) in China.
Bahrain's Ali Qarainees impressed as the home favourite, securing Bahrain's first-ever international medal by winning bronze in the +80 kg group. He narrowly missed out on qualifying directly to Hangzhou 2022 and will now need to hope for a bipartite invitation.
Para Taekwondo's Highly-Anticipate Asian Para Games Debut
Hangzhou 2022 will mark Para Taekwondo's debut at the multi-sports event from the region it was founded.
With the field mostly set for Para Taekwondo's debut at the Asian Para Games, the tournament promises some eye-catching possible matchups.
Will Nepal's Palesha Goverdhan be able to turn her Asian Youth Para Games triumph into Asian Para Games glory? She was her country's first gold medalist at the junior event, but she'll need to get past Kazakhstan's Dosmalova and Iran's Ebrahimi – two other young fighters looking for a breakout tournament.
In the wide-open -80 kg group, will it be Kazakhstan's top-ranked Dombayev, Korea's Paralympic bronze medalist Jeonghun Joo, or Iran's Grand Prix champion Alireza Bakht? Or will someone new, like Uzbekistan's Asadbek Toshtemirov or the Philippines' Ganapin win a memorable Asian Games gold?
Three of the world's top fighters will face-off in the -47 kg group. Can Mongolia's former world champion Enkhtuya Khurelbaatar or Uzbekistan's Paralympian Ziyadakhon Isakova get past Thailand's reigning world champion Phuangkitcha?
Will anyone be able to stop Mongolia's five-time world champion Ganbat in -63 kg or Iran's five-time world champion Pourrahnama in -70 kg?
Will Uzbekistan's Naimova, the hottest fighter in the world right now, add an Asian Para Games crown to her resume?
A true wild card will be China. The team will likely be led by Paralympic bronze medalist and former world champion Yujie Li, but the team's remaining athletes have yet to compete at the international level.
China, of course, has shone on the Para sports scene, winning both the 2020 Summer Paralympic and 2022 Winter Paralympic Games, so the arrival of new Chinese athletes could foretell a revolution in Para Taekwondo in the country.
Another question will be who is in line for the bipartite committee invitations. Besides Bahrain's Qarainees, the committee could look at athletes from Afghanistan, Indonesia, Iraq, Laos, and Vietnam – none of whom have yet managed to qualify their fighters.
Below you can find the list of fighters that have earned qualification spots for their nations*:
*NOTE: Fighters earn qualification spots for their countries; they don't qualify directly themselves.