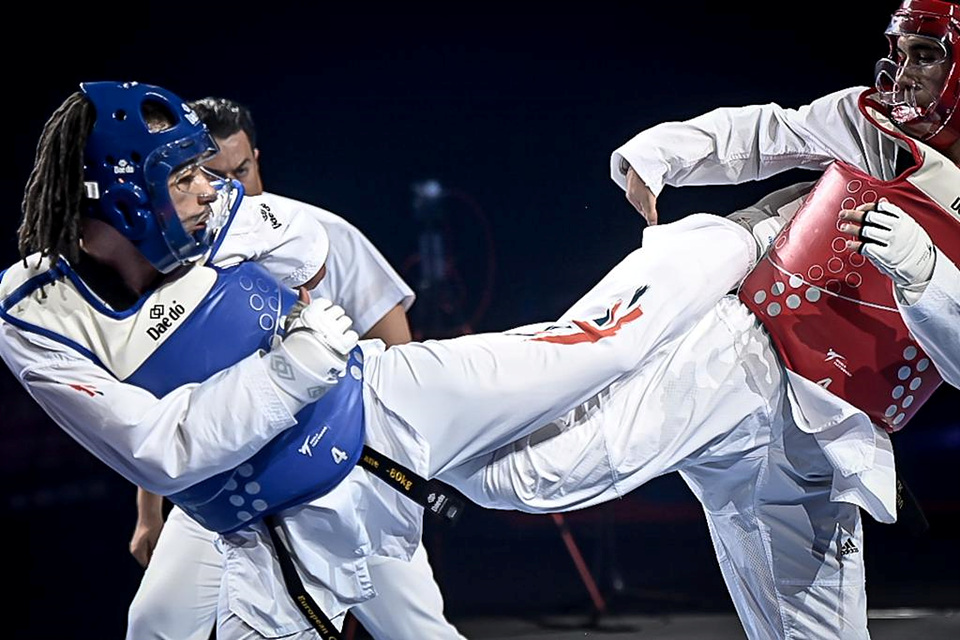 As Para Taekwondoins competed alongside their able-bodied teammates for the very first time, new fighters emerged
as Paris 2024 medal threats and the Ukrainian team won medals and hearts.
Munro, Lane Win First European Titles at Home
Something felt different at this European Championships in Manchester, Great Britain – and it wasn't just our able-bodied colleagues in the house.
Over and over again, favoured fighters in nearly every division struggled to get past their lower-seeded opponents, leaving onlookers feeling like they had just seen a seismic shift in the sport.

Perhaps the biggest story was hometown hero Beth Munro capturing her first international title – and topping Paralympic nemesis Lisa Gjessing (DEN) 17-9 along the way. Not only had she not beaten the Paralympic champion before – including in the Pan Am championship final last month – she handed the Danish legend just her second-ever loss.
Munro picked up the sport less than three years ago.
She capped off her fairy tale win at home with a 16-11 victory over Turkey's reigning world champion Secil Er.
"Both are massive achievements", she told World Taekwondo after winning, "But finally beating the champ [Gjessing] was pure elation and winning the Europeans with my family and friends watching was just amazing!"

Speaking about what made the difference between her loss last month and her win this week, Munro said "I recognised patterns in her game – and I strengthened my own skill set".
Teammate Joe Lane also won his first international tournament by topping the -80 kg group. Lane overcame a stiff challenge from Ukraine's Roman Ivanyuk in the semi-final before dispatching Uzbekistan's Asadbeck Toshtemirov in the final.
"It's amazing – this is what I've trained for", said an elated Lane to event broadcaster BBC on winning his first international title. "Me, my coach, and everyone around me – we've put the hard work in".
New Fighters Emerge as Medal Threats
The tournament was full of surprises, with young athletes showing they could compete with Para Taekwondo's best.
Spain's Dalia Santiago got past 2017 world champion and Paralympic bronze medalist Amy Truesdale 12-2 in the semi-final on the way to silver – her first medal at the European Championships. That makes it two in a row for Santiago, who also clipped Truesdale for gold at the President's Cup – Europe earlier this year.
Azerbaijan's up-and-coming Sabir Zeynalov looks to be closing the gap with the -58 kg group leaders. He added a European Championship bronze medal to his World Championship bronze medal, losing at both events to Turkey's Ali Can Ozcan – 41-12 at Istanbul 2021 and 22-19 to the eventual champion at Manchester 2022.
Azerbaijan's Paralympian Imamaddin Khalilov put the -70 kg group on notice by taking Mexico's Paralympic champion and 2019 world champion Juan Diego Garcia Lopez to a Golden Point round before falling to the Mexican superstar. The silver marks his first European Championship medal.
France's veteran Bopha Kong showed he still has fight in him by kicking past Israel's reigning world champion Asaf Yasur in the -58 kg semi-final. Kong fell to Ozcan in the final, but still added his seventh European championship medal.
Georgia, too, announced its arrival as up-and-coming programme by seeing four different athletes win medals. The team won four bronze medals in Manchester - Lia Chachibaia in -52 kg, Ana Japaridze in -57 kg, Sandro Megrelishvili in -63 kg, and David Makadze in +80 kg.
Favourites Dominate
Still, it's not easy getting past the favourites.
Uzbekistan's Guljonoy Naimova continued her torrid pace since Tokyo 2020, as the sport's only reigning Paralympic and World champion cruised through the +65 kg group by a combined score of 16-2.
Garcia Lopez may have needed a Golden Point round to capture his first European title, but he avoided just a third loss in a scintillating four-year run.
Croatia's Ivan Mikulic won his third European title – and first since 2016 – with a convincing 9-2 win over Turkey's Mehmet Sami Sarac in the +80 kg group, while Mexico's Jessica Garcia added her first European title to last month's Pan American crown with a 13-11 win over Turkey's Paralympic runner-up Meryem Cavdar in the -52 kg division.
Turkey showed it remains the gold standard for Para Taekwondo programmes by capturing the overall European title by winning seven medals, including crowning four new European champions.

World championship runner-up Nurcihan Ekinci topped the -47 group, while teammates Gamze Gurdal (-57 kg), Ali Can Ozcan (-58 kg), and Paralympic bronze medalist Mahmut Bozteke (-63 kg) are Turkey's newest European champions. Other medal winners include Cavdar (silver in -52 kg), world champion Secil Er (silver in -65 kg), and Sami Sarac (silver in +80 kg).
Unprecedented Stage for Para Taekwondo
The tournament will be remembered for being the first time Para and able-bodied Taekwondoins competed at the same time – a trend that is taking root in Para sports worldwide.

The unique opportunity allowed able-bodied and Para teams to train together, dine together, and cheer each other on. Full team photos were the order of the day.
The event offered Para athletes an unprecedented stage to strut their stuff; event finals were held on the centre court and aired on UK state broadcaster BBC.
"This gave massive, massive exposure", WT Para Taekwondo Committee Vice-Chair Usman Dildar told World Taekwondo. "To have the same exposure, the same platform as abled-bodied – the equity was incredible!"
The format was a hit with both fans and athletes.

"Spectators kept asking about the difference in rules [between able-bodied and Para Taekwondo]", said Dildar. "They noted that able-bodied was more touching, [with precision], while Para was more powerful and passionate. They preferred Para".
Munro lauded the event's energy.
"The cohesiveness and team energy [were amazing], she told World Taekwondo. "It was electrifying with the crowd! It was also amazing to see the equality we Para athletes deserve – long may it last!"
Oceania Athletics plans to host an integrated Athletics Championships next month in Australia, while Great Britain has committed to integrating this summer's Commonwealth Games.
"Great Britain is the first country to put [an integrated event] on, to include the Paras", Lane told the BBC. "Everyone was so happy yesterday for Beth [Munro] and were cheering on Amy [Truesdale] – it's amazing to see everyone come out and support us".
Ukraine Wins Hearts – and Medals
Undoubtedly, the stars of the event were Ukraine's able-bodied and Para teams, who saw their first international action since Russia's full-scale invasion interrupted the teams' training and travel.
Ukraine's Para team has been taken in by Elite Sports Aarhus, in a project supported by the Danish Taekwondo Federation and Danish Paralympic Committee. The team has been training with Paralympic champion Lisa Gjessing and her coach, Bjarne Johansen.
Six-time world champion Vika Marchuk got the team rolling by winning her second-straight silver in the -47 kg group. She nearly bested Turkey's Nurcihan Ekinci before a miscommunication late in the fight saw a free kick and penalty give the fight to the world championship runner-up 13-12.

Marchuk had a harrowing exit from Ukraine, where she was forced to hide out in bomb shelters before leaving and faced a 12-hour hike to the border after escaping by train.
"Vika started panicking because of the noise", Ukraine Team Manager Yuliia Piskova told World Taekwondo about the last-minute mishap. "She started seeing flashbacks from when she was fleeing Ukraine – the crowd at the train station, and everything".

With a silver in the pocket, Ukraine's team kept rolling. Orest Pylypiak won bronze in +80 kg – his first European championship medal – and world championship bronze medalist Yuliya Lypetska added bronze in +65 kg. Roman Ivanyuk gave eventual European champion Joe Lane a run in the -80 kg quarterfinal before running out of gas and losing 10-7.
Still, the athletes' determination to compete – and succeed – despite traumatizing experiences back home won the hearts of fans and competitors alike.
The team was greeted with a special dinner with representatives from World Taekwondo, the European Taekwondo Union, and organisers from Great Britain.
"Teams were so happy to support the Ukrainian athletes", said Dildar. "Everyone was around the Ukrainian team, offering them love and support".