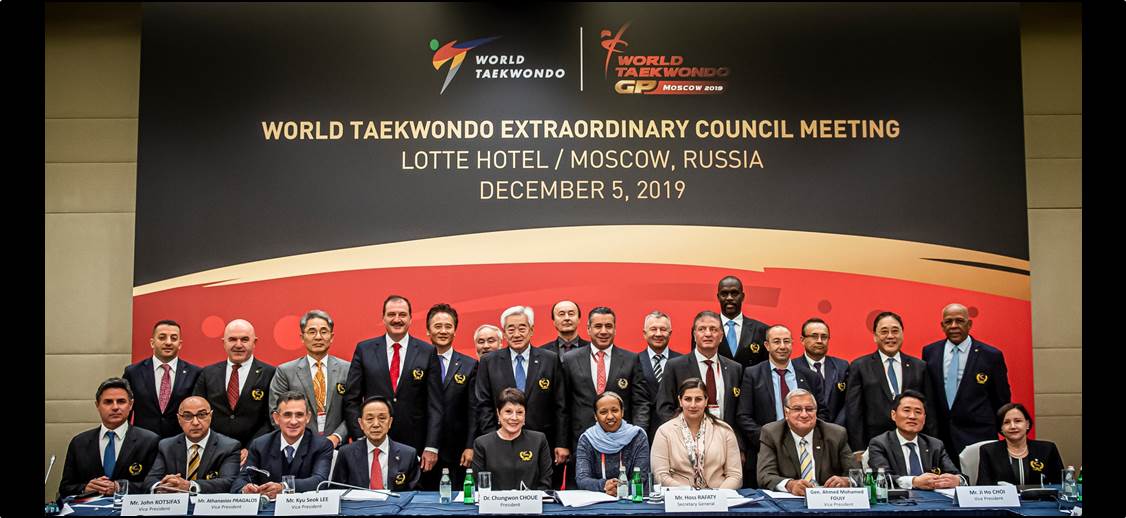 MOSCOW, Russia (5 December 2019) - World Taekwondo concluded its Extraordinary Council Meeting today with a commitment to strengthen further its policies in a variety of key areas, including governance, athlete welfare and anti-doping.
Chaired by World Taekwondo President Chungwon Choue, the World Taekwondo Council made far-reaching decisions that will benefit the sport and its 210 Member National Associations (MNA) in the build up to Tokyo 2020 and beyond.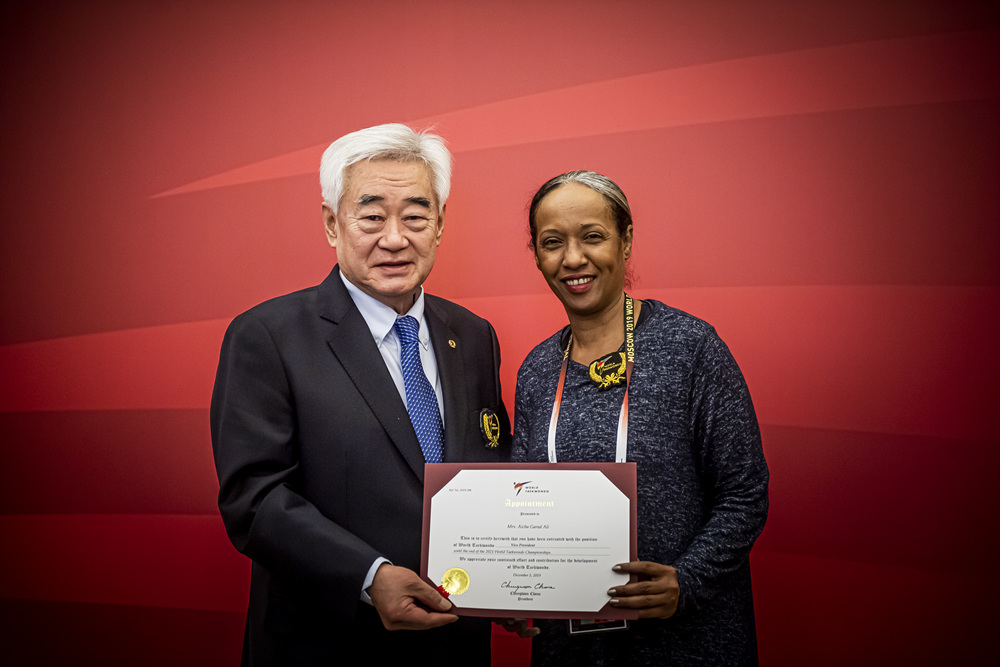 To demonstrate World Taekwondo's commitment to gender equality, Council Member and IOC Member Aïcha Garad Ali (DJI) was appointed as the federation's first female Vice-President.
On governance, the Council agreed to improve further World Taekwondo's transparency, based on recommendations from the Association of Summer Olympic International Federations (ASOIF). In addition to publishing upcoming international sports events, World Taekwondo will promote and report on all future activities on its website. Furthermore, the Council agreed to increase its transparency by publishing a list of all suspensions on the World Taekwondo website. It was also agreed that the Council will communicate a Quarterly Progress Report on all upcoming projects on the website.
Commenting on the Council's governance improvements, President Chungwon Choue said:
"Today, World Taekwondo has taken a major step forward in enhancing our good governance as a global federation. In particular, we have listened to ASOIF, and have worked hard to ensure greater transparency in many of the key areas of our sport. This is an ongoing process and there will be further reforms to be announced in the near future."
The World Taekwondo Council issued strict mechanisms in its anti-discrimination policy in order to deter any future cases of discrimination. In particular, President Choue has called for greater protection of athletes who are denied visa access to international competitions for geo-political reasons.
The World Taekwondo Council also approved a policy that will restrict elected officials to 12 years in office. This will see officials elected for an initial four-year period before the opportunity for a further two consecutive terms. Once approved by the General Assembly, these measures will come into effect for the 2021 election at the General Assembly in Wuxi, China. Previous terms served by Council members will not be counted in the new proposal.
On the highly important subject of athlete welfare, the Council approved tighter safety protocols for major international events. The Council agreed to strengthen the responsibility and processes of the Medical and Anti-Doping Committee, with a greater emphasis on competition safety equipment.
Safeguarding athletes remained at the heart of discussions today, as the World Taekwondo Council agreed to develop its complaint system for any form of harassment and abuse of athletes. In particular, the Council agreed to adopt the IOC's confidential whistle-blower mechanism on its website.
The Council also reaffirmed World Taekwondo's commitment to promoting clean sport by combating match-fixing, doping and any form of cheating.
President Choue commented: "World Taekwondo is based on the highest standards of integrity and there is no room for cheats in our sport. Therefore, we look forward to working closely with the newly-appointed President of the World Anti-Doping Agency (WADA), Witold Banka, in the fight to protect clean athletes."
Maher Magableh (AUS), a member of the Taekwondo for All Committee, was also welcomed as a new Council member. Jin-bang Yang (KOR), Chair of the Technical Commission, was appointed to the Council, which will come into effect from 1 January 2020.
As a sign of taekwondo's growing global popularity, the Faroe Islands were also welcomed to the World Taekwondo family, increasing the number of MNAs to 210.
In concluding the meeting, President Choue reflected on the successes of 2019, while urging his colleagues to capitalise on the Olympic year ahead. In particular, Tokyo 2020 represents the historic introduction of Para-taekwondo on to the Paralympic programme.
President Chungwon Choue announced that the next Extraordinary Council Meeting will be held at the Olympic House in Lausanne, Switzerland on 12 May 2020.
This followed a meeting between President Choue and International Olympic Committee President Thomas Bach, who was in Athens in October 2019 and honoured with the highest distinction of the Hellenic Republic, the Grand Cross of the Order of the Phoenix. From their fruitful discussions, the IOC President extended an invitation to World Taekwondo to hold its next Council meeting at the Olympic House.
World Taekwondo is honoured to be one of the first Olympic International Federations to hold its Council meeting at Olympic House.
Tomorrow, the World Taekwondo Grand Prix Final begins from 6-7 December, which will be followed by the Gala Awards on 7 December.