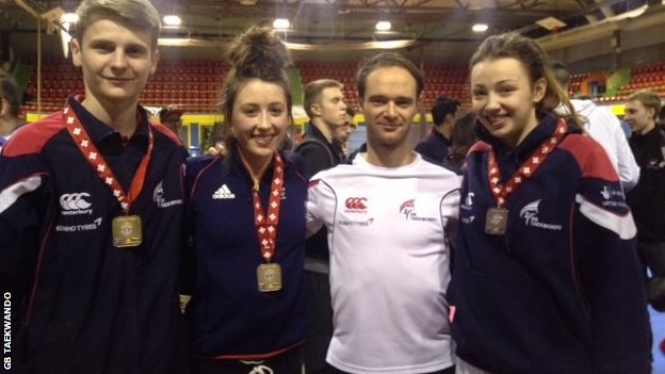 Jade Jones remains unbeaten in 2015 but only after a Swiss Open -57kg final victory remarkable even by the Olympic champion's standards.
The London 2012 golden girl won a golden-point victory over Sweden's Nikita Glasnovic to make it three successive tournament victories this year and five-in-a-row.
With teenager Max Cater also claiming gold in the senior men's -54kg division and Rachelle Booth taking silver at -62kg, the two-day event proved a profitable trip to Montreux for the three-strong Manchester trained GB Academy stars.
But Jones, 21, who defeated Portugal's Joana Cunha 13-1 in the semifinal, did it the hard way. "Well that was a scare," admitted the Flint-born world number two following her latest triumph.
"I was 8-0 down in the final and couldn't see out of one eye," she revealed. "It felt like I was in a Rocky movie. Panic."
Without Spain's world number one Eva Calvo Gomez in the field, Jones didn't expect her latest triumph to be quite as tough.
But Glasnovic, 20, and a bronze medallist at last year's European Championships, had other ideas as she raced clear. Jones, however, dug deep and pulled the scores back to 9-all at the end of normal time before clinching golden point.
She will try and make it six out of six at the forthcoming Dutch Open. Teenager Cater enhanced his chances of World Championship selection with a stunning 19-12 victory over highly rated Mexican Cesar Rodriquez at -54kg.
The 17-year-old from Southampton only joined the GB Academy last November but he proved a quick learner as Olympic ranked number three Rodriquez will testify.
Cater almost swept to a 12-point automatic stoppage before executing a spinning reverse head shot to beat his Central American opponent.
"I didn't care about the rankings. I knew I could beat him," said confident Cater, previously a winner of the Bosnia Open in January. "I watched him fight and didn't see anything to worry me. I just went out and struck to my strengths.
"At one stage I was 10 points up and was desperate to get two more points to finish the match. Rodriquez got it back to 15-12 before I picked up those four points for the spinning reverse."
Cater defeated Belgian Mourad Laachraoui 11-6 in the semifinals after a 16-2 rout of Daniel Levkovits from Slovakia in the quarters.
A former kick boxing champion, Cater added:"Training every day at the Academy in Manchester has really helped my development. It is coming a lot easier now.
"My aims at the start were to get to the Worlds and Commonwealths. But I didn't think getting to the Worlds so soon was realistic.
"Now I know I can go there and fight at a high level. To beat Rodriquez has given me a great boost to my confidence."
Booth from Wigan took Calvo Gomez to golden point at last weekend's Luxor Open and continued to put the frighteners on more of the sports' big names this weekend. Her run to the final included a 22-14 semifinal victory over Australia's world champion, Carmen Marton.
And the 19-year-old Lancastrian only went down 3-1 in the final to Switzerland's world number one and European champion, Nina Klaey
The World Championships take place in the Russian city of Chelyabinsk from May 12-18.
(Press Release by GB Taekwondo on March 8, 2015)