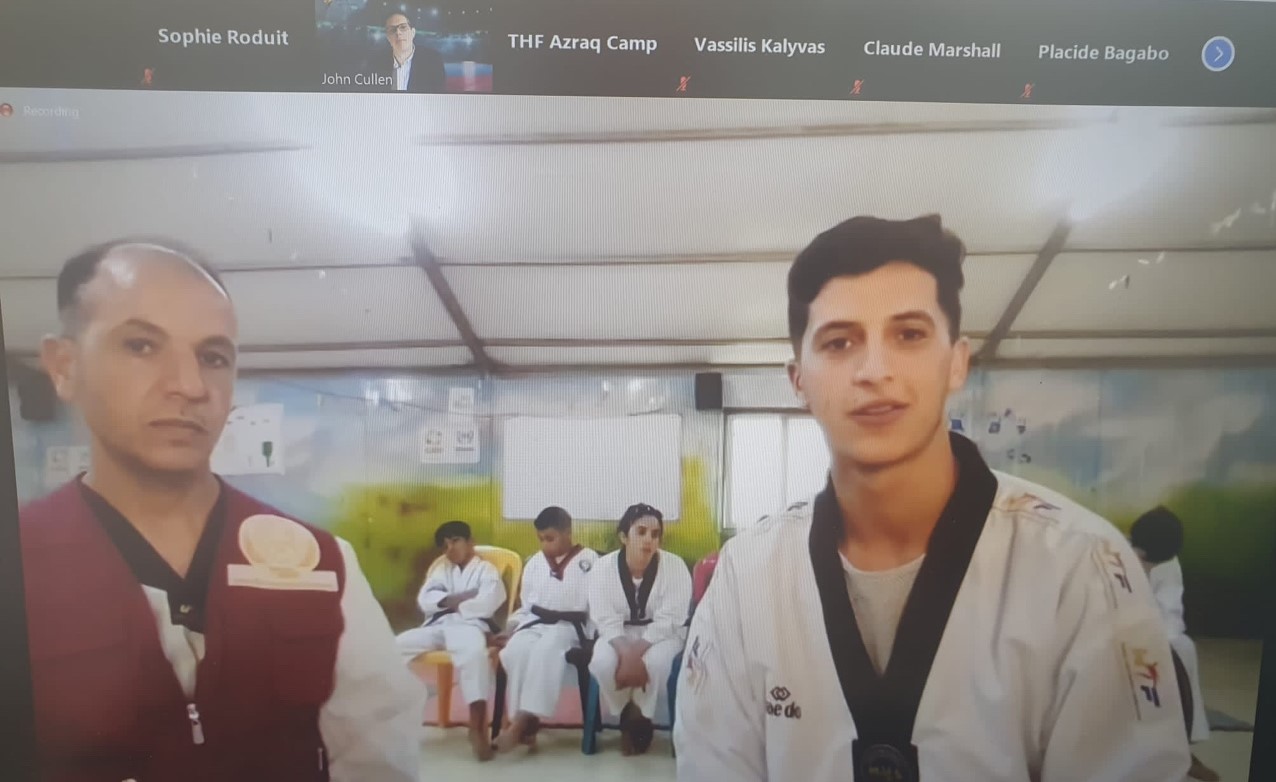 LAUSANNE, Switzerland - (June 21, 2021) World Taekwondo President and Taekwondo Humanitarian Foundation (THF) Chairman Chungwon Choue reiterated the two organization's commitment to supporting refugees and displaced persons through sport during the first World Refugee Forum on World Refugee Day.
The Forum was held online and delivering a message over video, President Choue said:
"On this day we remember the difficulties refugees and displaced persons face in their everyday lives. It is also the day we reaffirm our commitment to making the world a better and more peace-loving place.
Today we celebrate the indomitable spirit of refugees and displaced persons through the first World Refugee Forum organized by the TH and World Taekwondo. We hope this Forum will grow into a platform for refugees and displaced persons to share their experiences and receive recognition and hope for a better future. On this World Refugee Day, I wish to reaffirm THF and World Taekwondo's commitment to help refugees and displaced persons through sport and service."
HRH Prince Rashid bin El Hassan, President of Jordan Taekwondo Federation who were partnering with World Taekwondo and the THF to host the event, highlighted the situation of refugees in Jordan and how sport can help empower them.
Following the opening speeches, Claude Marshall, THF Board member and UNHCR Refugee Sport Coordinator gave a comprehensive presentation on the UNHCR and its role in supporting refugees practice sport. Dr .ilis Kalyvas, Programme Manager, International Paralympic Committee (IPC) gave a speech about what the IPC has been doing for the Paralympic refugee athletes since Rio 2016 and also provided details on the IPC STEADY project, which, financed by the European Union, helps these athletes through the practice of para sport in Greece.
A live interview with THF refugees in the Azraq camp in Jordan saw the Forum hear from the Ayoub family and Wael AlFarraj, and a refugee from Kiziba camp, Lady Mbabazi. All the refugees expressed the importance of taekwondo in their lives and how it teaches them respect, strength, courage, gender equity and provides them with a sense of belonging to the taekwondo family.
There was also an interview with a Paralympic athlete who might qualify for the Tokyo 2020 Paralympic Games: Parfait Hakizimana (refugee in Rwanda from Burundi). He started taekwondo because of the discipline it offers and made a lot of friends. Despite his difficult life, taekwondo brought him hope. He is now a THF coach and has the feeling to bring back what society gave him when he had difficulties. The IPC Governing Board will meet in the coming days and will decide if Parfait is selected for Tokyo 2020.
One athlete who will compete at Tokyo 2020 Abdullah Sediqi (refugee in Belgium from Afghanistan). Abdullah started taekwondo at 8 years old. From the beginning, he liked competition and was always trying to become a good player. When he heard that IOC President Thomas Bach announced his name as being on the Refugee Olympic Team, he was very happy.
In closing, President Chungwon Choue spoke of how sport can act as a vehicle for change and urged everyone to continue this journey together.