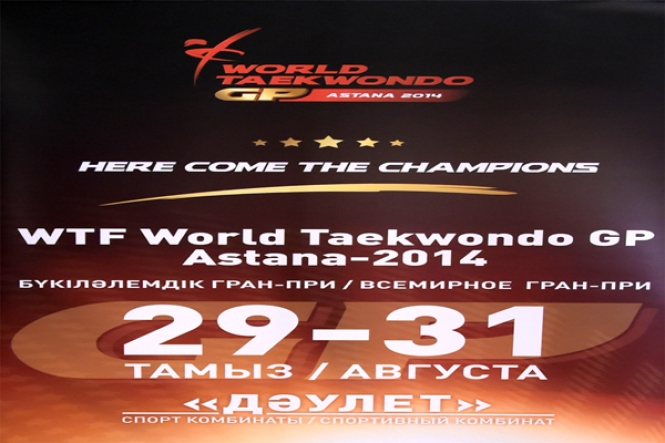 ASTANA, Kazakhstan (August 28, 2014) - The 2014 World Taekwondo Grand Prix Series 2 kicks off in Astana, the capital city of Kazakhstan, on Aug. 29, 2014 for a three-day run.
The Astana Grand Prix series, to be held at the Sport Center "Daulet," has drawn a total of 206 top athletes, including 101 males, and 181 officials from 50 countries. Forty five international referees are to officiate at the three-day Astana Grand Prix, the second of three World Taekwondo Grand Prix series set for this year.
Among the participating athletes are six male and three female Olympic taekwondo medalists.
Three octagon-shaped courts will be used, with semifinal and final matches scheduled to take place at the center court. KP&P protector and scoring system (PSS) and an instant video replay system will be used for the event. New WTF Competition Rules, which went into force as of July 1, 2014, will be applied.
For the second time after the Suzhou Grand Prix in early July, cash prize will be awarded to the top four athletes in each weight division: $5,000 for the gold medalist, $3,000 for the silver medalist, and $1,000 for the two bronze-medal winners.
The G-4 Astana event features eight Olympic weight categories, four male and four female: the men's -58kg, the men's -68kg, the men's -80kg and the men's +80kg; the women's -49kg, the women's -57kg, the women's -67kg and the women's +67kg.
The maximum number of athletes per weight category is 32. Top 31 athletes per Olympic weight category based on the June 2014 WTF Olympic rankings are invited, while one athlete from host Kazakhstan per Olympic division is additionally invited. The maximum quota per member national association is two athletes per weight category.
The head of team meeting and the drawing of lots session took place at the venue on August 27, two days before the opening of the event. The opening ceremony of the Astana Grand Prix is slate for in the afternoon of Aug. 29 at the venue.
"The Astana Grand Prix will serve as an opportunity for the top athletes to display their skills as they have done in the past World Taekwondo Grand Prix events. Also I hope that all invited athletes will come and enjoy the thrilling moments of the competition and friendship in Astana," said WTF President Chungwon Choue.
The opening day, on Aug. 29, will feature three weight categories: the female -49kg, the female +67kg and the male +80kg. On Aug. 30, competitions of another three weight divisions - the female -67kg, the male -58kg and the male -80kg - are scheduled, while competitions of two categories - the female -57kg and the male -68kg - are set to take place on the final day of Aug. 31.