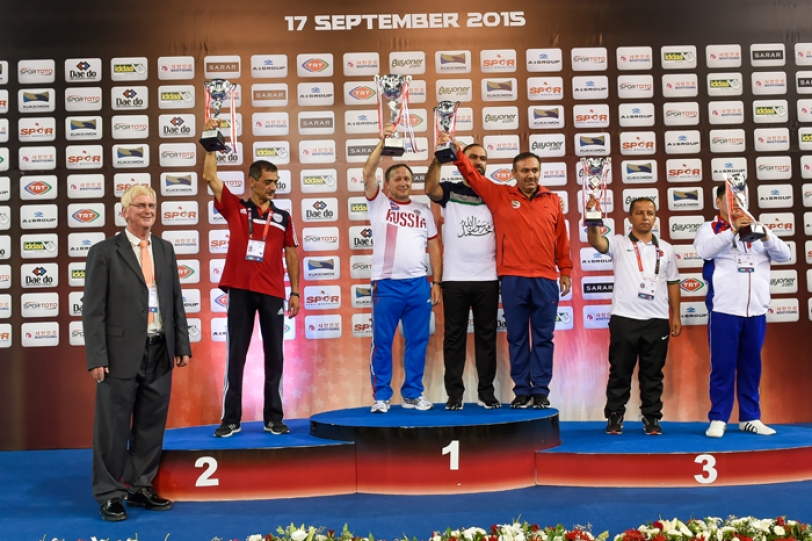 SAMSUN, Turkey (September 17, 2015) - The 6th World Para-Taekwondo Championships, which were held in Samsun, Turkey on September 17, 2015, drew a record number of participants as the sport gears up for its first Paralympic appearance.
Russia took home both the overall male and female titles at the one-day event, showing its supremacy in para-taekwondo.
The one-day event, which was held at the Yasar Dogu Spor Salonu, attracted a record 118 athletes from 34 countries. A total of 130 athletes from 38 countries had registered to participate in this Samsun event, but visa and other problems reduced numbers at the last moment.
In the male division, Russia took two gold medals, one silver medal and three bronze medals for a total of 60 points for the top honors, followed by Azerbaijan with two golds, one silver and three bronzes for 41 points. The third place went to Iran, which grabbed two golds, one silver and one bronze for 39 points, while Turkey finished at fourth place with one silver and two bronzes for 32 points. Mongolia came next with one gold, one silver and one bronze for 25 points.
In the female category, Russia took home two golds, one silver and one bronze for 30 points and the overall female team crown. Turkey came next with one gold, two silvers and one bronze for 23 points, followed by Azerbaijan with one gold and one bronze for 13 points. Denmark came next with one gold for 11 points, while Morocco finished at fifth place with one silver for 6 points.
Denmark's Lisa Gjessing, the gold medalist in the female K44 A -58kg category, was selected as the female MVP of the Samsun championships, while Turkey's Fatih Celik, the silver medalist in the male K44 A -75kg division, was chosen as the male MVP.
Kazakhstan's Murat Temiraliye, Indonesia's Rahadewineta and Canada's Eric Wah were selected as best referees of the championships.
An opening ceremony was held at the venue, drawing such figures as WTF President Chungwon Chou; Ibrahim Sahin, governor of Samsun; Ms. Bennur Karaburun, member of parliament; and Metin Sahin, president of the Turkish Taekwondo Federation.
"2015 is a truly special year for all of us. This year began with the best possible news for our sport. The news was delivered on January 31, 2015. On that day, we were informed by the International Paralympic Committee Governing Board that taekwondo will be on the program of the 2020 Tokyo Paralympics. This decision made the dreams and hopes of all para-taekwondo athletes finally come true," said WTF President Choue in his opening speech.
"This is what we have been working for these long years. This was the ultimate result - for the Paralympics are the ultimate event for any para-athlete. And we must celebrate all together today's championships as this is the first para-championship to be held after this historic decision," Choue said. Addressing the athletes, he said, "And let me thank you: You are an inspiration to everyone in the WTF; to everyone in taekwondo; everywhere."
WTF President Choue said, "Five years from now, many of you who are here today will be marching under your national flags into the arena in Tokyo. Five years from now, some of you who are here today will be wearing Olympic medals around your necks ... and I am confident that you will continue to inspire me as we walk the road to Tokyo together."
Before the opening ceremony, a joint press conference was held at the venue.
Thanking the WTF and WTF President Choue for the para-taekwondo championships, Samsun Governor Ibrahim Sahin said, "Samsun is a sport city and we are building new sports facilities" in advance of 2017 when Samsun will host the Deaflympics.
Turkish Parliamentarian Ms. Karaburun, herself a disabled former athlete said, "Whoever is in sport, learns a lot for their lives."
At the same venue, the 2015 World Taekwondo Grand Prix Series 2 kicks off on September 18 for a three-day run. A key step on the "road to Rio 2016" the event has drawn 232 athletes from 50 countries.