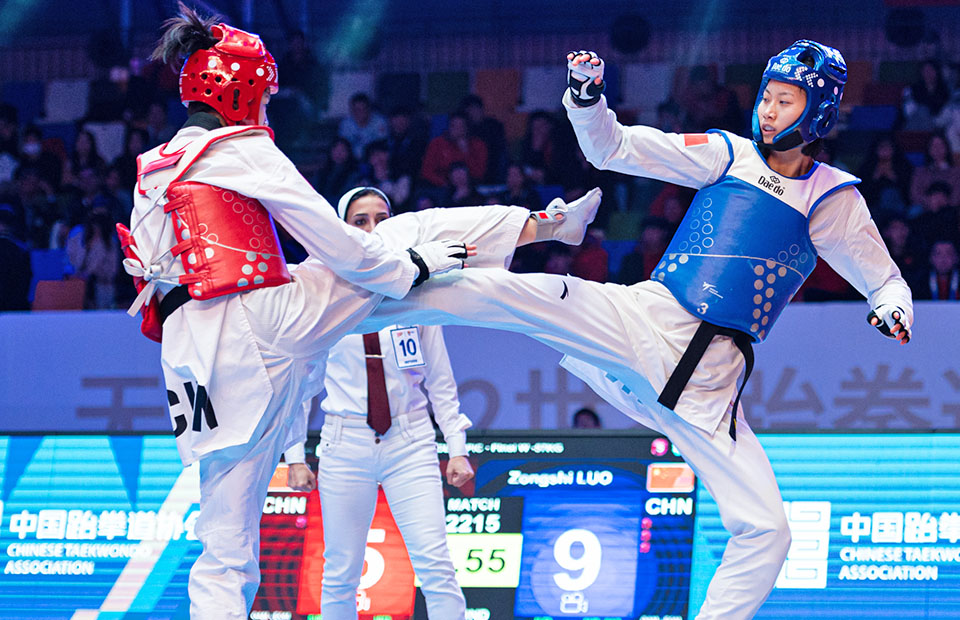 WUXI, China (Apr 3, 2023) - The Wuxi 2022 World Taekwondo Grand Slam Champions Series Final was brought to an emphatic close today as the remaining twelve medals were decided with China finishing top of the medal table.
Woo-Hyeok Jung of Korea, Jasurbek Jaysunov of Uzbekistan and Zongshi Luo and Shunan Xiao of China all won golds on the final day of thrilling competition. The final standings meant China finished top with four gold medals and eight medals in total, Uzbekistan claimed second with two gold medals and three in total and Iran finished third with one gold medal and four in total.
On the final day, the men's -58kg final drew Woo-Hyeok Jung of Korea with Mohamed Khalil Jendoubi of Tunisia. Jung opened strongly with a first round victory of 9-1. Jendoubi fought back well in the second round but was not able to get round Jung's strong defence. Jung won the round 5-1 to win gold. It was another medal for Korea in the bronze medal match as Jun Jang beat Junsong Yu of China 2:0.
Jasurbek Jaysunov of Uzbekistan and Mehran Barkhordari of Iran fought in the men's -80kg final. Both fighters were aggressive in their hunt for points in the first round but strong defences kept the scoring low and Jaysunov took the round 4-3. Jaysunov continued where he left off in the second round and once again only one point could separate the two as Jaysunov won 3-2 to take home another gold for Uzbekistan. An all-Korean bronze medal match resulted in a 2:0 victory for Woo Hyeok Park over Geon-Woo Seo.
The first women's final of the day brought together Chinese compatriots, Zongshi Luo and Lijun Zhou, in the -57kg. A close opening round saw Luo pull ahead in the final moments to win the round 10-5. The second round followed a similar pattern with a low scoring start then springing into life. Luo once again came out on top winning the round 7-0 to claim gold. Yu-Jin Kim from Korea won bronze over Tina Modanlou from Iran.
Another strong performance from the Chinese women's athletes produced a second Chinese final in the +67kg as Shunan Xiao faced Wenzhe Mu. A close fought opening round finished 2-0 to Xiao. In the second round there was again very little to choose between the two fighters as the home crowd urged them both on. Mu fought valiantly to the end but a headshot from Xiao extended the gap between the fighters and she won the round 5-1 to win gold. Svetlana Osipova from Uzbekistan won bronze as she beat Yaxin Liu of China 2:1 in the bronze medal match.