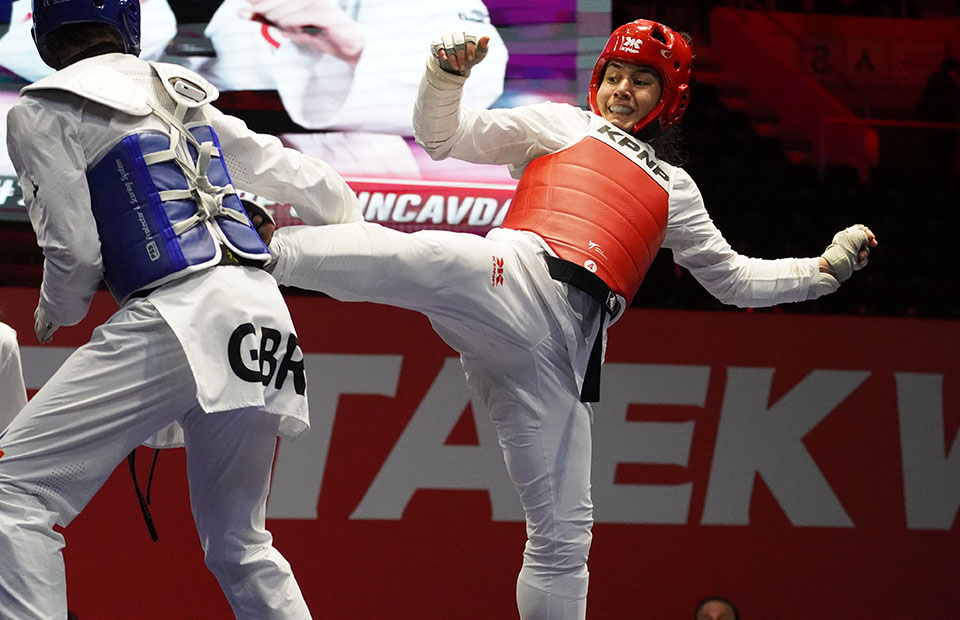 RIYADH, Saudi Arabia (Dec. 10, 2022) – The sport's talent pipeline was in focus on Day 2 of the 2002 World Taekwondo Grand Prix final, as the matches pitted multiple veterans against hungry up-and-comers.
Experience certainly has a premium - but was not a reliable indicator of victory in all eight (four men, four women) finals. After the smoke cleared in Riyadh's Green Halls, golds were won by (in match order) Thailand, Italy, Turkiye, Korea, China, Cote d'Ivoire and Jordan.
Jordan was the only nation to grab two golds at this championship.
In addition to adding precious medal to their trophy cabinets and points to their rankings, today's gold, silver and bronze medalists won $6,000, $3,000 and $1,000, respectively, in prize money.
W-49kg:
Olympic double Gold Medalist Panipak Wongpattanakit of Thailand took on Team Turkiye's rising star Merve Dincel, who has no top-tier victories under her belt. The Turk came to fight but the Thai's experience, distancing and head-seeking front-leg kick granted her gold with a very clean, clear victory in the second round.
The category's bronze was won by Adriana Cerezo Iglesias of Spain.
M-80kg:
In a highly entertaining match, Team Italy's World Champion and two-time GP Winner Simone Alessio was pitted against Team Korea's up-and-comer Geon-woo Seo, who has a single GP gold to his credit.
The Italian, wielding a height advantage, won Round 1 from a game Seo, who sought to negate the Alessio's leg length by fighting up-close and personal. Seo, showcasing a high work rate, decisively won the second by fighting tightly. In the third, Alessio relied on his experience and head kick to hold off a spirited challenge from the Korean, taking gold.
Seif Eissa of Egypt won bronze.
W+67kg: In yet another veteran-versus rookie fight, three-time World Champion and five-time GP Winner Bianca "Queen Bee" Cook, 31, of Team GB, took on 17-year-old Youth World Champion – and MVP at the Sofia Junior Worlds - Sude Yaren Uzuncavdar of Team Turkiye.
The first two rounds were tactical, low-scoring fights with both fighter winning one. In the third the young Turk accelerated her work rate, piled on the pressure and won gold from the tired-looking British star.

Team Turkiye's Nafia Kus went home with the bronze.
M-58kg: This matchup pitted Olympic silver medalist Mohamed Khalil Jendoubi of Tunisia against double World Champion and six-time GP Winner Jun Jang of Korea. In a closely-scored match, Jang took the first round. In the second, he drew ahead with a late-round blitzkrieg that put him 4-1 up on the board in Round 2. In a final-seconds drama, two IVRs were requested, but Jang stayed ahead, decisively grabbing gold in Round 2.
Cyrian Ravet of France won bronze.
W-57kg: This category also broke the "star vs. challenger" paradigm, as China's World Champion and multiple GP Winner Zongshi Luo took on Team Turkiye's veteran and double GP Champion Hatice Kubra Ilgun. The long, leggy Luo is a front-leg point machine, but Kubra Ilgun won Round 1 by fighting forward with varied techniques. Luo switched up a gear and won Round 2. The third was very closely contested – but the Chinese athlete won gold on superiority.
Bronze was taken by Skylar Park of Canada.
M+80kg: Cote d'Ivoire's popular Olympic Champion and four-time GP Winner Cheick Sallah Cisse took on Mexico's Carlos Sansores. Sansores is current world champion, but has had less luck in tourneys outside the Pan America. The African was giving away a 20kg weight difference (!) but was active and aggressive, establishing a clear lead and taking Round 1 after a high-scoring battle. In the second, Cisse mixed up punches and body kicks, taking gold in Round 2 – to the crowd's delight.
Dejan Georgievski of North Macedonia had to be satisfied with bronze.
W-67kg: China's Mengyu Zhang took on Jordan's Julyana Al-Sadeq in a clash of styles: Chinese front-leg precision vs. Jordanian energy and ambidextrous energy. The latter prevailed. Al-Sadeq won both the first and the second rounds – then cartwheeled across the mats to celebrate her gold victory.
Bronze was taken by Magda Wiet-Henin of France.
M-68kg: This looked like an easy win for current Olympic and Asia Champion Ulugbek Rashitov of Uzbekistan, taking on Zaid Kareem of Jordan who has just two GP silvers in his trophy cabinet. But both men are highly active athletes and their fight promised to be a scorcher. It was.
Kareem took Round 1, which ended 7-7, on superiority after a battle of dueling legs and whirling spin kicks. Rashitov fought back and took Round 2, 11-5. It went down to Round 3 – and gold for Kareem, who won it after an explosive edge-of-mats combat in the final seconds.
In a nice display of sportsmanship, both players and their coaches posed together at the conclusion of the fight.
Hakan Recber of Turkiye took the bronze.