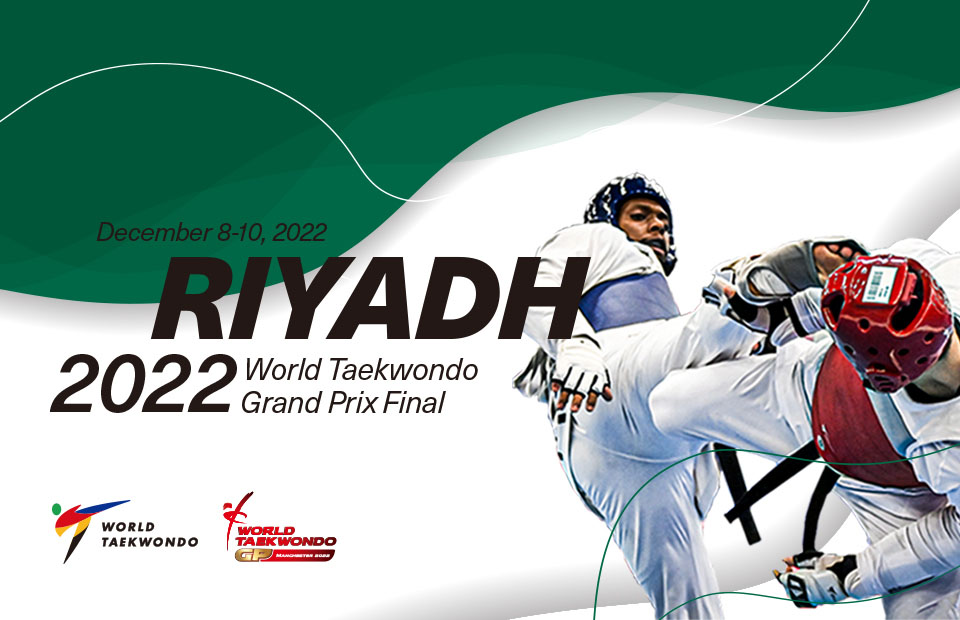 RIYADH, Saudi Arabia (Dec 2, 2022) - Riyadh, the Kingdom of Saudi Arabia is set to host the 2022 World Taekwondo Grand Prix Finals which will see the sport's top stars showcase their excellence to the world for the last time in 2022.
A total of 128 from 40 countries plus a Refugee team will compete in Riyadh across four men's and four women's Olympic weight categories in what will be a fiercely contested event with medals, Olympic ranking points and prize money on the line. A host of Olympic gold medallists and World Champions will be among the star-studded line-up, including Tokyo 2020 gold medallists, Mohamed Khalil Jendoubi of Tunisia, Vito Dell'Aquila from Italy, Panipak Wongpattanakit from Thailand, Anastasija Zolotic of the USA as well as Guadalajara World Champions, Omar Gergely Salim from Hungary, Carlos Sansores from Mexico, Zongshi Luo from China, Sarah Chaari from Belgium.
The three-day Grand Prix Finals will be the first Grand Prix event hosted in Saudi Arabia and is set to take place at the Green Halls, marking the return of the sport following the inaugural World Taekwondo Women's World Championships in November 2021.
World Taekwondo President Chungwon Choue said:
"I have no doubt that the Grand Prix Finals will be a resounding success. Saudi Arabia is emerging as one of the most popular destinations for top-tier sport events, and we are delighted that the Kingdom will host not only its first-ever Grand Prix Finals, but its first Grand Prix event of any kind. We are very excited to welcome the world's best Taekwondo athletes to Riyadh where they can again capture the world's attention with their exceptional skill and excellence."
The World Taekwondo Gala Awards will be staged in the evening of 10 December and for the first time will include awards for MNAs, coaches, and athletes from Para Taekwondo.
The full list of awards is:
2022 WT Female Athlete of the Year (Para Taekwondo)

2022 WT Male Athlete of the Year (Para Taekwondo)
2022 WT Female Athlete of the Year

2022 WT Male Athlete of the Year
2022 WT MNA of the Year

2022 WT MNA of the Year (Para Taekwondo)
2022 WT Coach of the Year (Para Taekwondo)

2022 WT Coach of the Year
2022 WT Female Referee of the Year

2022 WT Male Referee of the Year