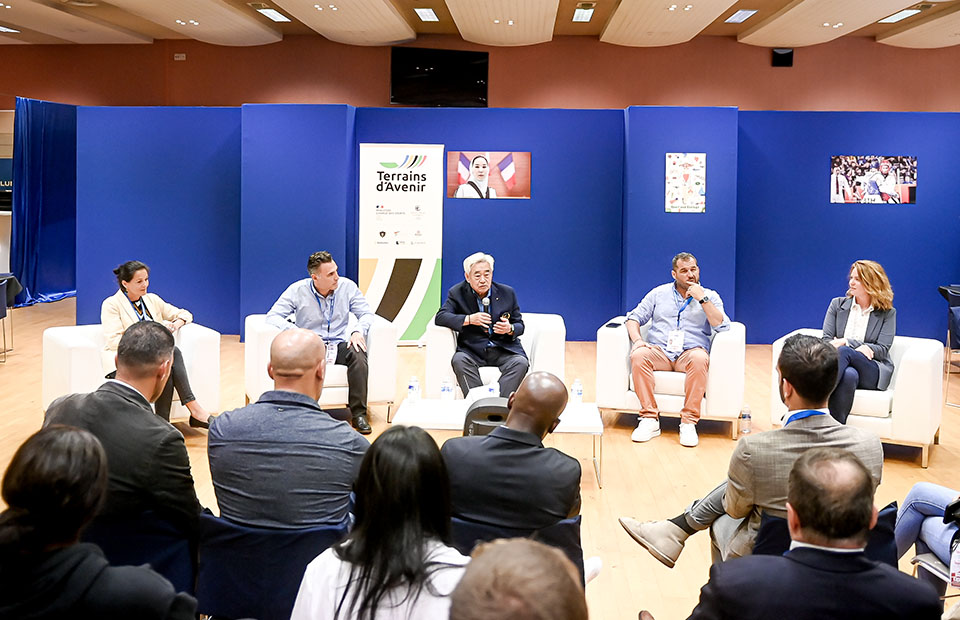 PARIS, France (Sep 3, 2022) - The Taekwondo Humanitarian Foundation (THF) today held a conference during the historic Paris 2022 World Taekwondo Grand Prix with the aim to encourage Taekwondo clubs in the Île-de-France region to welcome and support refugees and displaced people.
The conference was organised through the Terrains d'Avenir programme which is supported by the Olympic Refuge Foundation and French Sports Ministry. Launched earlier this year, the programme aims to help refugees in the Île-de-France region to create a sense of belonging and set themselves on a positive life path through sport.
It is the perfect fit with the THF, which is one of the programme's six partners and committed to supporting young refugees in France through Taekwondo. At today's conference, participants had an opportunity to discuss key topics with an expert panel on areas such as the integration of refugees in clubs, child safeguarding and gender equality.
During his opening speech, THF Chairman Chungwon Choue said:
"The THF is proud to be part of the Terrains d'Avenir programme. The Grand Prix heading to Paris for the first time in history was indeed the perfect opportunity for the THF to organise this conference for the local taekwondo community.
"I would like that this project in Paris to be taken a step further by offering dojang access to refugees. Clubs have a key role to play in encouraging social inclusion, creating better communities and forging a legacy for youth. We count on you."
The THF also signed several cooperation agreements during the Paris 2022 Grand Prix, including one with Taekwondo Humanitarian Foundation Africa (THF Africa) to facilitate knowledge exchange and implement projects for refugees in Africa. Chaired by Ide Issaka, THF Africa will launch its first project in Niger, and then in Mali.
"I am very happy with this cooperation agreement which is of great importance in Africa. Africa brings together many refugees and we must count on all the federations as well as good will to support this humanitarian action for refugees.
"I would also like to thank the World Taekwondo and THF Chairman, Chungwon Choue, for his actions around the world, especially in regard to refugee shelters. His generosity does not surprise us," said Ide Issaka.
A cooperation agreement was also signed with the Taekwondo Humanitarian Foundation Arab Union (THF Arab Union) which is chaired by Driss El Halili. Through the agreement, THF Arab Union and the THF will work closely on refugee empowerment in the Arab Union region.
A cooperation agreement was signed with the Iran Taekwondo Humanitarian Foundation (THF Iran) which is chaired by Saei Hadi. THF Iran will support refugees based in Iran by using taekwondo as a catalyst for empowerment.
"Iran sport in general and Iran Taekwondo in particular have been active in supporting athletes from deprived districts and refugee athletes from neighboring countries during the past years, and I believe that our humanitarian activities could be promoted and better organised within the framework of this cooperation agreement under the patronage of the THF," said Saei Hadi.
Meanwhile, a Memorandum of Understanding (MoU) was signed with the Malta Taekwondo Association, chaired by Anna Vassallo. In the coming months, the THF will support two refugee athletes aiming to compete at the international level.