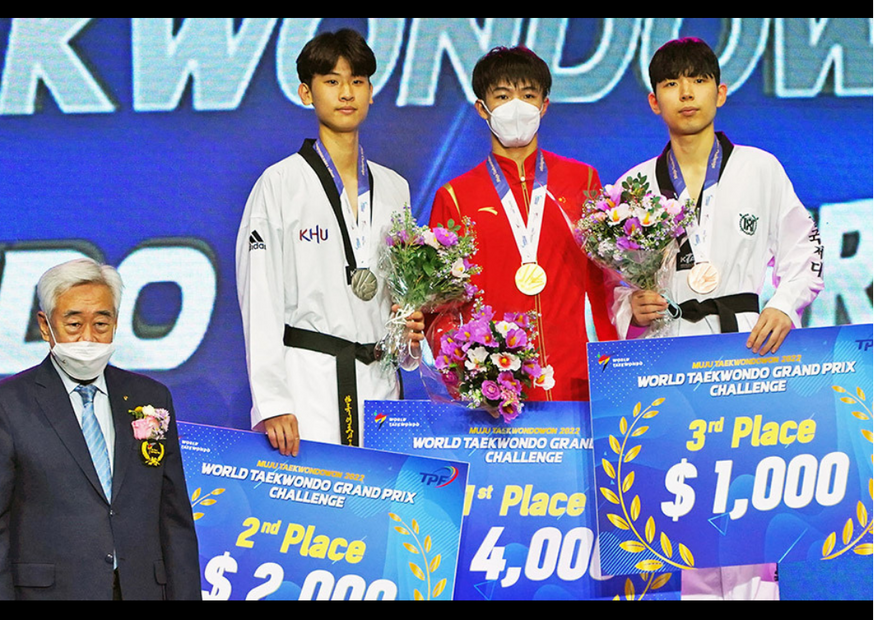 MUJU, Korea (June 10, 2022) – The first day of action at the inaugural edition of the Muju Taekwondowon 2022 World Taekwondo Grand Prix Challenge brought incredible Taekwondo action with athletes from China and Chinese Taipei taking gold.
Taking place in the purpose-built Taekwondowon complex in the scenic valley of Muju, southwest Korea, the new G1-ranked tournament features fighters below 70 in Taekwondo's Olympic rankings with tickets to this year's World Taekwondo Grand Prix in Manchester, UK on offer to 1st and 2nd place finishers in each weight category.
Today's competition saw competing athletes in the -57kg and -68kg weight categories, respectively.
In the women's -57kg, Chang Jui-en of Chinese Taipei swept through the initial rounds, overcoming Thailand's Chidchanok Mayneawklang 2-1, India's Latika Bhandari 2-0 and Korea's Kang Myeongjin 2-1 on route to the final. Chang Jui-en's powerful performances throughout the competition was also on display in the -57kg final in which she bested Chen Lin of China 2-1 to take gold. Meanwhile, Korea's Kang Myeongjin would go on to win bronze after beating Yang Junli of China.
In the men's -68kg, Korea's Seo Kang-eun bested fellow Korean Kwon Doyun 2-1 to advance to the final. The Korean would eventually fall to China's Lin Wenye 1-0 in the final who took home gold for China. In the bronze medal match, Kwon Doyun of Korea overcame Chinese Taipei's Hsu Hao-yu to claim bronze.
Following day one of fantastic Taekwondo action, gold medallists Chang Jui-en and Lin Wenye earnt prizes of USD 4,000 and secured their tickets to the Manchester 2022 World Taekwondo Grand Prix on October 21-23. In addition, silver medallists, Chen Lin and Seo Kang-eun took home USD 2,000 and also booked their tickets to Manchester.
The Opening Ceremony of the World Taekwondo Grand Prix Challenge took place after the first day of competition concluded. In addition, President Choue and executive members from Kukkiwon, Taekwondowon and Mayor Hwang of Muju participated in a tree planting ceremony to commemorate the event.
Speaking during the ceremony, World Taekwondo President Chungwon Choue said:
"It is wonderful to welcome you to Muju Taekwondowon for the inaugural World Taekwondo Grand Prix Challenge. I have beautiful memories of Muju, as five years ago the largest ever World Taekwondo Championships took place here."
"The World Taekwondo Grand Prix Challenge is a pathway for aspiring athletes to fulfil their dreams to become Taekwondo stars. So I wish you all the best and hope that you achieve your goals over the coming days."
Muju Taekwondowon 2022 World Taekwondo Grand Prix Challenge action is set to continue tomorrow with the women's -67kg, men's -58kg and men's +80kg weight categories.