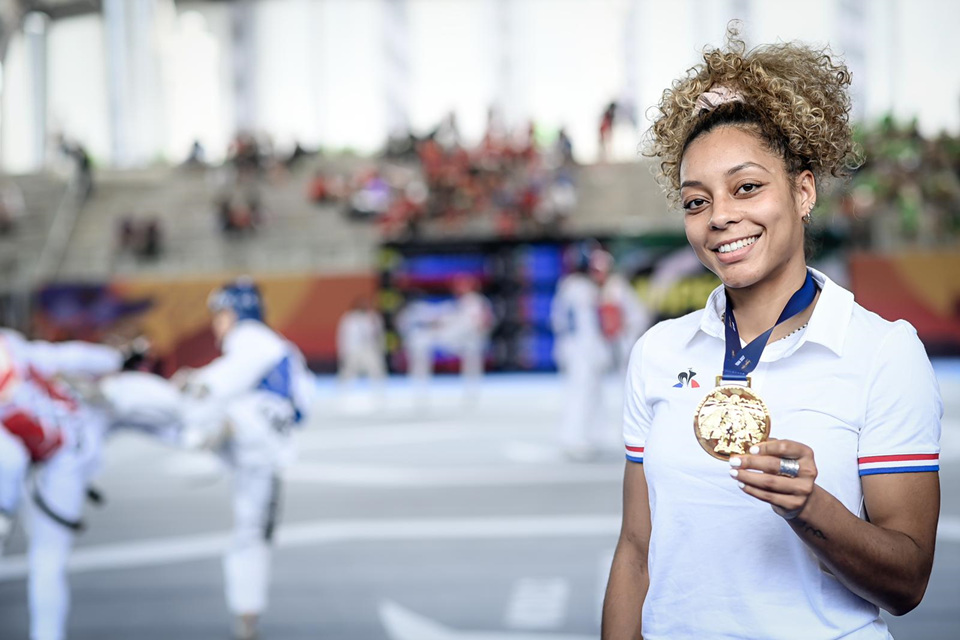 ROME, Italy (Jun 5, 2022) - Elite athletes face enormous pressure. Pressure they place on themselves to achieve their very best, but also the pressure they feel carrying the weight of expectation of their teams, their families and often their countries.
France's Magda Wiet Henin is well accustomed to this pressure having spent more than a decade competing at the highest level. She has won bronze at the Olympic Games and World Championships and numerous Grand Prix and Open medals. But now she believes is the time to relax and have fun.
"I really want to enjoy every Grand Prix and every tournament I do because now I am getting old," she said. "I want to have a different approach of the fight. I want to enjoy my training; I want to enjoy my fights. I really want to give 100% when I do my fights and have no regrets."
She certainly can have no regrets here in Rome where she made it third time lucky in the Italian capital to claim Grand Prix gold.
"I did Rome [Grand Prix] in 2018 and got silver. In 2019 I got bronze and this time I got gold, so I'm really pleased. It feels really great. My mum was watching me," she said.
"Grand Prix is one of my favourite events. In European and World Championships events there is more pressure to get the medal. In Grand Prix I feel more free. I can do different types of fights. I can enjoy more. I feel great to fight with the top athletes; with people we don't always see when we are in Europe. So, it feels really good.
"I can be less focused on strategy and enjoy more doing turning kicks or try new stuff. At the Grand Prix I just want to have fun."
Having fun should not come at the cost of competing at your best, however. You cannot become an Olympic bronze medallist without having a strong desire to win, as Magda makes clear.
"I am very competitive. When I come inside the ring I will do everything to win. But I do not want to put in my head I want gold. I did this at the Olympics [Tokyo 2020] and it brought so much pressure and I didn't enjoy the fighting. I want to be more relaxed but will of course do everything in training and everything in fights, but I want to enjoy myself!"
"Training is not the real fight. You can do everything training but when you walk into the ring with the opponent it's very different. For the French team and for the coach, it was very important we kept doing fighting and even get points so we were lucky to do lots of competitions."
The next World Taekwondo Grand Prix will take place in Paris, Magda's home city, and she is relishing the opportunity to compete in front of a home crowd.
"It will be the first Grand Prix in Paris. It will also be good to see how the Olympics will be. I can't wait to fight in Paris."
Understandably as a French athlete, the Paris 2024 Olympic Games is never far from her mind and she is well aware of the ambitions of her federation.
"For the French Taekwondo Federation, we've never got an Olympic gold. Every Olympics we get a medal; we get silver, we get bronze, but we've never got gold. So, for them we want to get the first gold. For myself I'm looking forward to fighting in Paris in the Olympics and of course I want to win at home."
After the restrictions placed on Tokyo 2020 due to the COVID-19 pandemic, Magda is confident that her fellow Taekwondo athletes will have a very positive experience in Paris.
"The arena will be in the centre of Paris so will be very beautiful. I hope the organisation will be very well and we will have the supporters back in the real sprit of the Olympics."