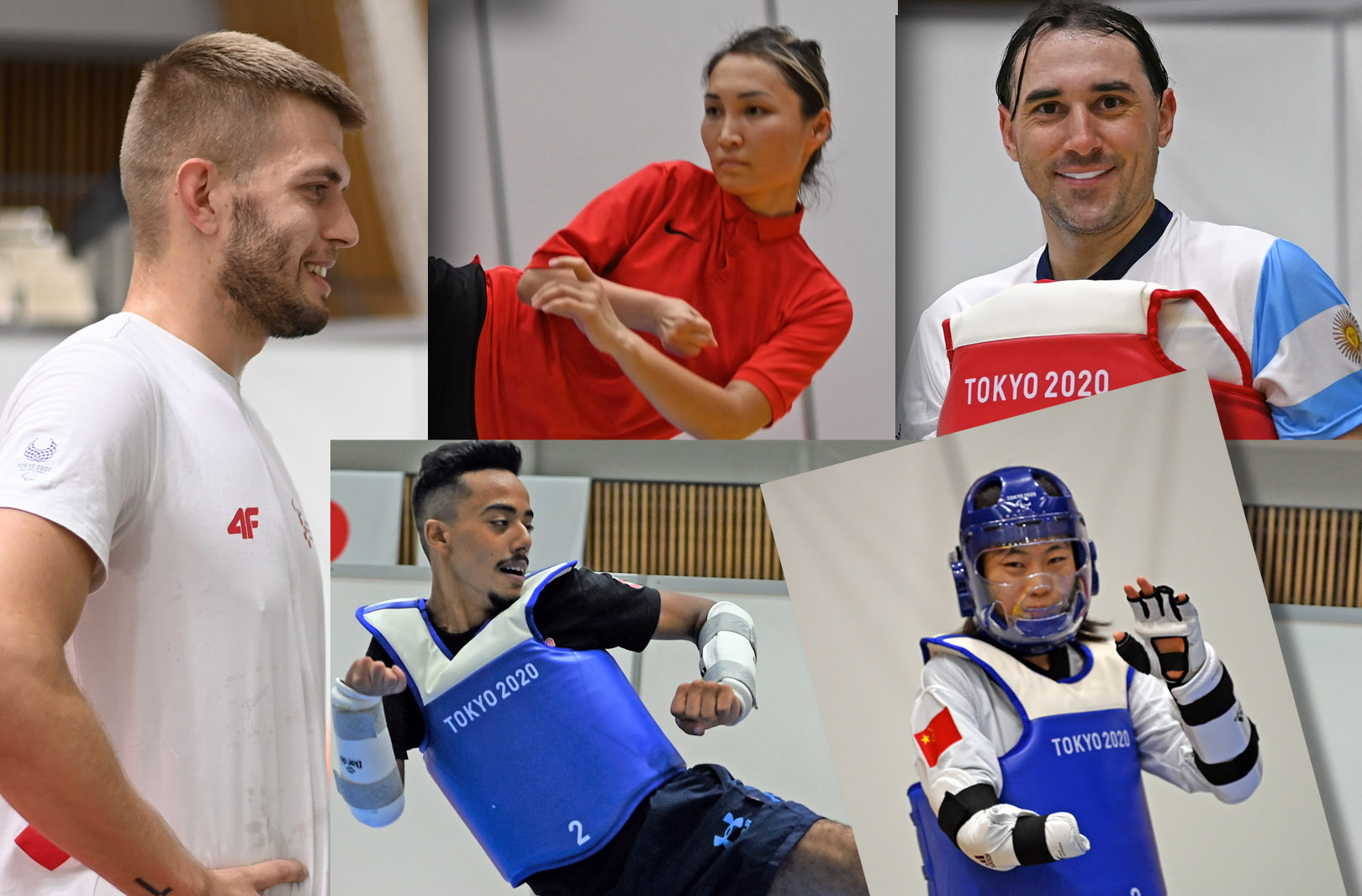 It's finally here!
In a few hours time, we'll have the answers to the trivia question: "Who were Para Taekwondo's first Paralympic champions?"
Until then, here are the Top 5 Stories to Watch as we head into Para Taekwondo's Paralympic debut:
Afghanistan and Refugee Athletes Set to Shine
Few Para stories have caught the world's attention quite like those of Afghanistan's Zakia Khodadadi and Refugee athlete Parfait Hakizimana. Khodadadi made headlines worldwide last week when she made a public plea for assistance to get out of Afghanistan so that she could attend the Paralympic Games. A multigroup effort, that included organisations like the IPC, World Taekwondo, and several governments and charitable organisations worked together to ensure her Paralympic dream would come true. Hakizimana has spent years at a refugee camp in Rwanda, bringing Taekwondo to hundreds of refugee children. Their perseverance in the face of severe adversity is a testament to the power of sport and the determination of the athletes. Both are set to shine on Para Taekwondo's first day – 2 September.
Para Taekwondo's Longest-Standing Rivalry
There has been no greater rivalry forged in Para Taekwondo's 12-year history than that between France's four-time world champion Bopha Kong and Spain's four-time world champion Alejandro Vidal Alvarez – and that epic competition could see a Paralympic rubber match should Vidal Alvarez win his Round of 16 fight on day one (2 September). The two have faced each other a remarkable 10 times since 2009, with Kong holding a 7-3 edge in head-to-head battles. Still, Vidal Alvarez seems to be the proverbial thorn in Kong's side. He holds a 2-1 edge at the European championships, and bested the big Frenchman at the 2017 World Championships. Kong, who is already one of the faces of Paris 2024, still has the edge on his Spanish counterpart. Not only does he hold the all-time record against his Iberian foe, but he bested him on his way to capturing the last two major championships – 2017 IWAS Games gold and the 2019 world championship. Kong won the first world championship by beating Vidal Alvarez in a tight match decided by superiority. Could their be a Paralympic culmination to this epic duel?
Could a New Nation Medal?
One of the great things about Para Taekwondo is that you can practice the art practically anywhere. This means that competitors from every country in the world – big or small, wealthy or less so, with a martial arts history or not – are able to compete and even excel. Several Para Taekwondoins will be looking to win their nations' first-ever Paralympic medals. Afghanistan's Khodadadi remarkable journey to Tokyo is already one of the stories of Tokyo 2020, but imagine her winning Afghanistan's first-ever Paralympic medal! Aruba's flagbearer Elliot Loonstra is a standout in several sports, but the eccentric islander excels at Para Taekwondo and will be looking to take the first Paralympic medal back to his island. Nepal's Palesha Goverdhan has had to overcome a COVID-necessitated lockdown to make her way to Tokyo, but will be looking to bring back some Paralympic metal to the Himalayas. Senegal's Ibrahima Seye has his eyes set on one thing in Tokyo: "I'm only here for gold", he told World Taekwondo, "Not silver. Not bronze. I'm only here for gold." If he wins a medal of any sort, it will be the first for Senegal at the Paralympics. Can one of these fighters become a Paralympic legend at home?
Can the Veterans Keep the Youngsters at Bay?
There is a crop of fighters that have been winning world titles since before Para Taekwondo even became a Paralympic sport. Along with Kong and Vidal Alvarez (4 world titles each), veterans like Ukraine's Vika Marchuk (6), Iran's Mehdi Pourrahnama (4), Denmark's Lisa Gjessing (4), and Mongolia's Bolor-Erdene Ganbat (4) have all won at least half of their divisions' world championships. But a new wave of tough teenage fighters have emerged recently and pushed the veterans at major competitions. Mexico's Juan Diego Garcia Lopez was just 16 when he won the 2019 world championship, while Egypt's Salma Ali was named one of the IPC's Top 10 Teenage Athletes to Watch at Tokyo 2020. Two of the hottest fighters in the sport right now – Brazil's Silvana Cardoso and Peru's Angelica Espinoza – are just 22 and 23 years old, respectively. Neither fighter has lost in over two years and Cardoso famously handed Denmark's four-time world champion Lisa Gjessing her first-ever loss earlier this summer. Can the veterans hold off the youngsters to claim the Paralympic glory they've been fighting for all these years? It's one of the most exciting questions to be answered this week.
Who Will Become Paralympic Legends?
The biggest question of all, of course, is just who will become Para Taekwondo legends? These athletes have spent years preparing for this tournament and will have just one opportunity to prove that they are, indeed, kings and queens of the mat. While there are repechages for fighters that lose to still have a chance to win a medal, only those six fighters that remain undefeated at the end of the week will walk away Paralympic champions. Will high seeds like Great Britain's Amy Truesdale, Turkey's Mahmut Bozteke, and China's Yujie Li emerge with Para Taekwondo's first Paralympic gold medals? Or will we see upsets from the likes of Kazakhstan's Kamilya Dosmalova, Korea's Jeong Hun Joo, or Jamaica's Shauna Kay Hines – only time will tell. One thing's for certain though – some Para Taekwondo fighters are about to become legends.
-- By Lee Reaney