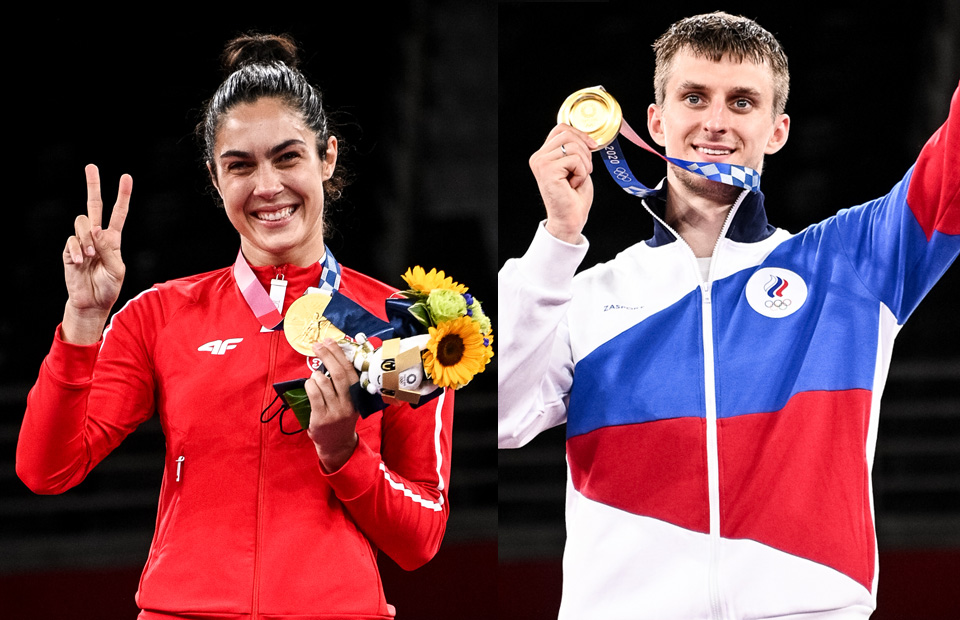 CHIBA, Japan (July 27, 2021) – Vladislav Larin of ROC and Milica Mandic of Serbia captured the last two gold medals on offer in the Tokyo 2020 Taekwondo Competition, winning the M+80kg and W+67kg categories, respectively.
The silver in the M+80kg went to Dejan Georgievski of North Macedonia – the country's first ever Olympic silver medal – while silver in the W+67kg was won by South Korea's Dabin Lee. Bronzes went to South Korea's Kyo Don In and Cuba's Rafael Yunier Alba Castillo in the M+80, and to France's Althea Laurin and Great Britain's Bianca Walkden in the W+67kg.
Mandic's medal was especially remarkable. Her win at Tokyo 2020 mirrored her feat nine years previously, when she had grabbed gold at London 2012.
Just before the medal matches, the day's showcase, a Mixed Gender Team competition, pitted Iran against China. The winner - after a battle of the nations – was China, with a score of 41 to Iran's 22.
M+80kg
This final pitted ROC's top-seeded 2019 World Champion Larin against North Macedonia's 14th seed Dejan Georgievski - a relative unknown who has never won a major tournament.
Larin was chasing ROC's second gold, after his team mate Maksim Khramtcov's victory on Day 3.
As the game got underway, after a fast start, both players settled down and the first point went to Larin as his opponent was penalized for grabbing. The ROC fighter doubled his points with a punch, and Round 1 ended 2-0.
As the second round got underway, Georgievski reached out with an almost lazy looking kick to the torso for two points - and suddenly it was game on. In a flurry, Larin scored to the head and body going to seven, but the Macedonian returned fire to the body, raising his tally to four. Larin started to take advantage of his long leg length, but his opponent was not overawed. Round 2 ended 9-7 to Larin.
Round 3 would be the decider. At close quarters, both fighters tried to drop the ax in the clinch. Neither landed. Then the finest blow of the evening - a textbook round kick to the head from Larin - caught Georgievski by surprise.
Larin had now acquired his target, and landed to the body. As the match counted down, Georgievski started spinning, but Larin was too canny to lose at this late stage, and the final buzzer went with the game at 15-9.
The ROC player exulted with an arms-outstretched victory scream. He was then wrestled to the mats by his delighted coach.
Bronzes were won by Kyo-don In of South Korea and Cuba's Rafael Yunier Alba Castillo.
W+67kg
The final pitted London 2012 gold medalist and third seed Milica Mandic of Serbia against fifth-seeded 2019 World Champion Dabin Lee of South Korea. Lee had earlier fought a semi-final against Team GB's Bianca Walkden - possibly the most dramatic match of the Tokyo 2020 competition - which she won by one point in the last three seconds.
As battle commenced, Mandic looked stronger, Lee livelier. The Serb opened the scoring with a head kick, then added two more points with a body kick, ending Round 1 on five points to Lee's nil.
In Round 2, a fall by the Serb – protested by IVR, to no avail – gave Lee one point. Lee raised her work rate, started attacking forward and landed to the trunk - but fell. A Korean IVR failed. Score: 6-3. Lee attacked forward with a round-side kick combination but failed to connect. The board ended Round 2 at 6-3 to Mandic.
As the final round kicked off, a punch by Lee lifted her points to four, then she landed body kick. It was now 6-6 with 40 seconds left on the clock. Mandic now showed her professionalism. A punch by the Serb put her one point up - then she sealed the deal with a body kick, and a tumble by Lee. Lee's last second surge had succeeded against Walkden, but failed against Mandic and the scoreboard ended 10-7.
Mandic was joined by her coach, Dragan Jovic on the field of play, and the two ran around the mats, flag in hand. Nine years after London, Mandic had done it again.
Bronzes were won by a delighted-looking Althea Laurin of France and GB's Walkden.
And those results bring the curtain down on Taekwondo in Tokyo 2020. See you in Paris 2024!