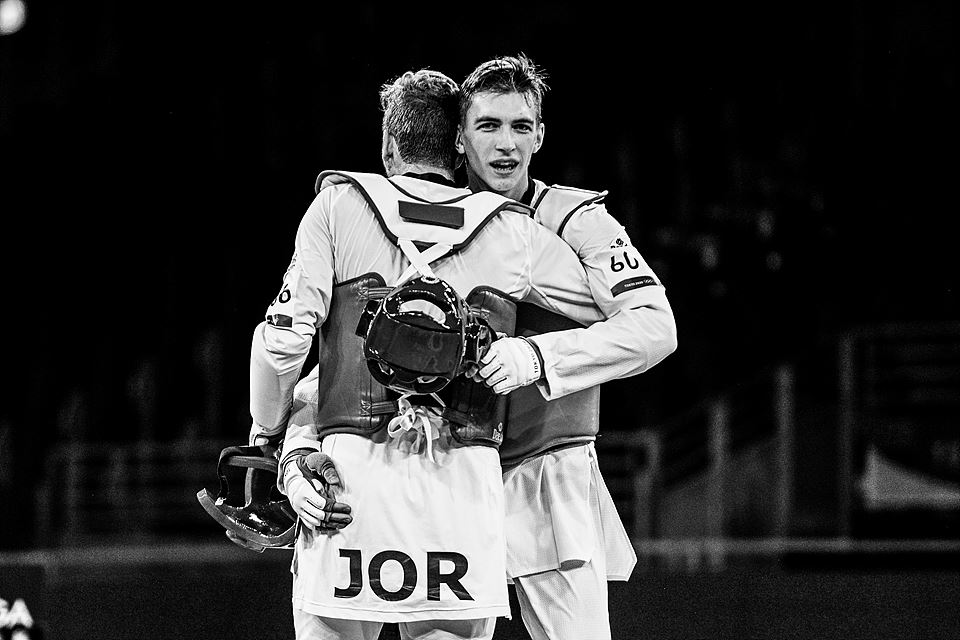 In the post-match press conference, the day's medalists reflected on the joy of victory and the agony of defeat.
CHIBA, Japan (July 27, 2021) - Maksim Khramtcov of ROC, gold medalist in the men's M-80kg, was struck by tragedy pre-Olympics when his mother passed away.
Questions hung over whether the favorite in the M-80kg category would make it to Tokyo 2020. But there were no questions in his mind.
"I did not think of giving up my," he told reporters after the game was over. "My mother wanted to see a gold medal in my hands - maybe more than myself. I had to come."
He came, and saw, and conquered. Confidence played a major part in his gold-medal win – the first for his country in Taekwondo.
"Every time when I started fighting, I knew I was strong enough - I had not doubts," he said. "I came to the Games and what was the purpose of coming? I came to win the gold!"
His coach also came in for praise.
"He is a great part of my victory," Khramtcov said. "I don't see my family, he does not see his family - we are family!"
When he gets home, he expects his gold will grant Taekwondo more publicity – and with his prize money he plans to buy his father a car.
His opponent, silver medalist Saleh Elsharabaty, had delivered Jordan its second ever Olympic medal in any sport, following in the footsteps of Ahmad Abughaush, who won gold in Rio in 2016.
How has the country built its taekwondo medal factory?
"We have a good base in taekwondo, and our coach and our federation are always going forward," Elsharabaty said. "We are taking it up to the next level."
While the global public sees Olympians on their peak form once every four years, the Jordanian made clear the endless hours of blood, sweat and tears athletes endure, far, far from the glare of the TV cameras.
"It is many years in the making," Elsharabaty said. "It does not matter if there is Covid or problems or difficulties, we all train day and night."
Matea Jelic, who had just delivered Croatia its first-ever taekwondo gold medal with her win in the W-67kg, was ecstatic.
"It is unreal - just unreal!" she said. "I am so proud to make history for my country."
It had been a dramatic victory.
When it came to her battle against Great Britain's Lauren Williams – arguably the most aggressive fighter in the women's division – Jelic had a simple game plan.
"The plan was to fight," she said. "Nothing else - just fight, non-stop."
The match was a classic: a high-octane, seesaw combat that saw the scores go back and forth, that could have gone either way.
In the third and final round, both fighters had a brief moment to catch their breaths and recalibrate their games at the end of the third round, when an IVR was called.
Jelic was behind on the board. Thirteen seconds remained on the clock. Action resumed – and the Croatian attacked in sensational fashion, scoring two head shots and a knockdown in the last 13 seconds.
"I turned off my head: you don't do what your head tells you; you have to trust your instincts," she said. "I can't explain it, it was the perfect moment. It was just beautiful."
Williams had – like her team mate and fellow silver medalist Bradly Sinden on Day 2 – been ahead, but lost in the final seconds.
"I made a mistake, I paid for that mistake, and I will regret it for the rest of my life," Williams said. "None of us want to lose, it is just what happens in the moment, you want to hold on to your lead and you hope and pray."
Williams, like Elsharabaty, emphasized the tough life led by Olympians.
"I never thought that I would be alongside some of the best British athletes in the world," she said. "I missed out on a lot in my teenage years, but I would not change anything, I have worked all my life for this medal."
Having won Olympic silver, her feelings were conflicted.
"I am very happy, but this is not what I wanted," she said. "This medal is going to be kept safe, I just wish it was the other color."