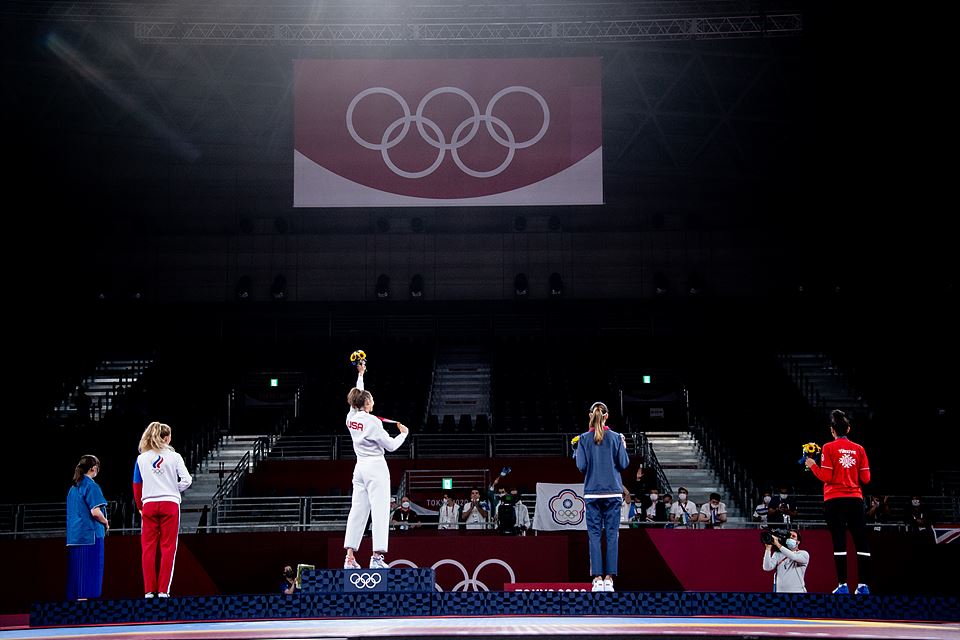 Following the second day of the competition, here is what the medal winners had to say.
CHIBA, Japan (July 26, 2021) – "I came here to take what was mine," declared Anastasija Zolotic, after winning Team USA's first ever women's gold in Taekwondo. "My warm-ups were flawless - all the stars were aligned."
That's confidence. And the win was an awesome feat of both athleticism and confidence for Zolotic, who has barely exited the juniors.
The newly minted medalist hopes that her gold will put wheels under the sport in her home country, where it has been largely absent from the medal podiums in recent years.
"This gold medal will hopefully bring US Taekwondo to a whole new level, and give Taekwondo the attention it deserves," in her home country, Zolotic said. "Hopefully, we will have some more girls and guys than just me and Paige [McPherson]."
But when she gets back home, this wise-beyond-her-years 18-year-old is not looking for adulation.
"I am just looking forward to seeing my family," she said. "I am not needy for attention."
Her opponent in the gold-medal match seemed quietly satisfied with silver.
"Things were changing rapidly, I could not take the lead and win," said Tatiana Minina of ROC. "But looking back an hour later, I am happy to have the silver medal."
The winner in the male category on the same day was another youngster, 19-year-old Ulegbek Rashitov of Uzbekistan, who had hacked his way through to the final wielding a spectacular armory of crowd-pleasing spin kicks.
"I am feeling the best emotion I ever felt," he told reporters. "I believed in gold and I trained only for gold."
Given that no Uzbek had ever won any Olympic medal in Taekwondo before, there was an air of unreality around his victory.
"To be honest, I still cannot believe it," Rashitov said. "Because no Uzbek has ever had an Olympic medal in this sport, it is like a dream, a miracle - words fail me, I am overwhelmed."
The superb win for Rashitov represented agony for his opponent, Bradly Sinden of Team GB – who, like his team mate Lutalo Muhammad at Rio in 2016 – has been ahead as the countdown ticked to the final buzzer, only to lose in the final moment.
"I am gutted, losing right at the end, but it happens in this sport," Sinden said. "And I have won in the final seconds - it is swings and roundabouts."
Sinden's appearance in the final made up, at least in part, for the shock defeat suffering by his team mate, the widely heralded Jade Jones, who was pursuing a historic third Olympic gold, but who was ejected in her first match.
"I am gutted now, but after a while I will get over it and realize what I have done," he said.
Sinden's eyes are now aimed at a not-too-distant Paris 2024. "Everything is a learning curve and that is what I will take forward," he said.
Given the calls from some corners about this year's Olympics to be cancelled due to the risks posed by Covid-19, Rashitov had some words about the harsh life athletes endure beyond the spotlight of the Games.
"Few people see how much we train, and what we have to go through just to get here to the Games," he said. "It is not easy, let me tell you."