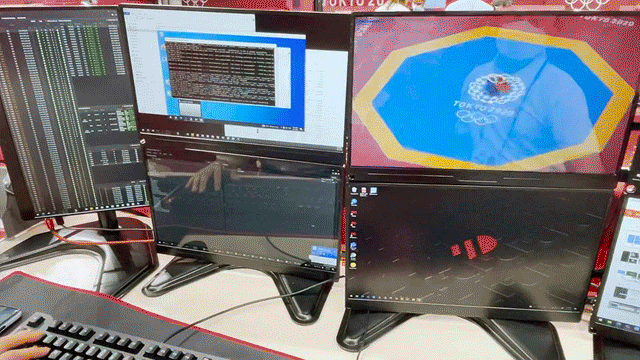 The sport gets new players, new technology, a new look - even a new competitive format
CHIBA, Japan (July 22, 2021) – The Taekwondo that will be contested at Tokyo 2020 will not be the same Taekwondo that was contested at Rio 2016 as the game continues to develop, improve and innovate.
New players are joining the game, new technology is upgrading transparency, a new look is upgrading sports presentation and a new, high-impact format is being introduced as a showcase.
Moreover, a new regulation is being implemented to ensure athletes' wellbeing.
Diehard fans, however, should not fret: The changes are evolutionary, not revolutionary. All these innovations will be on show when the action kicks off at the Makuhari Messe Hall A in Chiba, a seaside suburb of Tokyo, on July 24.
New Players
Requiring no equipment beyond the human body, Taekwondo has long been one of the world's most economical sports, offering developing nations realistic chances at Olympic glory. And in an initiative to empower the powerless – refugees and displaced persons – Taekwondo has been deployed in refugee camps in Jordan, Rwanda and Turkey.
In Chiba, a new Taekwondo team will make its Olympic debut: Refugee Olympic Team (EOR) comprises Kimia Alizadeh Zenoorin (W-57kg), Dina Pouryounes (W-49kg) and Abdullah Sediqi (M-68kg).
"Taekwondo is a sport that prioritizes inclusivity," said World Taekwondo President Chungwon Choue. "I know the world Taekwondo family will embrace these athletes and cheer them on as they fight in the competition of their lives in Chiba."
New Technology
Transparency is a core concept in both audience comprehension and sportive fairness. To optimize Taekwondo's transparency, replays run over giant LED screens set up over and around the field of play.
Video replays have two aims. Action replays engage the audience during the down time between rounds, while video replays allow corner judges to carefully review contested point calls, using close-ups and slow-motion.
And replays just got better - much better. In Chiba, a "4D" camera rig, employing 100 cameras, will make its Olympic debut.
For the audience, this will enable action replays featuring the kind of visual effects pioneered in the science-fiction thriller "The Matrix." For corner judges, the rig's vast array of cameras means there will be blind spots hidden from their eyes as they assess contested points.
New Look
Olympic taekwondo players hone their physiques to a peak of athletic perfection, but these physical attributes are largely invisible to the audience - hidden by the baggy traditional uniform, or dobok, over which is worn the head guard and torso protector.
To upgrade Taekwondo's sport presentation, a new uniform is being pioneered in Chiba.
In a bow to tradition, it retains the white coloration and general design of the classic dobok. However, it is cut slimmer, to showcase the physiques of the wearers and to present a more streamlined silhouette. It also includes national flag designs on the pant leg for a splash of color.
But it is not just about aesthetics. It is constructed of high-tech, light-weight, highly breathable materials that will be less of a drag on sweaty athletes as they do battle in the heat of spotlights.
New Format
A new competitive format will play out as a showcase alongside the regular matches in Chiba: A Mixed Gender Team Competition. Five teams – from China, Cote d'Ivoire, Iran, Japan and ROC – are entered in this non-medal event. Matches will take place each evening before the official bronze, silver and gold medal matches are contested.
Each team comprises two male and two female athletes, weighing up to 135 kg for the women and up to 160kg for the men. The teams fight two, four-minute rounds.
The first round is a traditional team match, in which fighters compete against their counterpart on the opposing team. The second round is a high-speed tag-team format, with coaches flagging replacements. (All combats, however only feature male vs male or female vs female: There are no actual mixed-gender fights.)
Taekwondo's team format generally features harder, faster action that the more tactical and technical individual game. As such, it should win the sport a whole new swathe of fans via global TV coverage.
"It was so complex to put this into the Olympic Games," said World Taekwondo Technical Delegate Philippe Bouedo - noting that Taekwondo is the only sport that will include a showcase event at Tokyo 2020.
"It's important to show the Olympic family this standout competition – this exciting game," Bouedo stressed.
New Safety
Random weigh-ins are being introduced to the Taekwondo Olympic competition for the first time. Each weigh in will be conducted on the morning before the competition begins, in the weight categories being contested on that day.
For each category of 16 or 17 players, six random weigh-ins will be conducted. Athletes will be selected after choosing from a series of numbered balls.
The random weigh-ins - which supplement regular weigh-ins – are designed to ensure that athletes do not engage in extreme weight-loss protocols, such as pre-weigh in fasts that could endanger their long-term health.
More broadly, the step also encourages athletes to fight in their most natural weight classes, rather than seeking to "make the cut" to compete in lighter categories.
For media enquiries, please contact Heesoo Noh:
pr@worldtaekwondo.org