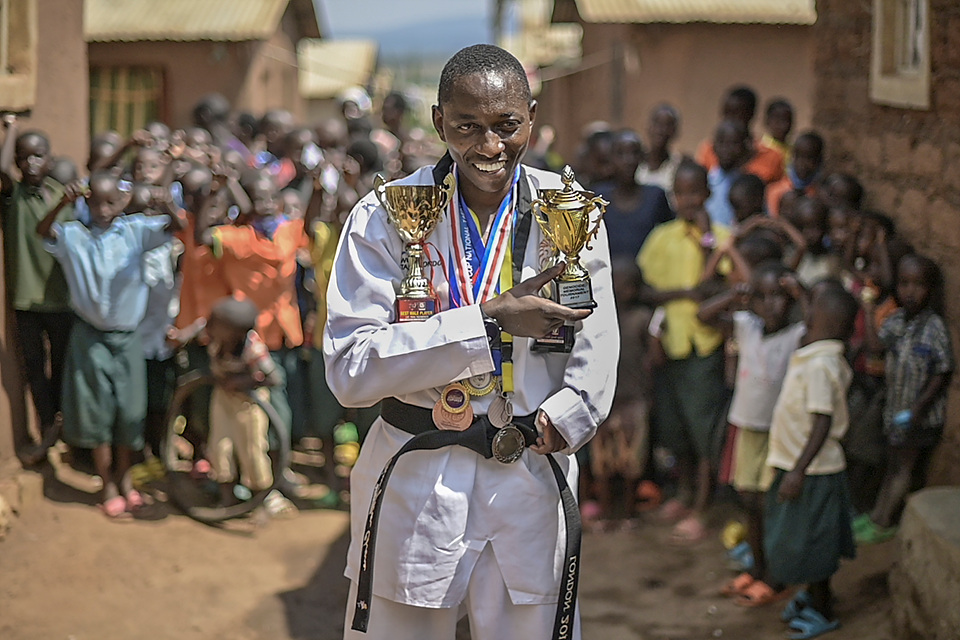 Photo credit: UNHCR
(July 1, 2021) - Para Taekwondo star Parfait Hakizimana, a Burundian refugee living in Rwanda, was named to the Paralympic Refugee Team this afternoon.
Living in a camp for internally displaced people in 1996 because of the Burundian Civil War, he lost his mother and received an injury that left his arm permanently debilitated when he was eight. Fearing for his life, he later left the country permanently when unrest in Burundi flared up again in 2015.

He has since been living at the Mahama Refugee Camp – where day-to-day life can be quite difficult – in Rwanda ever since.
"Refugees don't have a lot", he told UNHCR (the UN's refugee agency), "But sport helps them forget their troubles."
The Refugee Paralympic Team represents more than 82 million people worldwide that have been forced to flee war, persecution, and human rights abuses – 12 million of whom live with a disability.
Parfait joins a team of six refugees, that also includes:
Ibrahim Al Hussein – Syrian refugee living in Greece – Para Swimming

Alia Issa – Syrian refugee living in Greece – Para Athletics

Abbas Karimi – Afghan refugee living in the USA – Para Swimming

Anas Al Kahlifa – Syrian refugee living in Germany – Para Canoe

Shahrad Nasajpour – Iranian refugee living in the USA – Para Athletics
The athletes were introduced by famous celebrities. Hakizimana was introduced by opera singer and French d'honneur recipient Barbara Hendricks.
"Parfait – you are a wonderful role model for refugees", she said in the announcement video (link below), "We are so happy to see that you will be competing in Tokyo for the Refugee Paralympic Team. Good luck!"
WT President is "Thrilled"
The sentiment was shared by World Taekwondo President Dr. Chungwon Choue:
"We are thrilled with the announcement that Burundian refugee Parfait Hakizimana will be representing the Refugee Team at the Tokyo Paralympic Games this summer. Few athletes have had to overcome the conditions of Mr. Hakizimana, who until recently lived, taught, and trained in Rwanda's Mahama Refugee Camp."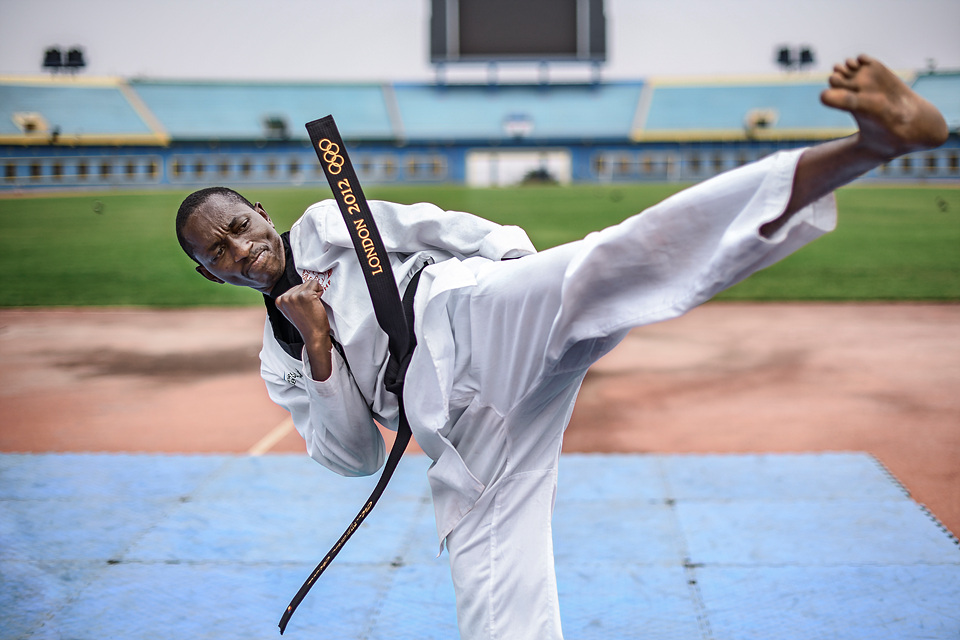 Dr. Choue noted the work of the Taekwondo Humanitarian Foundation (THF), created by World Taekwondo in 2016. The Foundation has supported Hakizimana and he is now a THF coach.
"World Taekwondo remains committed to empowering refugees through Taekwondo, which is why we started the Taekwondo Humanitarian Foundation in the first place", he said. "Many refugees around the world, including those based in refugee camps like Mr. Hakizimana, have benefitted from its supports.
Dr. Choue also thanked the different groups that helped Hakizimana along the way.
"We congratulate Mr. Hakizimana on his achievement and would like to acknowledge the work put in by the IPC, World Taekwondo, the Taekwondo Humanitarian Foundation, and the Rwandan Taekwondo Federation", he said. "And we wish Parfait the best of luck as he pursues his Paralympic dream in Tokyo this summer."
About Parfait Hakizimana
Until a few months ago, Hakizimana was based in the Mahama Refugee Camp – the biggest in Rwanda with over 50,000 refugees. More recently, he has been training in the Rwandan capital of Kigali.
At the camp, Hakizimana organized a taekwondo school and has trained over 1,000 refugee children.
He has also prepared himself for elite competitions.
He competed in the 2017 African Open championships in Kigali, Rwanda, where he won his first match before losing to No. 1-seeded, 3-time world champion Aythami Santana Santana (ESP) 18-12 in the -61kg K44 division quarterfinal.
Hakizimana's participation in Tokyo is contingent on his reclassification by August 1. As a refugee, it has been hard to receive the necessary visas to travel to tournaments, making classification challenging.
World Taekwondo has confirmed that he will be reclassified before the deadline.
The Refugee Paralympic Team
Andrew Parsons, the IPC President, said in a statement:
"The athletes exemplify how change starts with sport: they have suffered life-changing injuries, fled for their safety and undertaken dangerous journeys, but despite the many barriers put in their way, they have become elite athletes ready to compete at the Tokyo 2020 Paralympic Games."
The Refugee Paralympic Team will compete under the IPC flag and will be the first team to enter Japan National Stadium during the Opening Ceremony.
The Refugee Paralympic Team honors the legacy of Paralympic Games founder Sir Ludwig Guttman, who was himself a refugee forced to flee Germany during the 1930s. Welcomed in his new home in Britain, he founded one of the world's great movements – Paralympic sports.
For more information on the team, please visit: https://www.paralympic.org/refugee-paralympic-team
To watch the launch video (Parfait's segment starts at 0:48), please visit: https://www.youtube.com/watch?v=dhlCevI-vIM
To read IPC's profile on Parfait, please visit: https://www.paralympic.org/feature/para-taekwondo-athlete-parfait-teaches-hope-rwandan-refugee-camp
To read World Taekwondo's profile on Parfait, please visit: http://www.worldtaekwondo.org/wtnews/view.html?nid=136746&mcd=C07
To learn more about the Mahama Refugee Camp, please visit: https://www.unhcr.org/rw/559-559.html