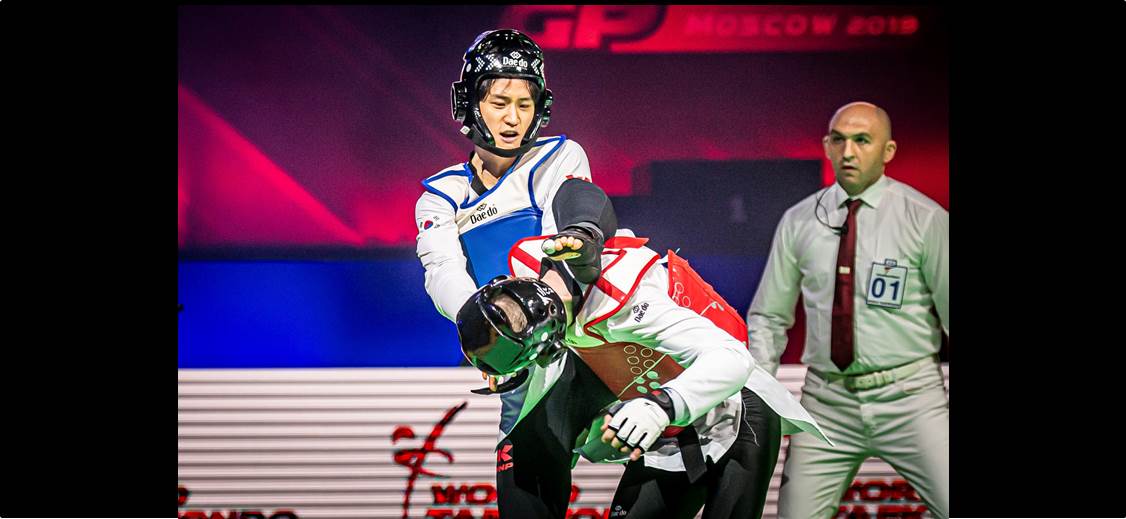 MOSCOW, Russia (07 December 2019) – China and Korea each secured two gold medals at the Moscow 2019 World Taekwondo Grand Prix Final. Hosts Russia, Serbia, Italy and Côte d'Ivoire joined them in the medal table with one gold apiece.
President of the Russian Federation, Vladimir Putin, sent a message to esteemed guests, spectators and athletes at the Final, congratulating World Taekwondo and organisers for successfully hosting such an important event on the international sports calendar.
A highly entertaining W-49kg final saw Tijana Bogdanovic (SRB) take gold, after a head kick in the final seconds of the third round secured the Serbian's victory. Jingyu Wu (CHN) was awarded silver, while Rukiye Yildirim (TUR) claimed third place in the bronze medal contest over Jae-young Sim (KOR).
The home crowd spurred on Maksim Khramtcov (RUS), who won gold in the incredibly close M-80kg final against Milad Beigi Harchegani (AZE). Nikita Rafalovich (UZB) maintained his composure and won bronze in his match against Seif Essa (EGY).
After a close W+67kg final, Shuyin Zheng (CHN) secured gold and Milicia Mandic (SRB) was awarded silver. Pan Gao (CHN) won bronze by withdrawal, due to an injury incurred by Bianca Walkden (GBR).
The M-58kg final was neck-and-neck, but Vito Dell'Aquila (ITA) secured gold over his competitor Jun Jang (KOR). Georgy Popov (RUS) fought back in the third round and secured third place over Armin Hadipour Seighalani (IRI).
Zongshi Luo (CHN) secured a second gold medal for China in the W-57kg final, while Hatice Kubra Ilgun (TUR) had to settle for silver. In the bronze medal contest, Anastasija Zolotic (USA) made a powerful comeback in the final round and secured bronze against Skylar Park (CAN), after the contest went to a fourth round.
Despite Sajjad Mardani (IRI)'s powerful and consistent advances, Kyo-don In (KOR) secured gold in the M+80kg final, leaving Mardani with silver. Radik Isaev (AZE) overcame Ivan konrad Trajkovic (SLO) in the bronze medal contest by just one point.
It was an incredibly close W-67kg final, with just one point between the athletes, but Ruth Gbagbi (CIV) sustained her late lead and secured gold, with Matea Jelic (CRO) picking up silver. Just a point differentiated athletes for a third time in today's bronze medal contest, as Paige McPherson (USA) secured bronze against Magda Wiet Henin (FRA).
Lastly, the M-68kg final saw a dominant performance by Dae-hoon Lee (KOR), who won a second gold medal for Korea. Bradly Sinden (GBR) received silver. Shuai Zhao (CHN) was delighted to take bronze against Mirhashem Hosseini (IRI) after a late comeback.
The World Taekwondo Gala Awards will follow today's action, celebrating a remarkable year for taekwondo athletes.