SEOUL, Korea (9 Nov. 2018) - The 2018 World Taekwondo Poomsae Championships, with record numbers of participants, kick off for a four-day run at University of Taipei (Tian-mu) Gymnasium in Taipei City, Chinese Taipei, on Nov. 15, 2018.
With 1, 274 athletes, 248 officials registered, and 59 countries registered, the event in Taipei is the largest WT poomsae championship in history.
If kyorugi, or sparring, is the "martial" side of taekwondo, poomsae, or patterns, is the "art" side. Poomsae require flexibility, agility, balance, power and grace, and is an excellent exercise regime as well as a competitive event. The championships in Taipei City will encompass traditional and freestyle poomsae, as well as both solo and team events.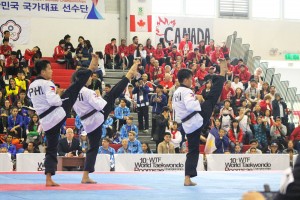 Poomsae is increasing its share of voice in taekwondo. It made its Asian Games debut at the games in Jakarta and Palembang, Indonesia, this year, and will also be included in next year's 2019 Pan American Games in Lima, Peru – which, incidentally, was the venue for the last WT World Poomsae Championships.
"The Poomsae World Championships is one of the key events on the taekwondo calendar and I look forward to seeing our poomsae stars shine in Taipei," said WT President Chungwon Choue. "Traditional poomsae offers a great exercise regimen for people of all ages, while freestyle poomsae, with its emphasis on creative movement, grabs the attention of global youth. For these reasons, WT will be increasing its priority on poomsae in the years ahead."